Rahul makes TPCC poll-ready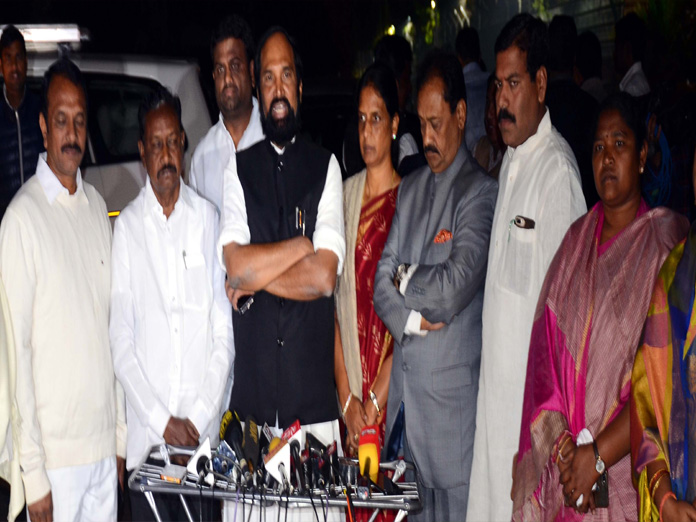 Highlights
As part of preparing the Telangana Congress for the next Parliament elections, AllIndia Congress Committee president Rahul Gandhi held a meeting with Pradesh Congress Committee leaders and MLAs in Delhi on Tuesday
​Hyderabad: As part of preparing the Telangana Congress for the next Parliament elections, All-India Congress Committee president Rahul Gandhi held a meeting with Pradesh Congress Committee leaders and MLAs in Delhi on Tuesday.
This is the first meeting of the TPCC with Rahul Gandhi after Assembly polls, held in December last. TPCC president N Uttam Kumar Reddy, working presidents A Revanth Reddy, Ponnam Prabhakar, J Kusuma Kumar, all the 19 MLAs, AICC incharge general secretary RC Khuntia and AICC incharge secretaries participated in the meeting.
According to sources, Rahul Gandhi discussed the party's preparedness for Parliament elections and reviewed the reasons for the defeat of the party in the Assembly elections. He also discussed the organisational set up, appointment of party committees for all the districts, appointment of booth level agents and other matters.
The TPCC leaders have told the AICC president that the party could perform well in Parliament elections as the people of the state were against the NDA regime. People of the state have opposed the decisions of the Centre like demonitisation and implementation of GST. Party leaders said that the meeting assumed significance in view of the upcoming Parliament elections.
The Election Commission of India is expected to announce the schedule for the elections in the last week of this month setting the ball rolling for Parliament polls. As TRS was wishing to win 16 of the 17 Lok Sabha seats in the state, the Congress has to plan a better strategy to counter the ruling party's tactics.
Congress leaders feel that the people have voted in favour of the ruling party in Assembly elections due to the implementation of schemes like Rythu Bandhu. They may not vote the ruling party again for the same reason in the Parliament elections.
"Voters would consider the misrule of the BJP-led government at the Centre and would vote for the Congress. The Congress could win as many as 10 seats in the Lok Sabha polls," a leader expressed in the meeting.
Senior leaders of the party said that Muslims, who have voted for the TRS in the Assembly elections, would prefer Congress in the Parliament elections as the ruling party was in friendly relation with BJP. This would also improve the situation of the Congress in Telangana.
The meeting on Tuesday was meant to discuss issues like campaign, selection of candidates, delegation of responsibilities among senior leaders.