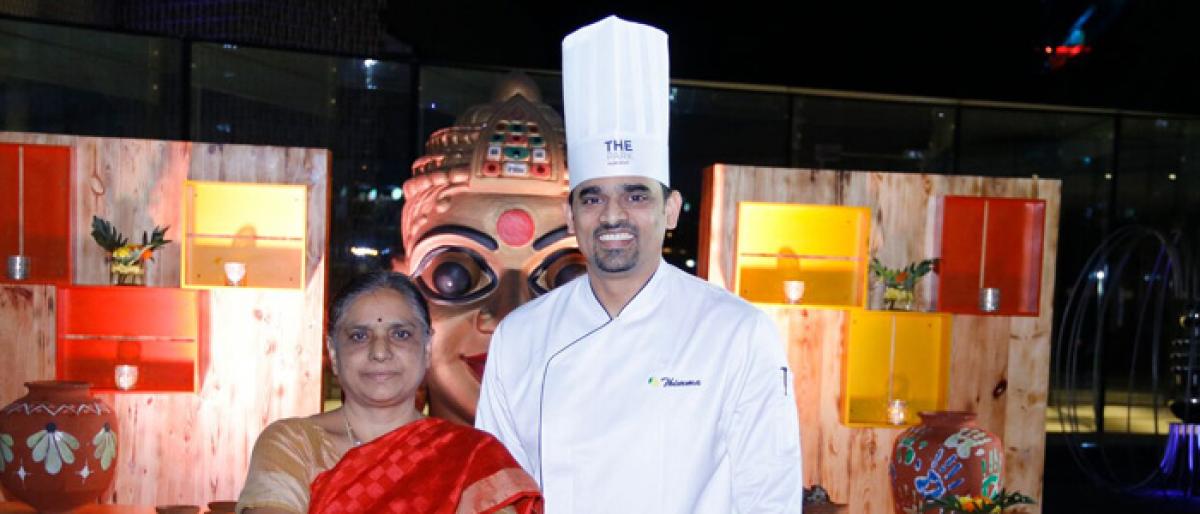 Highlights
The Park Hyderabad, for some time now has been hosting food festivals featuring regional cuisines, the recent one being Andhra food over a weekend. As one went expecting the pulusus and the pachadis and podis sanitised to suit the fine dining precincts of the speciality restaurant 'Aish' at the hotel, it was indeed a hearty surprise to see a sumptuous menu that boasted of long-lost homemade recipe
The Park Hyderabad, for some time now has been hosting food festivals featuring regional cuisines, the recent one being Andhra food over a weekend. As one went expecting the pulusus and the pachadis and podis sanitised to suit the fine dining precincts of the speciality restaurant 'Aish' at the hotel, it was indeed a hearty surprise to see a sumptuous menu that boasted of long-lost homemade recipes.
The dishes that were commonly made in West Godavari households since ages - Endu Royyala Vankaya Koora (dry shrimps and eggplant), Telaga Pindi Koora (Sesame seeds Curry, which in fact is made from the powder or the skin of sesame seeds extracted at the time of threshing available only in villages), Podi, Poppu, Majjiga Pulusu, Sorakaya Nuvvula Koora, Pesara Punugula Koora and Pachi Pulusu (made differently with roasted and mashed eggplant), and unique pachadis (pickles) like Mullangi, Kothimiri Avakaya, Thotakura – all found their place on the food promotion menu.
Spicy, rich, lavishly laden with garlic pods, emanating mouthwatering flavours the Andhra delicacies reminded one of the pleasures of lovingly-made home food that also included the Peethala Iguru, Bommidayila Pulusu, Gongura Mamsam, Pulihora, Poornam Boorelu.
The magical hand behind this tasty fare is one N Prabhavati, a 56-year-old homemaker, leading a relaxed, retired life with her son's family in Hyderabad. Executive Sous Chef Thimma heard about her culinary skills from her son and requested her to cook a few dishes for them to taste.
"I received a phone call from Thimma. I love cooking and I enjoy it even more if I know there are people who like it and want to eat and taste my food. With the help of my cousin, I cooked a few dishes. They liked it very much, and wanted me to cook for the food festival," shares Prabhavati, whose experience of cooking, until then never went beyond her home.
"My mother was from Nidadavolu, and my mother-in-law from Anakapalli. While I learnt to cook all vegetarian dishes from my mother, it was I who introduced vegetarian food to my non-veg loving husband's family. Even though we make all these items at home, due to ill health, I stopped cooking as much for a while.
But once I began cooking at the hotel all my back pain, and other troubles were forgotten. I began digging into my memory to remember what my mother and mother-in-law used to make. I truly enjoyed the whole process." Prabhavati would arrive at the hotel at 2.30pm, wear the chef's cap and begin work with the hotel staff.
Working with her for a few days, the kitchen staff started learning the tricks. "I never follow measurements. I use all ingredients as per my habit. I am glad people are enjoying my cooking," she expresses happily.
She will be back to the hotel for yet another weekend – on March 2, 3 and 4 and is looking forward to serving the best from her kitchen. "I still haven't made so many dishes, especially the roti pachallu (fresh chutneys made using mortar and pestle)," she says with an enthusiasm that will put the youngest of the lot to shame.