I'm training harder than ever: Aruna Reddy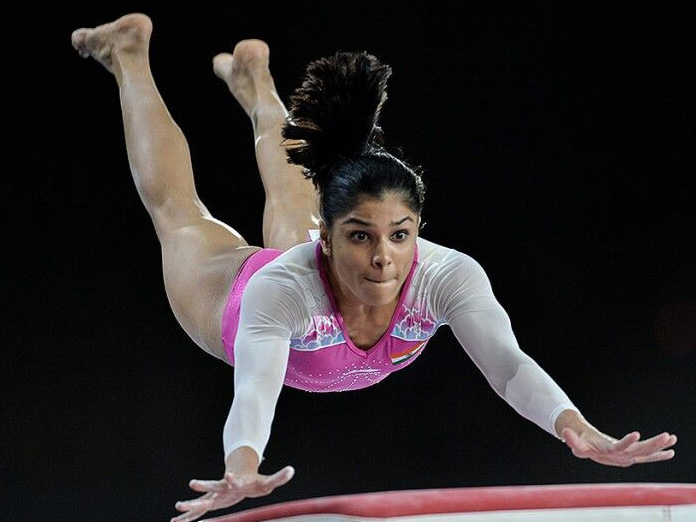 Highlights
Hyderabads very own B Aruna Reddy scripted history by becoming the first Indian gymnast to win a medal in World Cup The 23yearold gymnast bagged a bronze at Melbourne in February and scored 13649 to finish behind gold medallist Tjasa Kysslef of Slovenia and Emily Whitehead of Australia, who took silver
Hyderabad's very own B Aruna Reddy scripted history by becoming the first Indian gymnast to win a medal in World Cup. The 23-year-old gymnast bagged a bronze at Melbourne in February and scored 13.649 to finish behind gold medallist Tjasa Kysslef of Slovenia and Emily Whitehead of Australia, who took silver.
"I am really happy that I made our country happy by bagging a medal in the world cup. Before the tournament, I went to Uzbekistan for one-and-a-half month to get trained. Before going to the event, I was confident of a clinching a medal and all things worked according to the plan," Aruna shared.
With her amazing feat, the Gymnastics World Cup 2018 will be etched in the echelons of time as India got its first-ever bronze medal in the women's vault event.
The B. Com graduate from St Mary's, Yousufguda, recently went through an injury and had to undergo Anterior Cruciate Ligament Reconstruction (ACL) surgery at Continental Hospitals, Hyderabad, to replace the torn anterior cruciate ligament. "Like in all sports, we players are prone to injuries. Thanks to the hospital team, I am back quickly after my rehabs, and ACL surgery and looking forward to being in action for the upcoming Olympics," a recovering Aruna said with a smile.
"I went through the surgery in November and now I am going through physiotherapy. People say that when an athlete comes back from an injury her power increases more and I have taken this injury positively and will bounce back soon as I am training harder than ever," she added.
About her stint, in the sport, the young athlete said, "More than me, my father was interested in this sport. Dad always wanted a son. But with two girls, he guided my sister into studies and sent me to play. At 10, I won a national medal and took sports seriously. My father is my inspiration."
Aruna, who trains at the Gymnasium Hall in Lal Bahadur Stadium in the city, made a niche for herself with her achievements. And it is not an easy feat to be a gymnast. One has to go through a rigorous training regimen to be on par with international athletes, who have better infrastructure than ours.
"Gymnastics is one sport that includes exercises requiring balance, strength, flexibility, agility, coordination and endurance. We need to give ourselves completely to this sport both physically and mentally. Our country is filled with immense talent. If we have better equipment to train here then I am sure many more youngsters would come forward and take up this sport," she shared.
"Everybody knows about badminton, cricket, etc. However, there are fewer people, who are interested in this sport. I want to win more medals and make gymnastics a popular sport in the country," Aruna added.
Aruna informed that her day starts early in the morning and from 9 am to 12 pm, she undergoes training and resumes training after lunch from 5 pm to 8 pm. So, what does she do to unwind? "Actually, gymnastics is a very tough sport and I don't get much time to do anything else apart from training. However, when I get time, I listen to music to unwind myself."
Simone Biles, from the US, is Aruna's favourite gymnast. "She is a very unique athlete. Actually, she is the defending champion, so she is my direct competition (laughs)."
About her prep, for the upcoming Olympics, she says, "Due to injury I will have to skip seven world cup tournaments and the one I can participate is Artistic Gymnastics World Championships in Stuttgart, Germany in October and that will be the last qualifications for the Olympics. I am determined to train harder and fetch a medal in Olympics and make the country proud," Aruna concluded.