Savitribai Phule, a great social reformer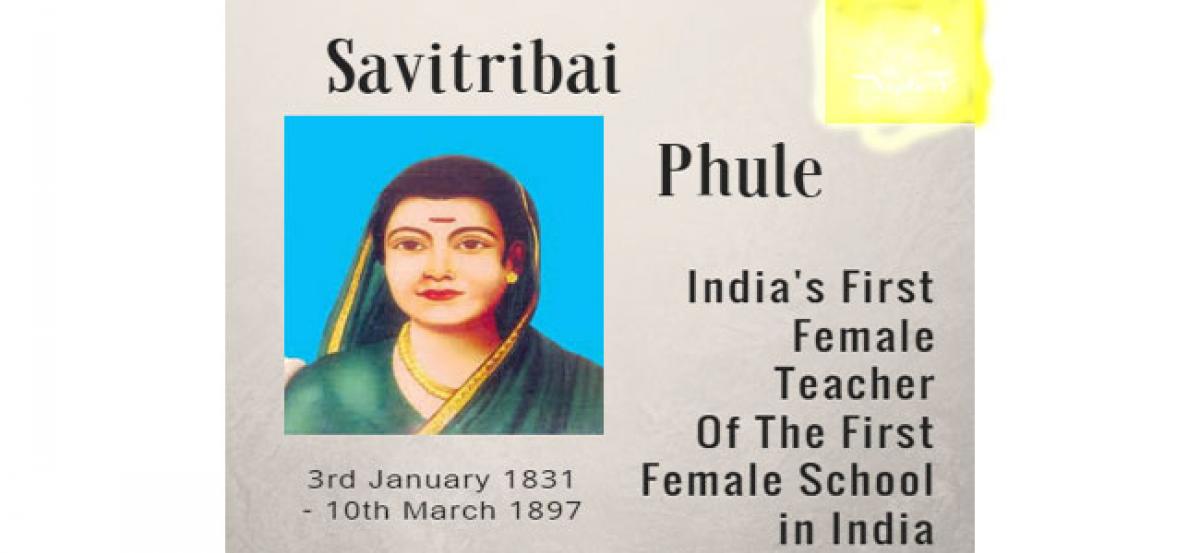 Highlights
A great social reformer of 19th century, Savitribai Phule is hailed for her contribution in the field of education. She was a crusader for women empowerment as she broke all hurdles and spent her life spreading the noble cause of women's education. The country is celebrating her 187th birth anniversary on Wednesday. Savitribai was a pioneer who is remembered for advocating big changes in society t
Hyderabad: A great social reformer of 19th century, Savitribai Phule is hailed for her contribution in the field of education. She was a crusader for women empowerment as she broke all hurdles and spent her life spreading the noble cause of women's education. The country is celebrating her 187th birth anniversary on Wednesday. Savitribai was a pioneer who is remembered for advocating big changes in society too.
Born on January 3, 1831 in Naigaon Maharashtra, Savitribai played a vital role in improving women's rights in India during the British era. Savitribai was married at the age of nine to social reformer Jyotirao Phule. She set up India's first women's school from various castes in Bhidewada, Pune and became the first woman teacher in the country. In her lifetime she built more than 20 such schools in the region. She even gave scholarships to children for attending school in order to control the dropout rate.
Savitribai set up a Balhatya Pratibandhak Griha to prevent female infanticide. She also campaigned against child marriage and sati pratha. As part of the Satyashodhak Samaj, the Phule couple organised marriages without a priest, dowry, and at a minimal cost. The wedding vows in these marriages were the pledges taken by both the bride and the bridegroom.
Even after the death of Jyotirao in 1890, she continued to run the Satyashodhak Samaj till her death. Maharashtra government in a tribute to Savitribai Phule renamed Pune University in her name in 2014. Savitribai died of an infection in 1897.