Zest 2018 Sports Meet at DPS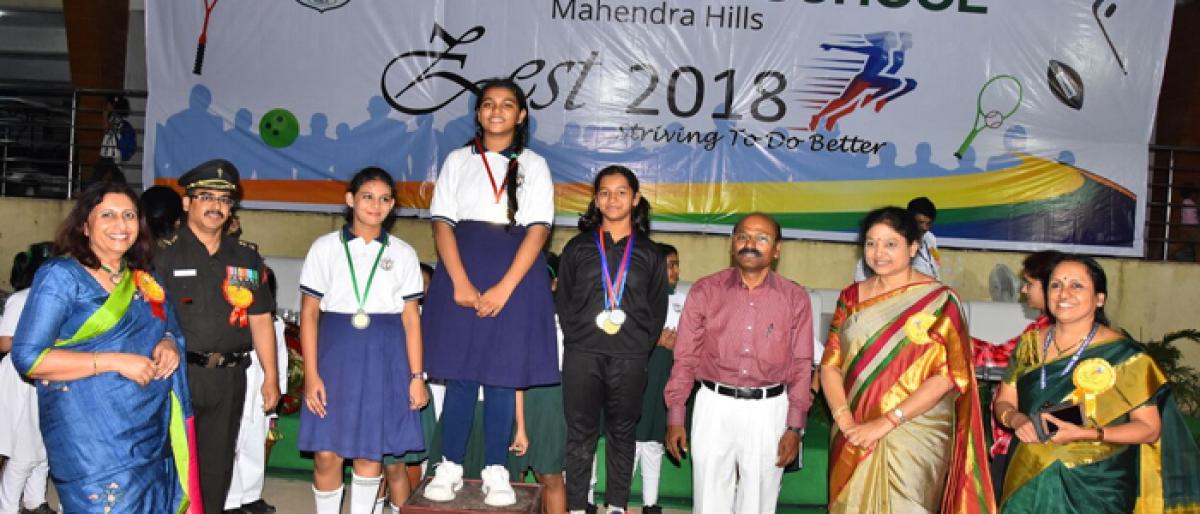 Highlights
Delhi Public School, Mahendra Hills celebrated its Annual Sports Day Zest 2018 on Saturday amidst great verve and camaraderie The event began with Principal Sunitha Rao welcoming the esteemed gathering and emphasizing on the importance of sports in a childs life The chief guest, A Dinakar Babu, Guest of Honour, Lieutenant Colonel Uday Kumar, and Head Mistress Kiran Khanna took the salute of
​Hyderabad: Delhi Public School, Mahendra Hills celebrated its Annual Sports Day – Zest 2018 on Saturday amidst great verve and camaraderie. The event began with Principal Sunitha Rao welcoming the esteemed gathering and emphasizing on the importance of sports in a child's life. The chief guest, A. Dinakar Babu, Guest of Honour, Lieutenant Colonel Uday Kumar, and Head Mistress Kiran Khanna took the salute of the impressive March Past by the students, coupled with stirring marching music by the band.
This was entailed by the unfurling of the school flag and declaring the Sports Meet open by the Chief Guest, marking the commencement of the ceremony, followed by releasing of balloons. The Head Mistress gave a brief Annual report of the school's activities and the students' outstanding sports and other co-curricular achievements.
The fantastic turnout from the parents and the pleasant weather were the perfect boost for the students. Once the races began, the air was filled with cheering and tons of encouragement for the young athletes. Students of classes 3 to 7 competed in events including sprints, relays and sack race. The highlight of the event was the triathlon race which was won by Bhargav Ram of Class 5.
The students displayed Karate, Yoga, Aerobics and Gymnastics drills. The audience was mesmerized with their energetic performances. The highlight of the evening was the Torch Drill. The day ended with the prize distribution ceremony, where the Chief Guest and Guest of Honour gave away medals and trophies to the sports event winners. The best house championship trophy was awarded to Topaz house.