Annual Sports Day at HPS, Begumpet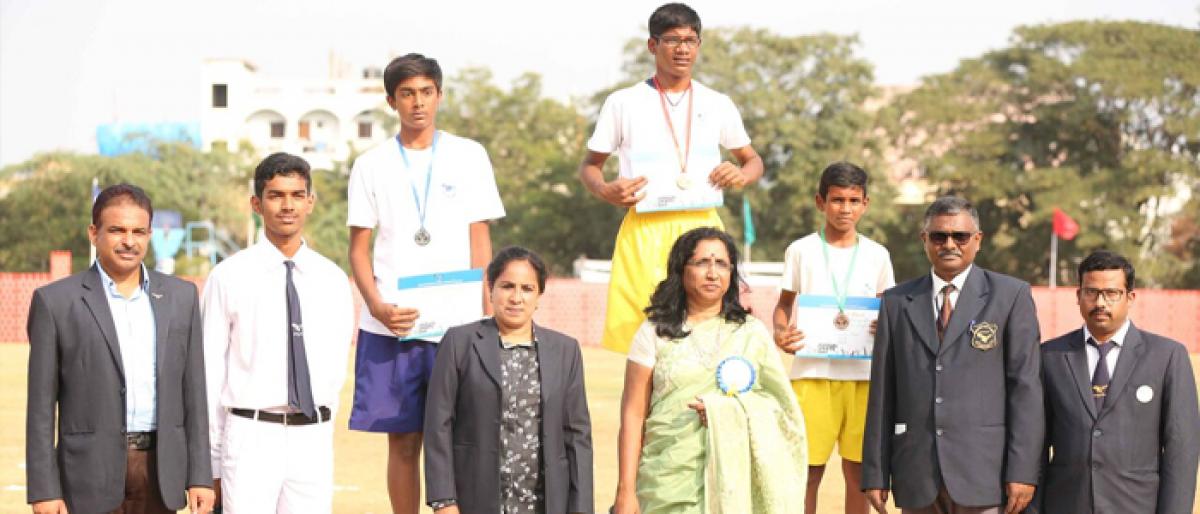 Highlights
The Hyderabad Public School at Begumpet organized its Annual Sports Day on Tuesday at Hyderabad Public School Campus Basalathjah Stadium The stadium was filled with great zeal, excitement and frolicsome atmosphere All the students from the school participated in the sports day events The participants were really excited about the event
Hyderabad: The Hyderabad Public School at Begumpet organized its Annual Sports Day on Tuesday at Hyderabad Public School Campus (Basalathjah Stadium). The stadium was filled with great zeal, excitement and frolicsome atmosphere. All the students from the school participated in the sports day events. The participants were really excited about the event.
The programme began with a grand parade with the school's very own band with 36 students performing at the Parade. The Chief Guest, Dr. Adnan Altay Altinors, the Consulate General of The Republic of Turkey declared the Sports Day Event open and lit the Inaugural Torch. The Chief Guest in his key note emphasized that Sports, plays an important role life in student's life and appreciated the efforts of Hyderabad Public School for organising the Sports Day on such a large scale.
He further emphasised on One on One Sports for development of leadership and self confidence among students, he also applauded the school principal, Skand Bali for his outstanding achievements in the shaping up this school with his rich experience in the field of education.
The celebration began with the lighting of the sports torch with the student head bodies, march past by all the houses Nagarjuna, Taxila, Vijayawada and Nalanda. The event filled in the hearts of everyone with the spirit of sportsmanship and unity. The students displayed a wide array of colourful and reverberant events beginning with the first time ever Equestrian show (Horse Riding Show) by students as young as a 5th grader.
The students mesmerised the audience with their energetic performances. The Eaglet Poll, Hungry Bunnies, HPS B Metro Rail, Tug-of-War staff vs. students and HPS students vs. Foreign exchange students from Poland remained as the main attraction of the mega event.
Faiz Khan – Secretary, Hyderabad Public School appreciated the efforts & sportsmanship shown by the students, he thanked everyone who contributed for the grand success of the Annual Sports Day of Hyderabad Public School.
Grand Annual Sports Day of Hyderabad Public School- Dr.Adnan Altay Altinors- Consul General-Consulate General of Republic of Turkey Graces the Occasion as Chief Guest.Equestrian Show (Horse Riding Show) by Class-5 Students of Hyderabad Public School - A Cynosure of Everyone's Eye at the Grand Sports Day.