This former TDP MLA's future uncertain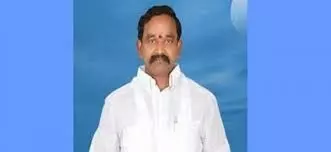 Highlights
 Will former MLA Anna Rambabu be able to contest in the 2019 assembly elections from Giddalur? This question is being hotly debated in Giddalur these days. 2019 assembly elections
Will former MLA Anna Rambabu be able to contest in the 2019 assembly elections from Giddalur? This question is being hotly debated in Giddalur these days.
Rambabu has been convicted in a case pertaining to abusing a woman during a clash . The court has convicted him for five years. Though he is out on bail and has appealed in a higher court, he would not be in a position to contest as per the section 8 (3) of the Representation of People Act 1951.
As of now, Anna Rambabu has resigned from the TDP and has not yet joined any political party. His political future appears quite vague.