RARE CELESTIAL PHENOMENON: Jupiter conjunction with Saturn today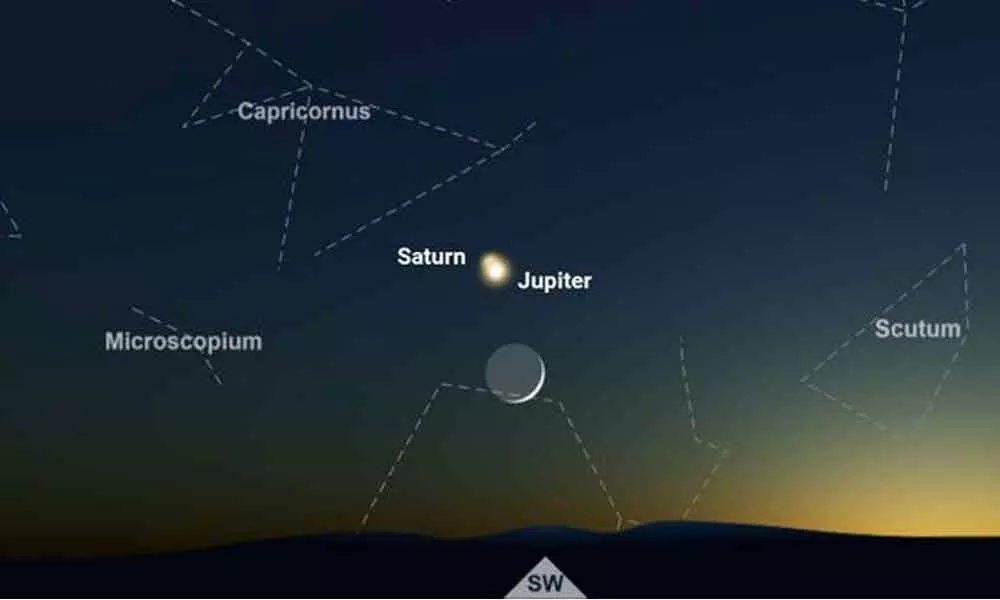 Highlights
One of the splendid celestial phenomena - Jupiter in Conjunction with Saturn - will occur on Monday at 11.51 pm, a release by Planetary Society of India (PSI) director Raghunandan Kumar said on Sunday
Hyderabad: One of the splendid celestial phenomena - Jupiter in Conjunction with Saturn - will occur on Monday at 11.51 pm, a release by Planetary Society of India (PSI) director Raghunandan Kumar said on Sunday. Both Jupiter and Saturn will appear to be near each other, as seen from Earth after sunset. The last time such a close encounter occurred was on July 16, 1623. The next conjunction will be on March 15, 2080.
He said though this astronomical phenomenon will occur close to midnight people in the country can see it easily for an hour after sunset between 6.15 and 7.30 pm, as both planets will set in the West by 8.02 p.m. They appear like non-twinkling star-like objects to bare eyes.
Kumar said half an hour after sunset around 6.20 pm onwards one should look towards west to see two non-twinkling star-like objects. The brightest one is Jupiter and the other Saturn. Though Jupiter will not occult or eclipse Saturn, people may experience difficulty to notice the gap between them on December 21. However, till the year-end, as days pass by, people can witness the growing gap between the two objects after sunset.
What is more interesting is this coming together of the two planets has been noticed by people across the world for two weeks now. However, after December 21 people can observe the two planets moving away from each other over the next few days/weeks. Hence PSI suggests people take a selfie with Jupiter, he added.