Congress faces multi-cornered fight in Huzurnagar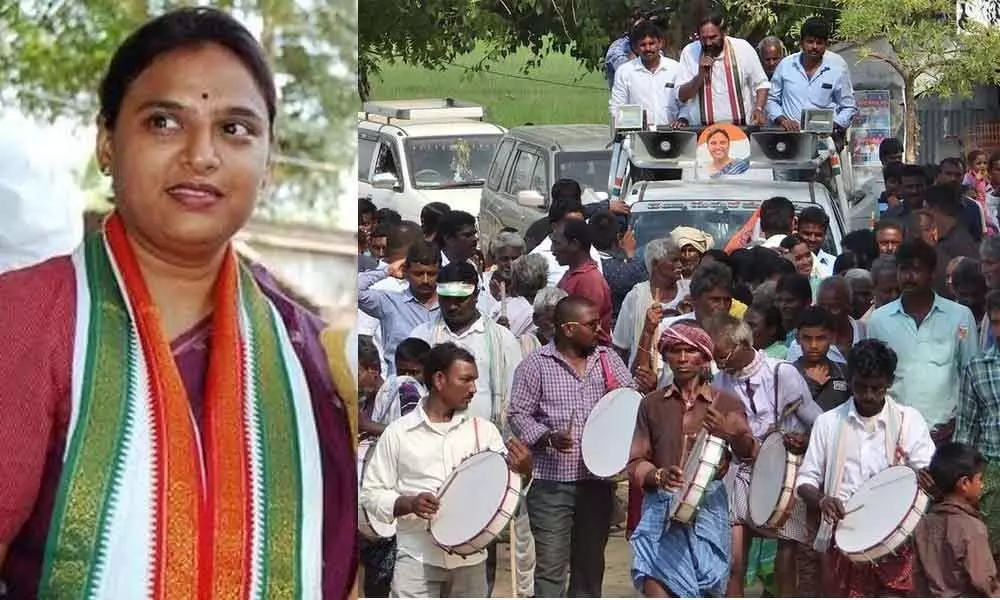 Highlights
Party candidate Padmavathi Reddy's winning chances depend on the SC, ST and Reddy communities which have a good presence in the constituency, hence the party has planned its strategy accordingly
Hyderabad: The Congress party would be facing a tough competition in the important Huzurnagar byelection as it might be cornered by Telangana Rashtra Samithi (TRS), Bharatiya Janata Party (BJP) and Telugu Desam Party (TDP).
The party is pinning its hopes on the division of votes between the main contesting parties. Party candidate Padmavathi Reddy's winning chances depend on the SC, ST and Reddy communities which have a good presence in the constituency, hence the party has planned its strategy accordingly.
The party has lost the support of its erstwhile ally, Telugu Desam party in the byelection. It also lost the support of Communist Party of India (CPI), who have decided to support the TRS.
The Telangana Jana Samithi (TJS) which was part of the coalition led by the Congress in the general elections to the Assembly held in December, last year, would be supporting it in the byelection.
If the caste composition of the segment is examined, BCs form 38 per cent of the total votes and number of voters of the community is 83,600. OCs are about 24 per cent and the number of voters of this section is 53,600. Out of the OC voters Reddy community voters are about 27,700.
The Huzurnagar segment has about 37,700 SCs who form 17 per cent of the total voters. STs are about 28,000 and they form 12 per cent of the total voters. The minorities form two per cent of the voters.
The SCs and STs have about 65,000 votes and if the votes of the Reddy community are added, the number reaches 92,000 votes. In the general elections to the Assembly, the Congress candidate Uttam Kumar Reddy got about the same number of votes.
If the Congress could repeat the same performance, winning the seat would be easy. In Assembly elections the constituency has seen a voter turnout of 86 per cent. In those polls, out of the 2.23 lakh votes, 1.94 lakh votes had been casted.
In the Assembly elections, Congress got the support of Telugu Desam, Jana Samithi and Communist Party of India. In the bypoll, the CPI is supporting the ruling TRS and the Telugu Desam has fielded its candidate.
According to Congress leaders, the BJP and Telugu Desam would give a good fight in the byelection and they would take most of the ruling TRS votes.
The BJP and Telugu Desam have fielded BC leaders and they would vie with the ruling party for the votes of the 83,000 strong BC voters. Even if they get about 10,000 each, it would damage the interests of the ruling party, they say.