Congress rips into KCR, calls him a big liar in Mahbubnagar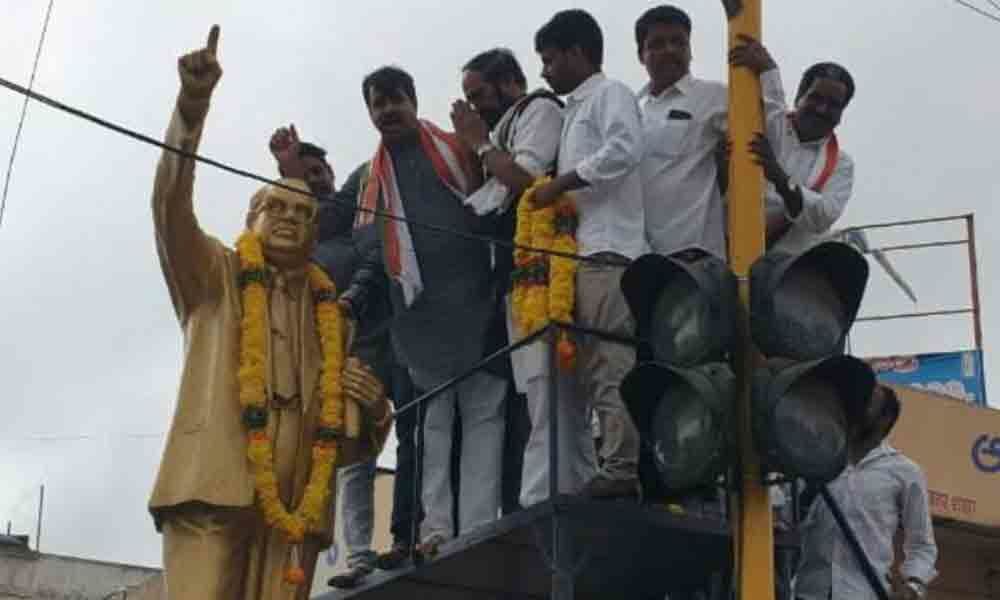 Highlights
Party leaders take part in the Congress Jalasadhana Samithi meeting at Choudarguda mandal of Shadnagar Constituency in Rangareddy district on Sunday
Mahbubnagar: The Congress party leaders slammed the Chief Minister K Chandrashekar Rao and his government while speaking at Congress Jalasadhana Samithi meeting at Choudarguda mandal of Shadnagar Constituency in Rangareddy district on Sunday. The Congress leaders flayed the CM for belittling the Congress and the other opposition party members during his recent visit to Mahbubnagar to review the Palamuru Ranga Reddy Lift Irrigation Project.

The Congress leaders called Chandrashekar Rao a biggest liar in Telangana and alleged that the Chief Minister had not even implemented a single promise he made to people during the elections in December last. "The Chief Minister is the biggest liar in the State. He had not kept even a single promise he made to people during Assembly polls. Where are the jobs for the youth? Where is the unemployment allowance? The farmers who were supposed to receive Rythu Bhandu have not received the money into their accounts. KCR has deceived and fooled every individual in the State," alleged Uttam Kumar Reddy, Telangana Pradesh Congress Committee president, speaking at the meeting.
When Congress party had proposed to bring Godavari water to Krishna basin and designed the Pranahita Chevella Lift Irrigation project, the Chief Minister for the sake of commissions and kickbacks, has redesigned the project and named the project as Kaleshwaram and spent thousands of crores. But not a single acre of land has been irrigated under it, alleged Uttam Kumar Reddy.
Adding further, the TPCC president said that even the Palamuru Ranga Reddy Irrigation Project, which the Chief Minister had earlier promised to complete it in two years, has been delayed. "The CM had changed the earlier design of PRRLI project conceptualised during Congress regime and increased its cost manifold just for commissions and kickbacks for his associates," alleged Uttam.
Revanth Reddy, Congress working president, said that the Chief Minister had in fact promised to extend PRRLI water up to Laxmidevipally reservoir in Ranga Reddy district. However, he has not yet taken up any works towards this end. "We will not leave KCR until he provides water to Laxmidevipally reservoir," said Revanth Reddy.
He also alleged that KCR was looting the people of Palamuru in the name of redesigning projects. He refuted KCR's claim that it was only the TRS party that built big projects, and added that during Congress regime, larger projects like Srisailam, Nagarjuna Sagar, which are providing water to 60 lakh acres, were were built with just a total cost of Rs 1,200 crore. "The projects taken up by K Chandrashekar Rao are costing lakhs of crores of rupees and he is openly looting people's money. The Chief Minister has made Telangana number one in alcohol consumption and unemployment, and the development has stalled since KCR came to power in the State," stated Revanth
Subscribed Failed...
Subscribed Successfully...