Fight for democratic Telangana: Telangana Vidyarthi Vedika in Karimnagar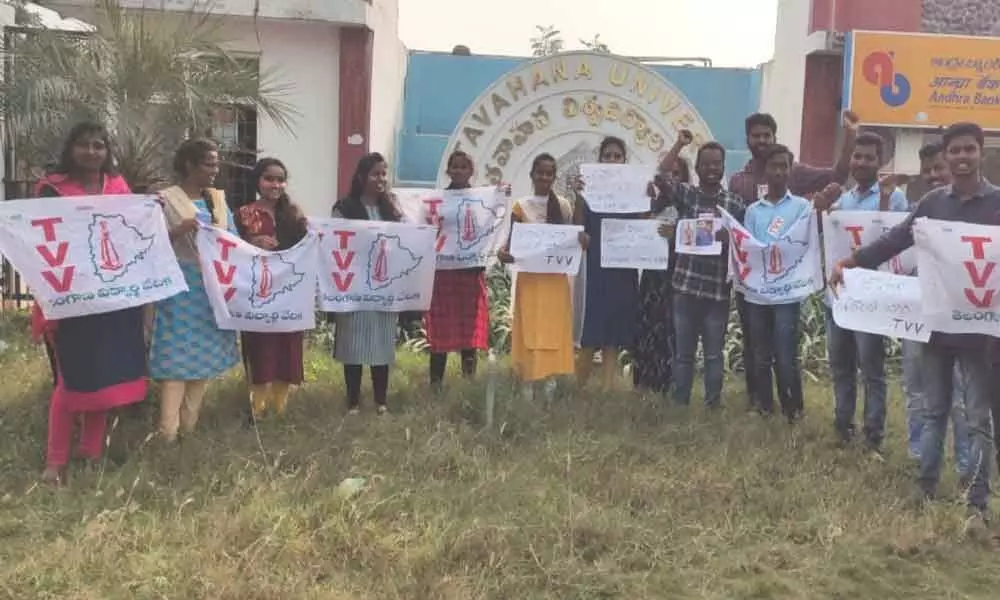 Highlights
The members of Telangana Vidyarthi Vedika (TVV) paid rich tributes to Telangana Martyr Sikantha Chary on his death anniversary
Karimnagar: The members of Telangana Vidyarthi Vedika (TVV) paid rich tributes to Telangana Martyr Sikantha Chary on his death anniversary, who sacrificed his life during the second phase of separate Telangana movement, in front of Satavahana University gate here on Tuesday.

Speaking on the occasion, TVV district secretary K Suryudu said by deriving inspiration from Srikantha Chary, the youth of the present generation must fight for achieving a democratic Telangana. 'Due to the sacrifices of many students like Srikantha Chary, separate Statehood of Telangana was achieved. Though about 1,500 youth had sacrificed their lives, the government had identified only 500 members. Due to monarch ruling by Chief Minister K Chandrashekar Rao, the people are disappointed and facing lot of hardships,' he pointed out.
Telangana was achieved for the sake of jobs, water and funds, which were not fulfilled in the six years of ruling by the TRS government. Moreover, the attacks on women and people are increasing day-by-day across the State, he criticised. TVV district secretary K Suryudu appealed the people of all sections to come on to one platform and fight for democratic Telangana.
TVV members Kranthi, Ajay, Lavan, Haritha, Suman, Sudarshan, Shravya, Bhargavi, Shirish, Soujanya, Umesh, Kiran, Mahendar Chary, Vikranth, Srikanth, Sharath, Mahesh, Fathima and Bharani were present along with others.
Subscribed Failed...
Subscribed Successfully...