Huzurnagar: Foundation stone laid for works worth Rs110 crore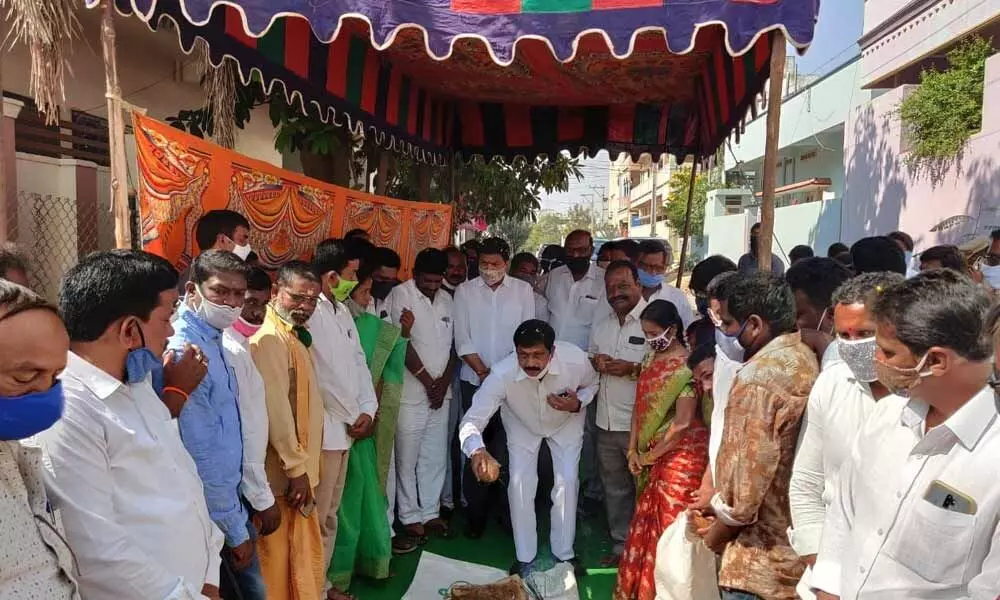 Highlights
Rajya Sabha MP Badugula Lingaiah Yadav asked the BJP leaders to realise and review themselves after seeing the overwhelming support from all sections of the society to the farmers' nationwide protest
Huzurnagar (Suryapet): Rajya Sabha MP Badugula Lingaiah Yadav asked the BJP leaders to realise and review themselves after seeing the overwhelming support from all sections of the society to the farmers' nationwide protest.
Along with MLA Shanampudi Saidi Reddy, the MP laid foundation stone for development works worth Rs 110 crore in Huzurnagar town on Wednesday. Speaking on the occasion, Lingaiah Yadav said that BJP MPs - Bandi Sanjay and D Arvind - have been making comments beyond limits. BJP leaders must slap themselves after observing the farmer welfare schemes being implemented by Chief Minister K Chandrashekar Rao in the State, he added.
The MP said the entire country was backing farmers over their genuine demands and the anti-farmer laws of the lotus party will not be accepted under any circumstances. Stating that farmers have decided to continue their agitation, he said the TRS will march along with farmers till their demands are met. He mocked at BJP leaders over their dreams of coming to power in the State by winning a few seats in the recent elections.
MLA Shanampudi Saidi Reddy announced that tank bund will be constructed with an estimated cost of Rs 9 crore in Huzurnagar municipality limits. The officials concerned were directed to expedite the completion of road width and central lighting works in Huzurnagar town, he added. The MLA informed that as a part of development works of Huzurnagar town, foundation stones were laid for the works of modernisation of pipelines with an estimated cost of Rs 89 lakh and CC roads with an estimated cost of Rs 36 lakh.