KCR prod on broad strategy for canal system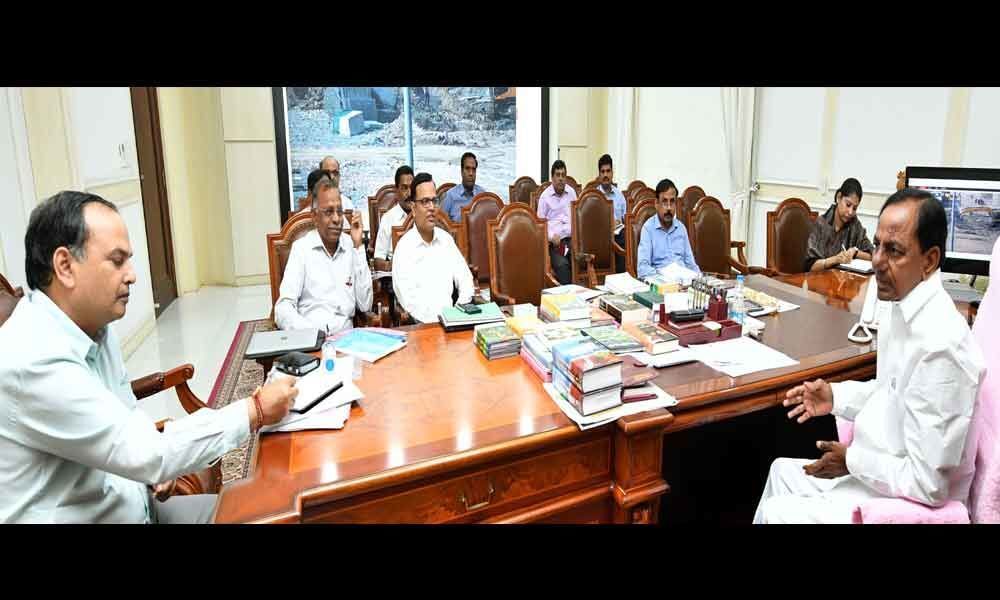 Highlights
Chief Minister K Chandrashekar Rao on Friday instructed the officials of Irrigation department to develop a comprehensive strategy for maintaining the canal system
Hyderabad: Chief Minister K Chandrashekar Rao on Friday instructed the officials of Irrigation department to develop a comprehensive strategy for maintaining the canal system in tune with the continuous water flow from the projects in Telangana.
The Chief Minister asked the officials to get prepared in all aspects for maintaining the barrages, reservoirs, canals, distributaries, sluices etc.
K Chandrashekar Rao held a high-level review meeting at Pragathi Bhavan on Friday afternoon and directed the officials to evolve a comprehensive strategy to lift water from the Kaleshwaram Lift Irrigation project from July this year.
The officials told the Chief Minister that water would be pumped from Medigadda to Sundilla, to Mid-Manair through Annaram, to Yellampally and from there SRSP project, to Mallanna Sagar and up to Kondapochamma Sagar.
Against this background, he said the sluices, distributaries and regulators of these canals are to be examined thoroughly and the required repairs are to be undertaken within the next 20 days on war-footing and are to be kept ready for use.
The Chief Minister wanted the complete canal system, from beginning to end, to be streamlined in all aspects in tune with water flow.
Since the water flow along with the canals will be to its full capacity the bunds either side are to be maintained with full strength.
For all these a workshop needs to be organised with irrigation department engineers and also the strategy needs to be finalised, the Chief Minister said.
Minor issues arising out of diverting water from barrages to reservoirs and tanks have to be overcome from time to time, he said it may take some time for flow of water from barrages to reservoirs and from reservoirs to agriculture fields.