LS polls: Nizamabad may go for ballot paper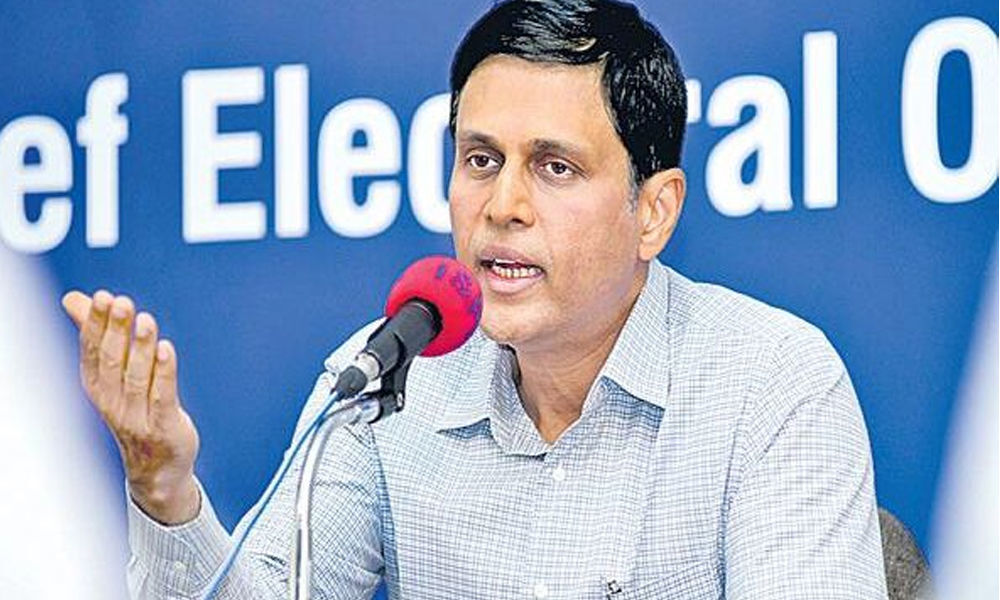 Highlights
245 nominations received in Nizamabad
TS CEO exploring all options to conduct polls
A total of 795 nominations received for 17 constituencies
Hyderabad: Ballot paper voting might be the option for the Nizamabad Lok Sabha election in view of a massive 245 nominations received for this parliamentary segment alone as nominations for April 11 election drew to a close on Monday (March 25).
Chief Electoral Officer, Telangana, Dr Rajat Kumar stated they are making required arrangements for the ballot voting process in Nizamabad. However, he said that final decision would be taken after withdrawal of nominations on March 28 as authorities would have an exact idea on the number of candidates left in the race.
Addressing media on Monday evening, Rajat Kumar said that the old EVMs that they are using in view of a court case involving the latest EVMs does not support that big number and hence election authorities are exploring the ballot paper option as well.
The total number of nominations received as per data received from all segments was 795. Candidates in Secunderabad and Hyderabad stood in queues till late evening to submit their nominations and they all reached the centre before the scheduled closing time of 3 pm.
Rajat Kumar gave break-up details of nominations filed in different Lok Sabha segments. Twenty-one nominations were received in Adilabad, 35 in Pedddapalli, 26 in Karimnagar, 245 in Nizamabad, 20 in Medak, 22 in Zaheerabad, 43 in Malkajgiri, 45 in Bhongir, 32 each in Hyderabad, Nagarkurnool and Chevella, 48 in Nalgonda, 34 in Mahbubnagar, 29 in Warangal, 38 in Khammam, 26 in Mahabubabad and 67 nominations in Secunderabad. Rajat Kumar said that scrutiny of nominations would be done on March 26, while withdrawal of nominations would be accepted till March 28.
He said that the Returning Officer can reject an application even if one column was left unfilled by the candidate.
Replying to a query, he said that the latest EVMs from BEL could support even if 383 candidates are in the race, but the previous ones from ECIL could be used if candidates number does not exceed 90.
Commenting on complaints by political parties to the Election Commission, he said that they have written to TRS about Congress party's objection to use of election strategies in Pragati Bhavan.
He also said that no action was taken on VHP complaint alleging that K Chandrashekar Rao insulted Hindus with his remarks in an election meeting as video footage watched by authorities did not show any violation.
Meanwhile, the number of star campaigners submitted by various parties include TRS (20), INC (40), BJP (40), CPI(M)-40 Jana Sena (4), AIMIM (2) and BSP (40).
TRS sent a fresh request on Monday urging inclusion of former minister T Harish Rao in the list replacing the name of MP J Santosh Kumar.