Madhapur at last gets storm water drains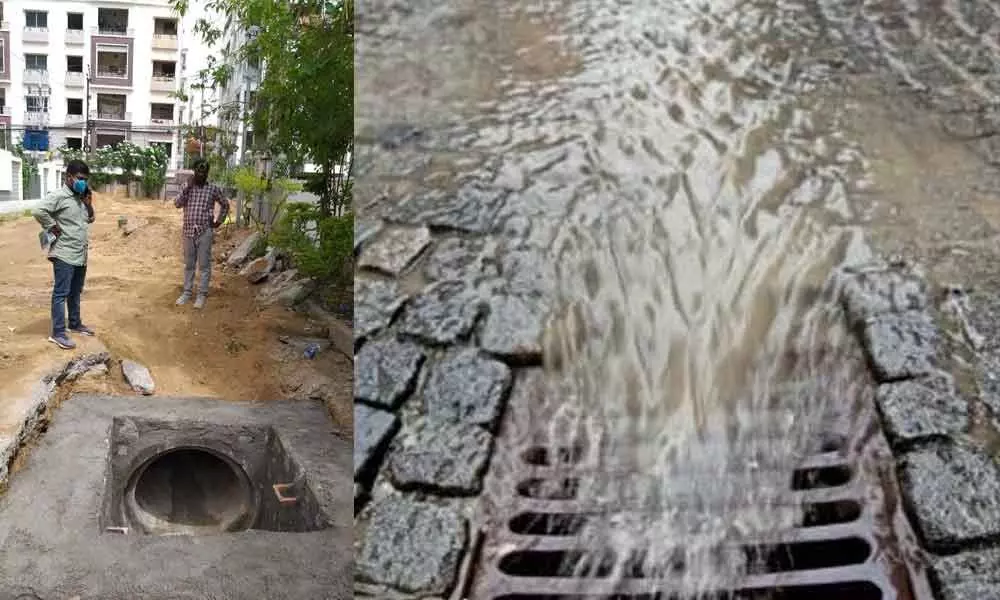 Highlights
Every year, heavy spells of rainfall expose poor infrastructure in the area and commuters suffer traffic hardships on every rainy day due to water logging
Storm water infrastructure drains excess rain and ground water from impervious surfaces such as paved streets, car parks, parking lots, footpaths, sidewalks
Madhapur: Monsoon preparations in Madhapur have entered the fast lane. The Greater Hyderabad Municipal Corporation (GHMC) Serilingampally zone is laying storm water drains and has also started desilting works as a part of monsoon preparedness plans.

Every year, heavy spells of rainfall in Madhapur have exposed the poor infrastructure facility in the area and the commuters struggle with traffic congestion on every rainy day due to water logging on main roads.
Moreover, the overflowing sewage on the same main roads left residents vexed. Now, the GHMC is putting all its efforts to end the troubles by building storm water drains across Madhapur. "900mm dia pipeline from Patrika Nagar park to Melange Tower in Madhapur is being laid and it would take 3 weeks for completion of construction works," said P Srinivas, Assistant Executive, GHMC.
The main objective for constructing storm water drains is to stop water logging on rainy days. Most of the main roads in Madhapur face inundation resulting in damage to roads and drain network every year as there is no channel for the flow of rainwater. Recognising the importance for a separate channel for the storm water, GHMC is constructing these pipelines with a budget of Rs 35 lakhs for about 1500 meters, he added.
Along with construction of new storm water drains, GHMC of Serilingampally and Kukatpally is trying to revive all the old storm water drains which are in dilapidated condition.
Desilting works are underway in Shaikpet, Madhura Nagar, Yousufguda and Madhapur as a part of the monsoon preparations in Serilingampally division.