River linking top on CMs agenda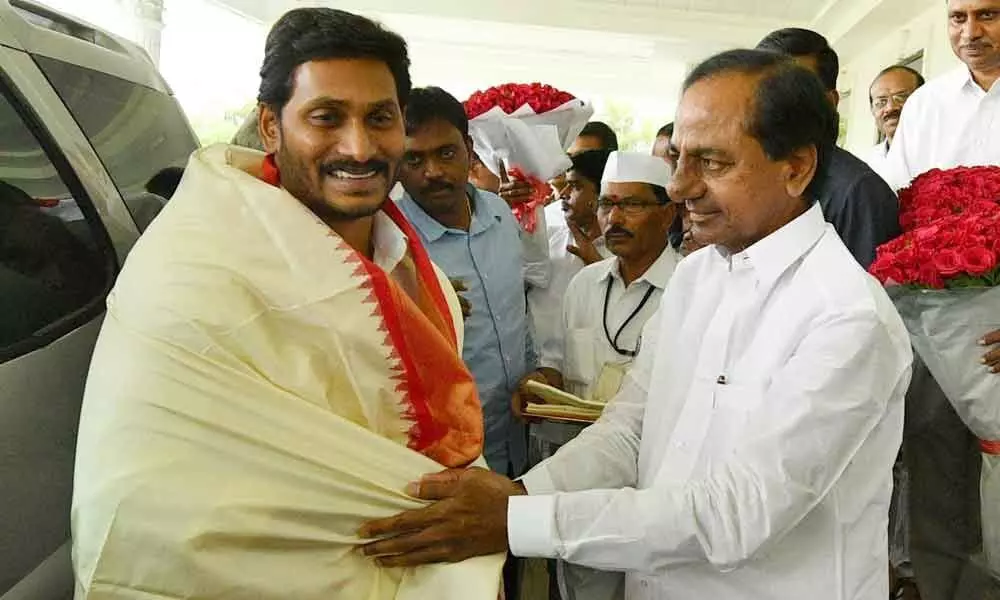 Highlights
5 ideas floated to divert Polavaram water to link Krishna, Godavari
Hyderabad: The Andhra Pradesh and Telangana governments have decided to take up linking of Krishna and Godavari and construct required projects for the optimum utilisation of waters.
It is understood that the chief ministers of Telangana and Andhra Pradesh, K Chandrasekhar Rao and Y S Jaganmohan Reddy are keenly examining the proposal to divert water from Polavaram project in their efforts to link Godavari and Krishna rivers.
The chief ministers of the two Telugu states held a marathon meeting at Pragathi Bhavan on Monday where the main issue that was discussed at length was on diversion of Godavari waters.
At the closed-door meeting, it is learnt that the officials made a detailed presentation on various proposals they had prepared. The officials are said to have presented about five proposals on how and where to divert water.
During the earlier meeting between the two chief ministers in July, the officials had come up with proposals to build a reservoir at Dummugudem tail pond to divert 4 tmc ft of water, two each to Srisailam and Nagarjunasagar, and tapping of 2 tmc ft from Polavaram and diverting to Pulichintala to Nagarjunasagar.
Another proposal was to build a reservoir at Dummugudem so that 4 tmc ft of water can be diverted by constructing two canals one to Srisailam and another to Nagarunjunasagar.
Another alternative was to build a reservoir near Papikondalu in West Godavari district, to which 2 tmc ft of Godavari water from Polavaram could be diverted.
From there, through a canal, water can be brought to Krishna basin till Pulichintala. This would involve digging of a huge tunnel which could be a very costly proposal. The two CMs also decided to take up the river linking projects with minimum land acquisition, and loss and damage.
Following discussions between the officials of two states, they are now said to have come with some firm proposals which was explained to the two chief ministers through a presentation.
However, the main question before the two states now is about mobilising funds for the proposal that would be finalised soon. It is felt that to dig canals, construct artificial reservoir and go in for lifting of water would cost about Rs 1 lakh crore.
Given the financial situation of Andhra Pradesh which is facing fund crunch this will be a tall order. Even the TS government has borrowed about Rs 1.5 lakh crore to take up ambitious irrigation projects in the state.
Hence the main issue before the two chief ministers is to decide whether to go in for fresh loans or not. Among other issues that had figured in the meeting, sources said, relate to the Centre-state relations.
Since the country was going through a period of recession, what stand both the Telugu states should adopt towards the Centre so that it can get some help was also discussed.