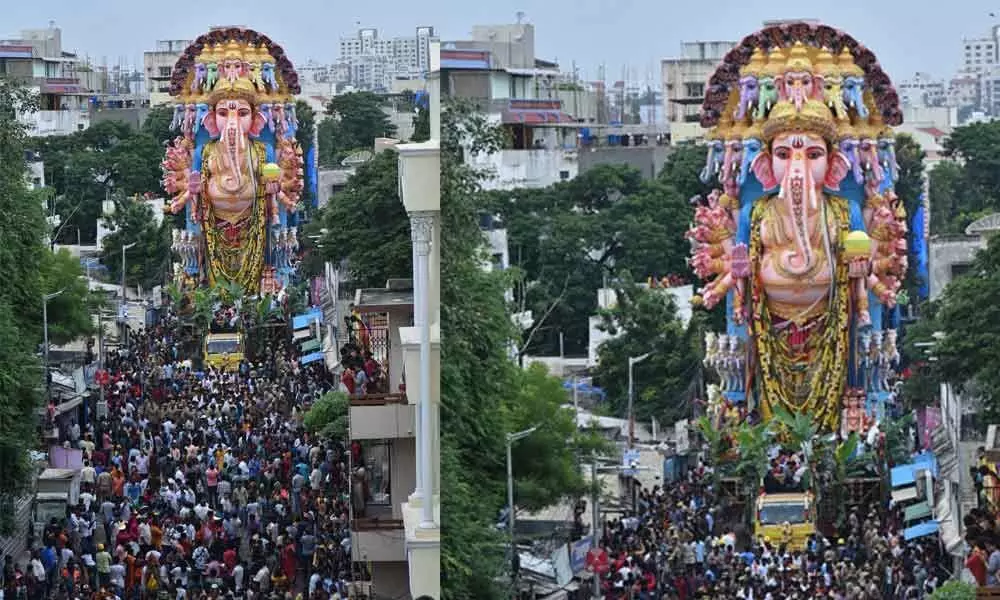 Highlights
Pomp and gaiety mark Khairatabad Ganesha immersion
Hyderabad: Amidst cries of 'Jai Bolo Ganesh Maharaj Ki Jai', the 61-feet gigantic Ganesh idol with 12-hooded snake in the background weighing 50 tonnes was immersed in the Hussain Sagar lake at around 1:40 pm on Thursday.
The procession of Khairatabad Ganesha made its way via Telephone Bhavan and Secretariat to the NTR Marg. Thousands of devotees thronged the streets and not an inch of space spared as they danced and sang to the drumbeats all along the procession.
In what can be termed as a perfect synchronization between various departments, including Hyderabad Commissioner's Task Force and Special Operations Teams (SOT) of Rachakonda and Cyberabad police, Telangana State Special Police, Central Paramilitary Forces, Rapid Action Force and line departments, the immersion went off peacefully by afternoon, unlike in the past which would go on till midnight.
The chants reached a crescendo when the idol of Sri Dwadasha Aditya Maha Ganapati of Khairatabad was immersed in the lake from Crane No 6. Devotees in large numbers gathered at Khairatabad since early hours, accompanied the idol till the immersion.
Men, women and children watched with awe as the towering idol was being lowered into the lake with the help of a giant crane. The authorities arranged 400-tonne special crane and immersed the idol. Earlier, hundreds of idols were immersed in the lake.
For the first time, the Hussain Sagar lakebed at the NTR Garden gate-end was deepened by 22 feet to ensure submergence of the towering Khairatabad Ganesh idol.
The HMDA had taken up the exercise 20 days back and nearly 200 tonnes of hard soil was excavated from the lakebed near at the Crane Number 6.
Minister Talasani Srinivas Yadav, City CP Anjani Kumar and Mayor Bonthu Rammohan visited the immersion site to seek final blessing of the city's favourite Ganesha.
More than 200 CCTV cameras were installed keeping in view the security of the public. They also went on aerial survey to monitor the movement of the Ganesh idols from across the city.
Khairatabad's giant Ganesh idol, weighing nearly 50 tonnes standing 61-foot tall sculpted by over 200 artistes. The idol has 12 heads and 24 arms with 12 snakes coiled around
♦ 'Bada Ganesha' takes more than six hours to cover 3 kms
♦ The trolley that carried the idol has 26 tyres with a capacity to pull over 55 tonnes
♦ The mega crane built with the latest German technology weighs 72 tonnes and can raise up to 400 tonnes of weight. Its jack can lift idols up to 61 metres high
♦ The crane with 12 tyres, size of 14 metres horizontal and 4 metres width were deployed for immersion of the massive idol 35,000 policemen, including Central forces deployed in the Hyderabad, Cyberabad and Rachakonda police Commissionerate jurisdictions to monitor processions
♦ Over 3 lakh cameras keep an eagle's eye over the crowds
♦ 26,000 volunteers pitched in
♦ It is estimated that over 10,000 idols from Hyderabad and outskirts immersed in water bodies on Thursday
♦ 93 cranes, 134 mobile cranes and 75 power generators at 32 spots around necklace road deployed
♦ Two teams of National Disaster Response Force (NDRF), 36 fire tenders, 12 boats and 10 swimmers kept ready for emergencies