TRS draws roadmap to woo PSUs' employees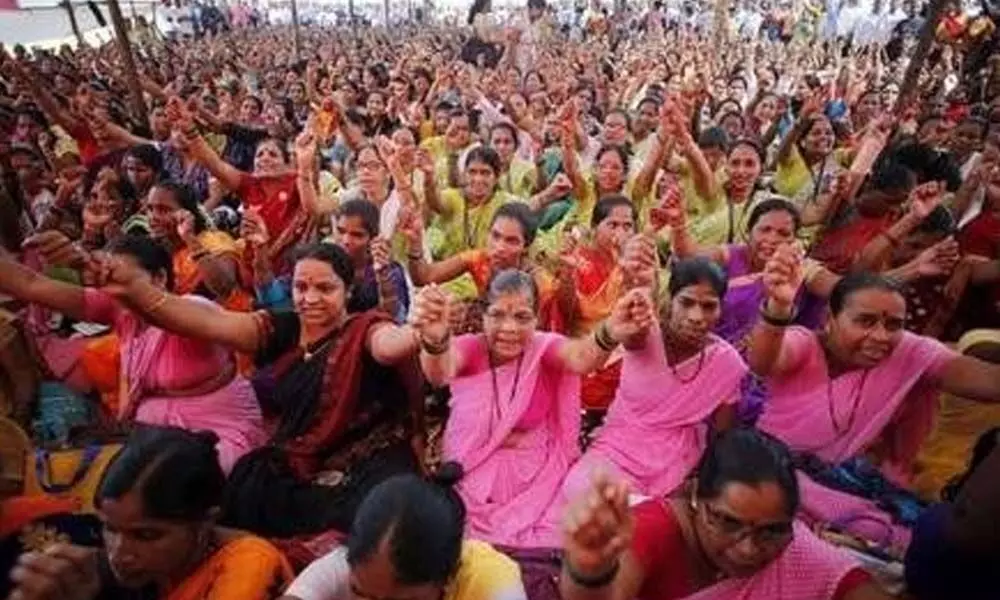 Highlights
Pink party vows to protect and safeguard the interests of the Central government employees particularly those working in the PSUs in Hyderabad
State ruling party devises a strategy to oppose disinvestment in PSUs mainly LIC, Railways, Singareni etc
Party seeks support of the Railway employees
Need to fight against Centre's anti-farmer and anti-employee policies stressed
Hyderabad: Aiming to woo the Central government employees who are working in the poll-bound Greater Hyderabad, the TRS has started to reach out to them by raising the issue of disinvestment in PSUs mainly LIC, Railways, Singareni.
The ruling party in the State seems to have taken the responsibility of the working class particularly the employees working in public sector companies and it is also getting response from them in return as they have pledged their support to the TRS. There are over 50,000 employees working under the public sector companies like LIC, Railways (SCR), BSNL and others and the party wants to attract this large section to get their votes.
The TRS chief K Chandrashekar Rao during a meeting of the legislature party at Telangana Bhavan talked about how the Central government led by Prime Minister Narendra Modi was closing down the public sector companies in the country. He pointed out that the PSUs were started with a good intention but in the name of disinvestment, the Centre was closing down by selling the stake to the corporate companies. The chief minister talked about the PSUs like LIC, Railways, Singareni and others and also promised to stand by them.
The party leaders said that they want to reach out to the employees as a large number of employees work in the PSUs. The Telangana State Planning Board vice chairman B Vinod Kumar had a meeting with the South Central Railway Mazdoor Union at Minister's quarters and released a poster regarding the nationwide strike on November 26 against the privatisation of the PSUs. He also sought their support in the upcoming elections. The Railway Mazdoor Union leaders have also assured to support the TRS party after discussing with their leaders.
MLC Kalvakuntla Kavitha has already taken up the cause of the Singareni employees. She was the one to lead the protest by the employees of Singareni against the Centre's decision to privatise the organisation. Kavitha during an interaction with the media had said that there was a need to fight against the Centre's anti-farmer and anti-employees policies. She said that several organisations were in touch with the chief minister and they wanted him to lead their agitation.
The party has also tried to attract the RTC employees as the government announced payment of deferred half salaries during lockdown. The government released another Rs 200 crore on Friday for the Credit Cooperative Society (CCS) and payment of salary for 12 days during the strike by RTC employees.
Interested in blogging for thehansindia.com? We will be happy to have you on board as a blogger.