TRS government determined to transform dry lands into fertile said Minister Eatala Rajendar in Karimnagar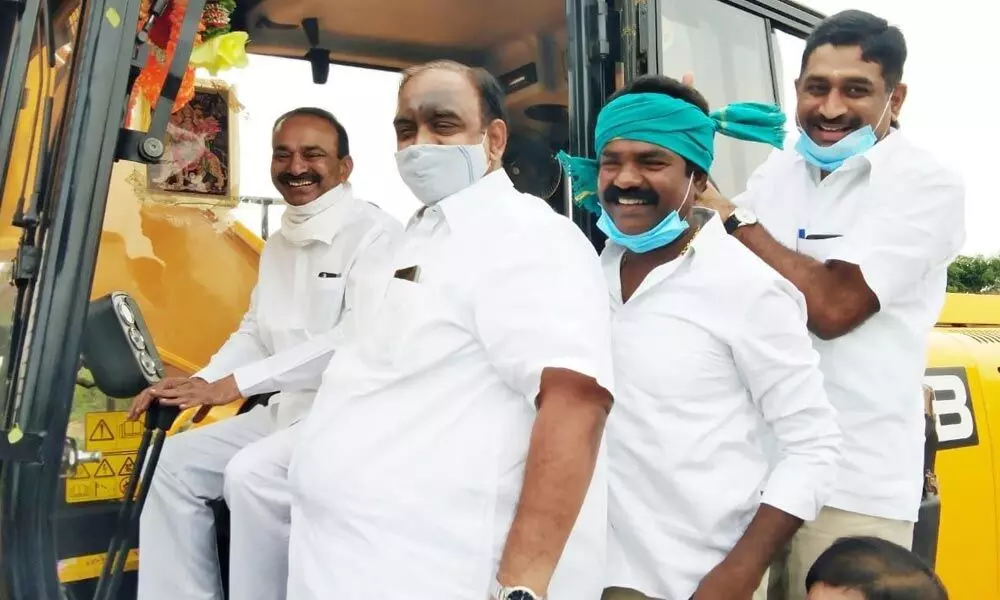 Highlights
The government is committed and striving hard to transform dry lands into fertile with Godavari water, said Health Minister Eatala Rajendar
Karimnagar: The government is committed and striving hard to transform dry lands into fertile with Godavari water, said Health Minister Eatala Rajendar. Along with MLAs Vodithala Satish Kumar and Rasamayi Balakishan, the Minister on Monday inspected right canal of Mid Manair Dam, which is spread in Indurthi, Peechupalli, Mudimanikyam, Rekonda, Bommanpali, Duddenapalli, Akunur, Ghanpur, Perkapalli, Venkateshwarapalli, Somarm, Enklaspur villages of Chirumamidi and Saidapur mandals of Husnabad Constituency in Karimnagar district.
Speaking on the occasion, Health Minister Rajendar said that he was happy to see that Godavari water is reaching Chigurumamidi, Saidapur and Thimmapur mandals. Godavari River, which is flowing through Karimnagar district, is supplying water to entire Telangana state, he stated.
The farmers of this region earlier faced severe problems with water shortage of both drinking and agriculture purposes.
Their dream of flood canal became reality with the TRS government and Mid Manair will be developed and water will be supplied to all minor, sub-minor and small canals to make the entire region fertile, he added.
Chief Minister K Chandrashekar Rao wished to supply Godavari water to every village and mandal as part of tge several projects works taken up and are completed. The TRS government is farmers friendly and will support the farmers in all sectors, Minister Rajender added.
Husnabad MLA V Satish Kumar said by crossing all hurdles and by standing at top in all sectors, the State is heading towards achieving Banagaru and Model Telangana under the leadership of Chief Minister K Chandrashekar Rao. With the districts reorganisation, several problems, which have been pending for the past several years, were solved. The MLA said by taking up the impossible and mighty Kaleshwaram project, the CM made the dream of farmers possible and supplied water to even dry lands.
ZP Chairperson K Vijaya, SUDA chairman G V Ramakrishna Rao and public representatives of various villages and mandals were present along with others.