93,872 ha paddy crop damaged in Krishna district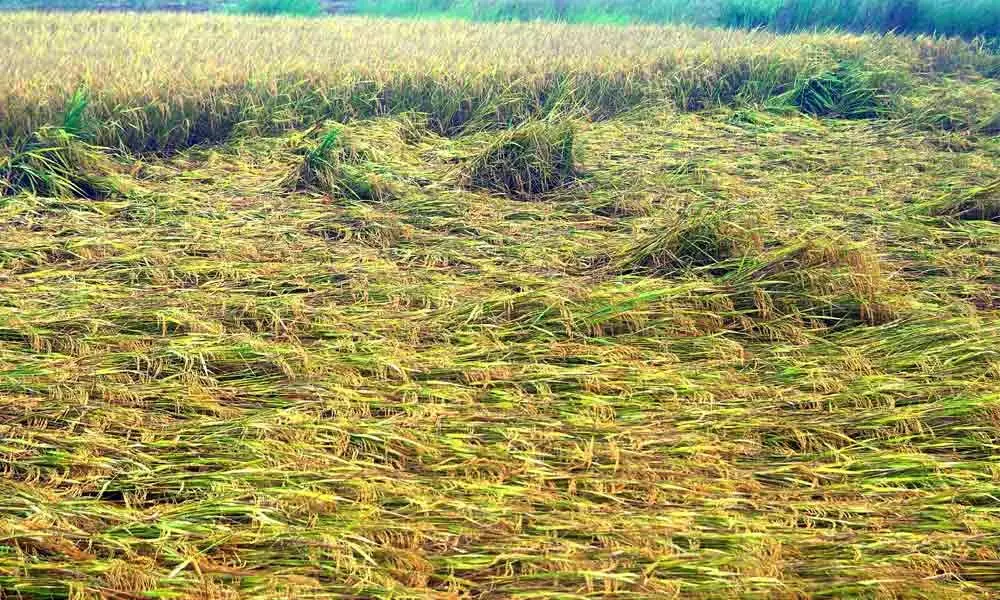 Highlights
Storm dashes hopes of farmers expecting bumper crop
Thousands of farmers in the district are in deep shock
Paddy farmers could not save the crop from the rains as they did not expect it
Farmers could not get labour and harvesting machines in time
Vijayawada: Paddy farmers suffered huge loss due to the heavy rains caused by Cyclone Nivar. According to preliminary estimates, paddy crop was damaged in 93,872 hectares in 34 mandals of Krishna district.
Paddy is the most important crop in the district with the crop area of 3.24 lakh hectares. The district registered rain since Thursday early morning to late night resulting in stagnation of water in the paddy farm lands. Winds also damaged the crop, as crop fell to the farm lands resulting in damages.
Cyclone Nivar, which had landfall in Tamil Nadu in the wee hours on Thursday, resulted in heavy to very heavy rains and gales in many parts of Andhra Pradesh, particularly in south coastal districts and parts of Rayalaseema.
The Krishna district was also affected badly due to the cyclone. The paddy crop was damaged in Koduru, Nagayalanka, Avanigadda, Mopidevi, Movva, Gannavaram, Turuvuru, A Konduru, Gampalagudem, Pamidimukkala, Vissannapeta, Unguturu, Mylavaram and others mandals.
Paddy farmers could not save the crop from the rains as they did not predict it. Moreover, the farmers could not get labour and harvesting machines in the due time. Due to shortage of manpower (labour), many farmers are started depending on the harvesting machines. This also caused loss to the farmers as they could not get adequate machines to harvest and save crop in the short time.
By Wednesday, paddy harvest was completed in only 65,000 hectares against the crop area of 3.24 lakh hectares. Unfortunately, Cyclone Nivar dashed the hopes of farmers, who expected bumper harvest this season.
R Nagaraju, a farmer in Avanigadda said he could not harvest the crop due to non-availability of labour in the nick of the time. He lamented Cyclone Nivar dashed his hopes of bumper harvest and good income. Like Nagaraju, thousands of farmers in Krishna district are in deep shock with the cyclone and damage of paddy crop.