Eluru: Declare Cyclone Nivar as national calamity, demands CPI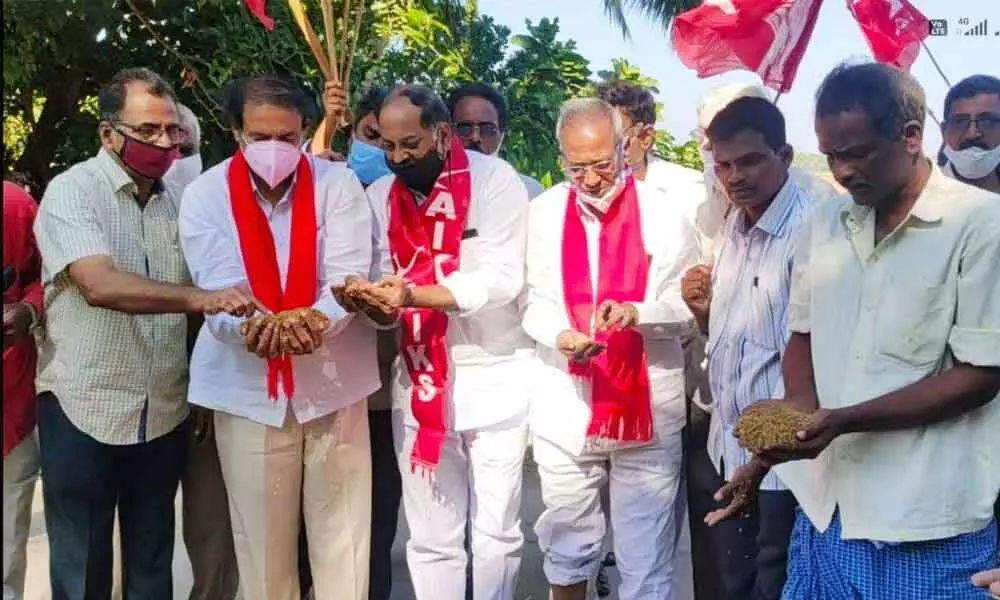 Highlights
CPI State Secretary K Ramakrishna has demanded that the government declare Cyclone Nivar as national calamity and render assistance to the farmers who suffered crop loss due to heavy rains caused by cyclone
Eluru: CPI State Secretary K Ramakrishna has demanded that the government declare Cyclone Nivar as national calamity and render assistance to the farmers who suffered crop loss due to heavy rains caused by cyclone.
He visited cyclone-affected villages in Mudunuru and Akiteegapadu villages in Pentapadu mandal of West Godavari district on Sunday. The local farmers showed the damaged crops to the CPI leaders.
All India Rythu Sangham vice-president Ravula Venkaiah, West Godavari district rythu sangham president V Vidyadhar, CPI West Godavari district assistant secretary Yallamanda Rao and others accompanied Ramakrishna.
Speaking on the occasion, Ramakrishna said, "At least 10 districts in Andhra Pradesh and many parts of Tamil Nadu were affected by cyclone and it should be declared as national calamity". Ramakrishna went into the paddy field and inspected the damaged crops.
He said the farmers will not get price for the discoloured paddy and tenant farmers have suffered more loss due to cyclone. He said the farmers were worried with the reports of two more cyclones.
He felt there was no use with the aerial survey conducted by Chief Minister Y S Jagan Mohan Reddy and said that the Chief Minister should do the field level visit to know the suffering of the farmers and crop loss faced.
He demanded that the government pay Rs 25,000 per acre agriculture crops and Rs 50,000 for the horticulture crops. He questioned why the BJP leaders and Central Ministers are not visiting the cyclone affected districts in Andhra Pradesh when they can visit Hyderabad to campaign for the Municipal Corporation polls.