Farmers asked to adopt novel measures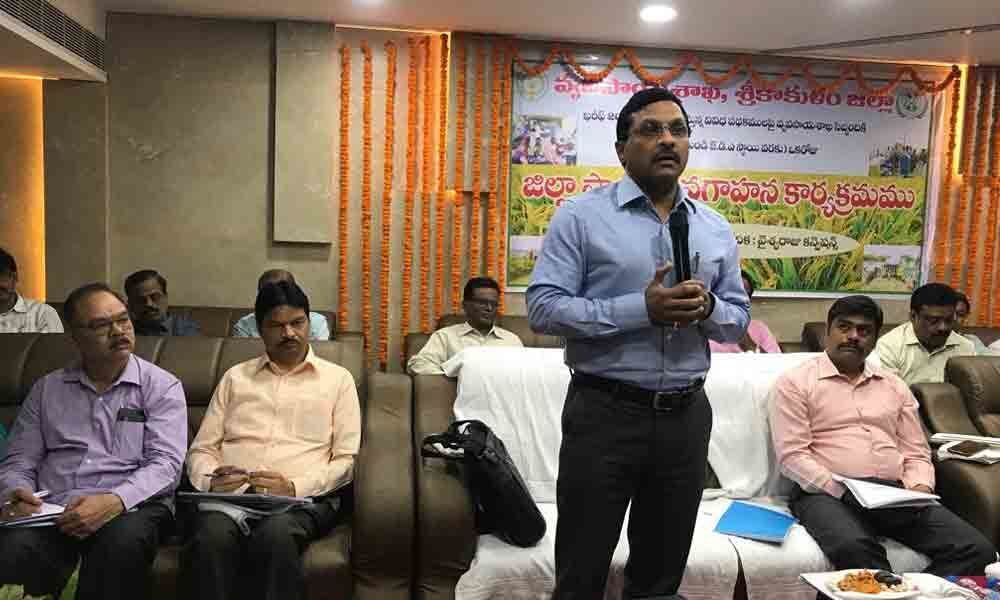 Highlights
Principal Secretary to government for agriculture B Rajasekhar speaking at agriculture awareness programme in Srikakulam on Monday.
Srikakulam: Farmers need to adopt novel measures in cultivation of crops, suggested principal secretary to government for agriculture B Rajasekhar.
Participating in an awareness programme on 'Emerging techniques in farming sector' held here on Monday, he appealed to farmers to adopt organic farming to protect soil health.
Farmers need to adopt mechanisation process to get good yields with a smaller number of workers and investment, he said and added mechanisation would also save precious time and farmers can catch up seasonal changes quickly with this process.
He also requested farmers to utilise government schemes for development of cultivated materials. He also directed the agriculture officers to prepare accurate details on cultivation of different crops at village, mandal and district level.
All these details will be useful in preparation of schemes for welfare of farmers and development of farming sector. He hoped the agriculture officials and staff should be resourceful persons for farmers and clear their doubts at field level.
On the occasion, the principal secretary explained how some farmers are getting good yields by adopting novel measures in Kadapa, Anantapur and other districts. District Collector J Nivas suggested the farmers to think in novel way to improve their earnings.
Additional directors for agriculture Sai Laxmi Eswari and B Prasad, joint director K CH Appala Swamy and other agriculture officials also participated.