Gannavaram : VP Venkaiah Naidu asks industrialists to make plastic implements for farmers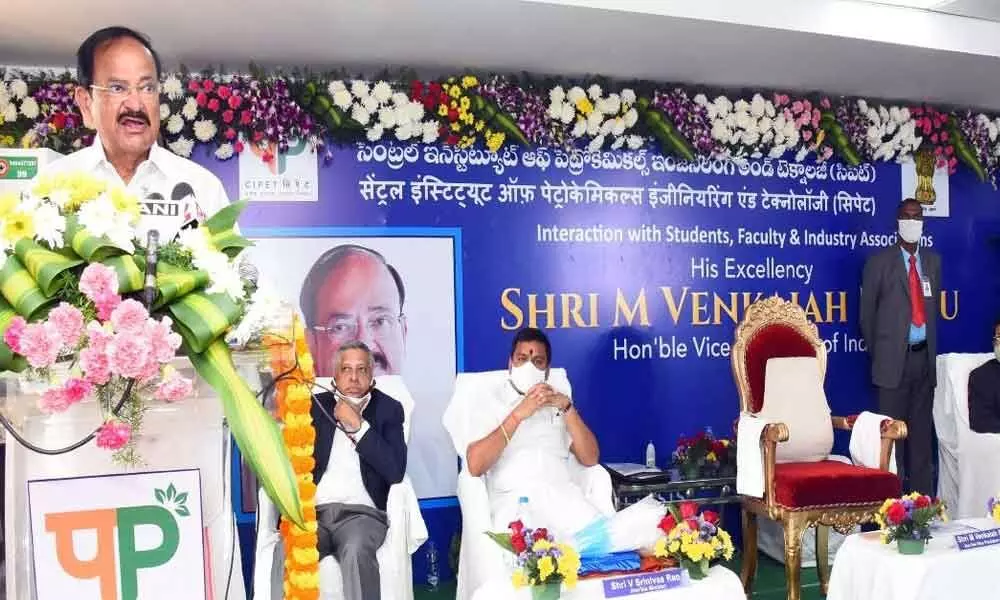 Highlights
Vice-President of India Muppavarapu Venkaiah Naidu exhorted the entrepreneurs, the faculty and the students of Central Institute of Plastic Engineering and Technology (CIPET) to provide low-cost agricultural implements to the farmers in the country
Surampalli (Gannavaram): Vice-President of India Muppavarapu Venkaiah Naidu exhorted the entrepreneurs, the faculty and the students of Central Institute of Plastic Engineering and Technology (CIPET) to provide low-cost agricultural implements to the farmers in the country.
Addressing the students of CIPET here on Monday, the vice-president said that it gives immense satisfaction to participate in such meetings rather than in virtual meetings.
Referring to the latest innovations in plastic engineering, he said that various products are going with plastic at throwaway price, good quality and standard. "But it would do well to our economy as well as for the farmers if the plastic implements are invented for them."
The vice-president said that it was everyone's responsibility to be eco-friendly to prevent damage to the nature. He said that the use of plastic should be coupled with its recycling.
He said that he was happy to note that CIPET which had been incurring loss turned profitable nowadays.
When the state was divided, he was worried over the poor industrialisation of Andhra Pradesh, he recalled and said that with the cooperation of the Central government about 36 central institutions were set up in the State.
He recalled the cooperation of the then Union ministers Arun Jaitley and Anant Kumar for establishing CIPET here.
Stating that 65 per cent of the population was below 35 years, he underlined the importance to provide them skills, to encourage them to undertake research and technology to achieve development. Expressing concern over the single usage of plastic, he said, "We have to focus on recycling rather than controlling its use."
Kasinath Jha, joint secretary of Directorate of Petroleum and Petrochemicals, addressing the students said that as the Union Minister, Venkaiah Naidu, laid foundation stone for the CIPET in 2016 which has given training to 9,500 students of various colleges. He said that the CIPET was striving to manufacture toys as an alternative to Chinese toys.
CIPET director general Dr SK Nayak said that Vijayawada is going to become a global city soon. At present CIPETs all over the country have been churning out three lakhs students every year and a target has been set to take it to five lakhs.
Minister for Endowments Velampalli Srinivasa Rao, CIPET principal director R Rajendran, sub-collector HM Dhyanachandra, CIPET in-charge Sekhar and others were present.