India joining RCEP affects manufacturers, farmers: AIKSCC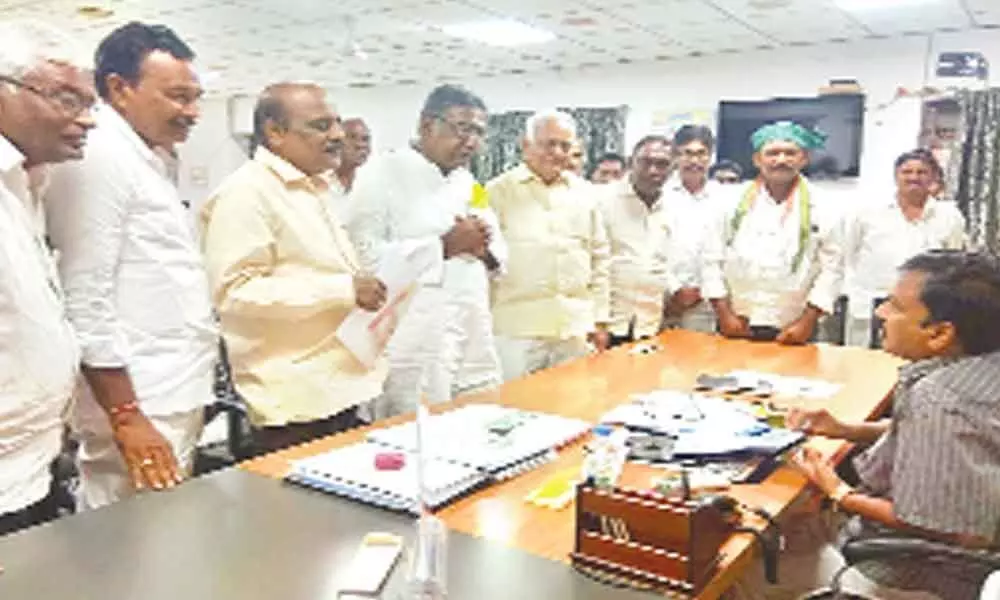 Highlights
The Prakasam district units of the All India Kisan Sangharsh Coordination Committee, Andhra Pradesh Raitu Sangham and Development Organization for Socio-Economic Change in Prakasam district organized a conference to discuss the effects of India
Ongole: The Prakasam district units of the All India Kisan Sangharsh Coordination Committee, Andhra Pradesh Raitu Sangham and Development Organization for Socio-Economic Change in Prakasam district organized a conference to discuss the effects of India joining the Regional Comprehensive Economic Partnership (RCEP), in Ongole on Thursday.
After the conference, the leaders submitted a memorandum to the district collector Dr Pola Bhaskara demanding the union government to not join the RCEP, which will further ruin the local agriculture and industrial opportunities.
The Regional Comprehensive Economic Partnership is a proposed free trade agreement (FTA) between the 10 member states of the Association of Southeast Asian Nations (ASEAN) and its six FTA partners of China, India, Australia, New Zealand, Japan and South Korea.
The trade ministers of all these countries are meeting in Bangkok on November 1 to finalize the terms before the national leaders meet on November 4. The trade ministers have met nine times, including on October 11 and 12, and expected to close all negotiations and take a call on the crucial chapters in the agreement related to investment, e-commerce, rules of origin and trade remedies.
In the memorandum submitted to the collector, the convenor of AIKSCC Chunduri Rangarao, general secretary of the APKS V Hanumareddy, Pentyala Hanumantha Rao from AIKS, Chunchu Seshaiah from Acharya NG Ranga Kisan Samstha and others explained that the RCEP proposed by the Southeast Asian Countries will damage the livelihood of farmers and small industrialists in the country.
They said that if India accepts to be the partner, it should reduce the cess on the goods being imported from the member nations from 0 to 3 per cent, which reduces the price in the retail market and damage the opportunities of the local manufacturers and farmers.
They expressed concern that the RCEP will affect the local dairy industry, seeds, oil manufacturing industry, pharma, solar electricity equipment, steel and e-commerce trades and they will be deeply damaged.
The leaders of the farmers demanded the collector to forward the memorandum to the union government so that it will not join the RCEP. They said that the agriculture and health are under the state government as per the constitution and requested the collector to take the issue to the union government and demand it to not join the RCEP through the state government.