Kakinada: Millet farmers waiting for govt support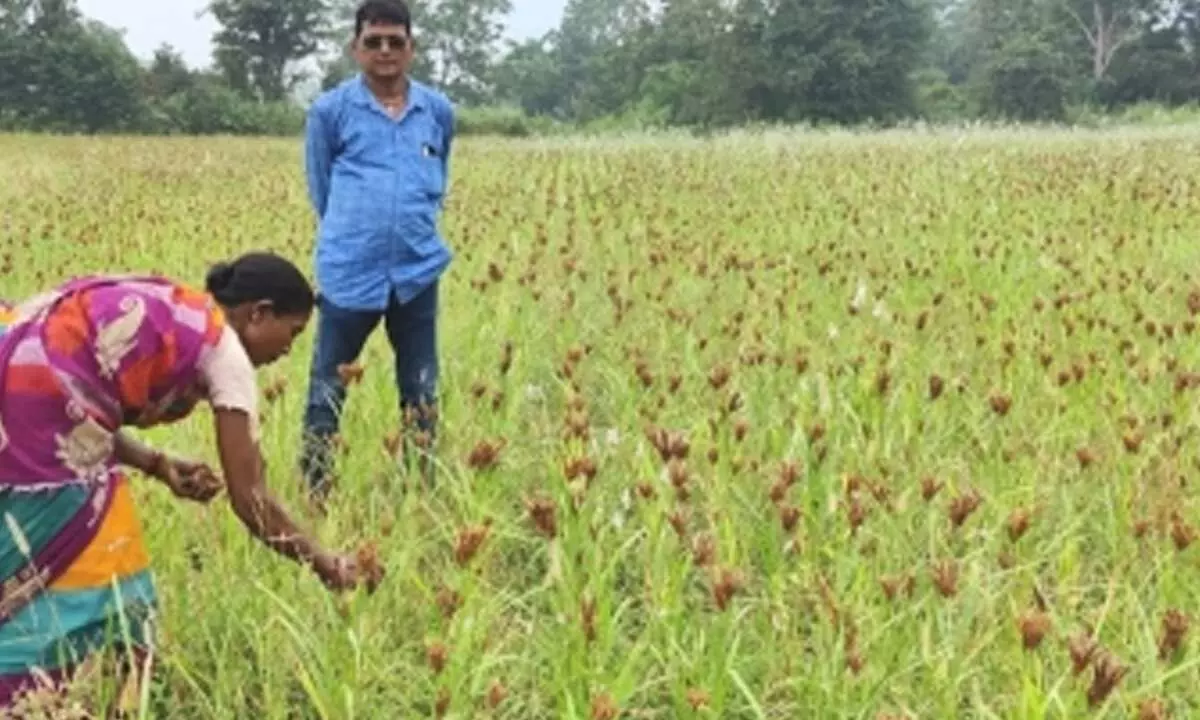 Highlights
Kakinada district is not listed in millet promotion programmes due to inadequate land
Ragulu is being cultivated in 35 acres only
Sankhavaram(Kakinada district): Despite discouragement and lack of financial support from the government, some farmers are cultivating finger millets (ragi) in Kakinada district.
According to Agriculture department officials, Kakinada district is removed from the list of millet promotion programmes due to inadequate land. In order to be enlisted in the millet promotion programme, 250 hectares should be earmarked for growing millets exclusively.
But earlier in the combined districts of Godavari, millets were highly encouraged and it was very profitable. The officials informed that 64 farmers are cultivating gulla ragi in 35 acres in Kotananduru, Sankhavaram, Tuni, Rowthulapudi and other areas in the district. They are merely receiving guidance but no financial support.
According to officials, along with paddy ragi is also a major crop in Sankhavaram, Rowthulapudi, Tuni and other mandals in the district. But the traditional method of broadcasting or direct seed sowing produced low yield of three to four quintals of ragi per acre. However, after the Guli method of ragi cultivation was introduced in 2017, many farmers have recorded yields of up to 16 to 18 bags per acre.
Though initially a few small-scale farmers adopted Guli method of ragi cultivation, now most of the farmers are following this method in the district. They became successful farmers with the help of Zero Budget Natural Farming (ZBNF), AP Community managed Natural Farming (APCNF), Rythu Sadhikara Samstha, Agriculture and Horticulture officials.
A tenant farmer Chintakayala Devudu from Allipudi village of Kotananduru mandal told The Hans India that he is cultivating Guli ragulu through natural farming methods in his land and earning a profit of Rs 22,000 after spending Rs 10,000 per acre. He said that there will be 14 to 16 bags of ragulu yield per acre and will sell at Rs 50 per kg. Moreover, the buyers are directly coming to the fields and buying directly, he added.
Speaking with The Hans India, another farmer A Venkata Ramana from Kotananduru mandal said that he is cultivating Gulla Ragulu in one and half acres through ZBNF and APCNF and invests Rs 8,000 to Rs 10,000 per acre. Stating that he totally relying on natural farming, he explained that though natural farming method costs at Rs 50 per kg and chemical farming costs Rs 33 per kg. But expenses towards labour and chemicals will be more in chemical type of farming hence, many farmers chose natural farming for the past five years, he added.
APCNF master trainer A Ramakrishna told The Hans India that even though the government is not supporting them financially, they are providing training to farmers in millets cultivation. He said that they are cultivating millets in Rabi as well as Kharif seasons and Rs 6,000 to Rs 7,000 will be spent per acre for cultivating Gulla Ragulu.
Speaking with The Hans India, District Agriculture Officer N Vijay Kumar said that millets are cultivated in Rowthulapudi, Tuni and other mandals in Kakinada district. Earlier, millets were cultivated abundantly in the twin districts of Godavari, but after bifurcation there was no encouragement, he added.
Vijay Kumar said that a few farmers voluntarily cultivating millets exclusively in their lands at Rowthulapudi and other mandals in the district and the department is giving training to them. The government is giving seed subsidies to farmers of Rayalaseema and Uttar Andhra and subsidy is not provided to the farmers of Kakinada district as the district is not enlisted in the millet promotion programme.