Machilipatnam: TDP celebrates Eruvaka Pournami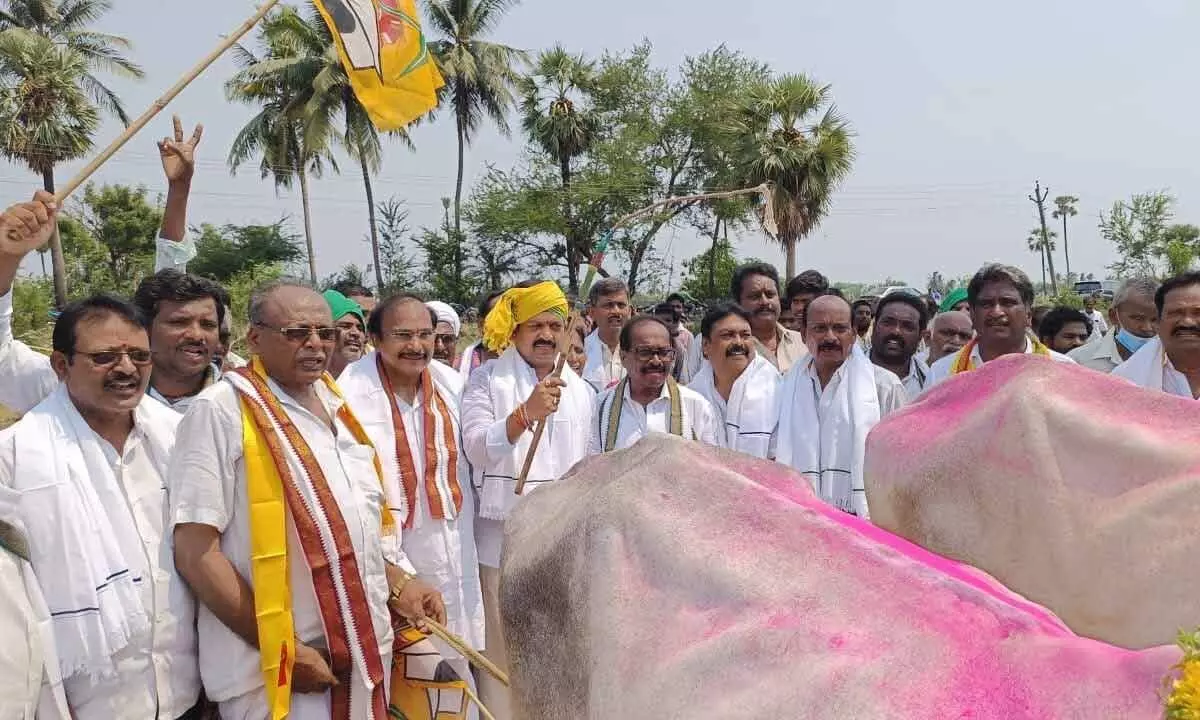 Highlights
TDP leader Kollu Ravindra alleges that Chief Minister YS Jagan Mohan Reddy had reneged of his vows, which were given to the farmers before the elections
Machilipatnam: TDP Krishna district president and former MP Konakalla Narayana Rao and TDP Politburo member Kollu Ravindra stated that farmers' government will soon be established by the TDP supremo N Chandrababu Naidu in the State. All the farmers' related problems and issues can be solved during the TDP regime.
On the occasion of Eruvaka Pournami, TDP leaders Konakalla Narayana Rao, Kollu Ravindra and former deputy speaker Buragadda Vedavyas along with farmers performed special pujas to the farmland and commenced the works by ploughing the field at Chinnapuram village in Machilipatnam on Sunday.
It may be noted here that former Chief Minister Nara Chandrababu Naidu had announced Eruvaka Pournami as a State festival in 2017. Following this and the significance of Eruvaka Pournami, TDP leaders on Sunday celebrated this festival along with the farmers.
Speaking on the occasion, Kollu Ravindra said that already TDP supremo Chandrababu Naidu had announced a financial assistance of Rs 20,000 to each farmer during Rajahmundry Mahanadu programme. He said that a full-fledged farmers' manifesto will be announced on the occasion of Dasara festival. He alleged that farmers are not being paid the amount for their paddy produce by the RBKs, reminding that they had paid the amount to the farmers within 48 hours after paddy procurement. He alleged that Chief Minister YS Jagan Mohan Reddy had reneged of his vows, which were given to the farmers before the elections.
Narayana Rao said that the government had failed to pay the amount to the farmers in time and alleged that the government also failed in providing MSP.
Vedavyas said that while Naidu supported the farmers by implementing various schemes such as runa mafee, distribution of farm equipment on subsidy and others, the YSRCP government had totally cheated the farmers by not implementing any farmer-friendly schemes.
TDP Telugu Rythu president Gopu Satyanarayana, ex-MPP Kagitha Venkateswara Rao, Lanke Narayana Prasad, Gopala Rao, PV Phani Kumar and others participated in the event.