Police arrested a 7 member gang responsible in indulging cyber crimes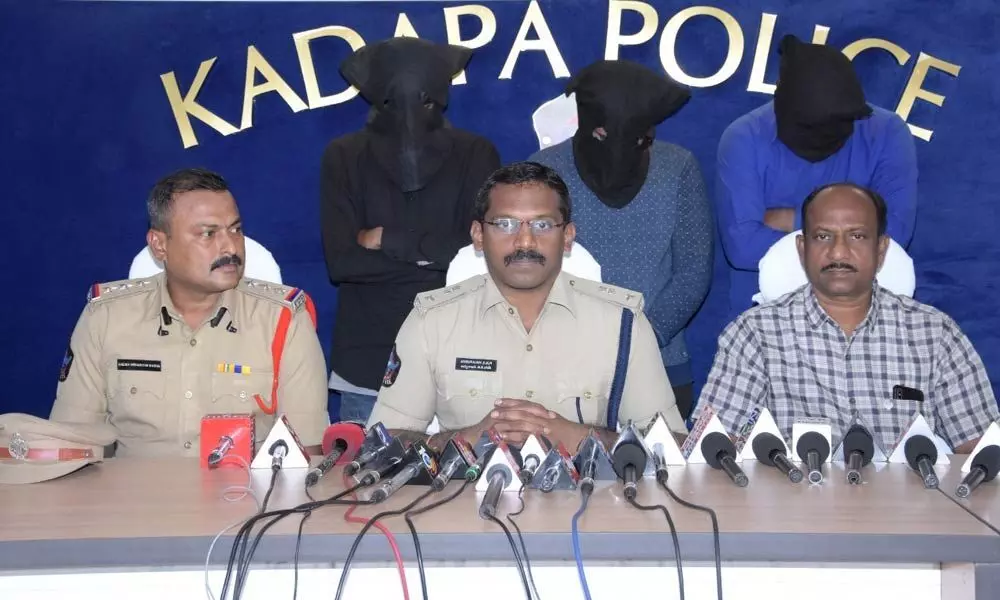 Highlights
Police arrested a 7 member gang alleged responsible for indulging in different cyber-crimes making the centre point as Delhi and recovered 16 mobile phones
Kadapa: Police arrested a 7 member gang alleged responsible for indulging in different cyber-crimes making the center point as Delhi, and recovered 16 mobile phones, 1 laptop computer, Two Hard Disks, Two D-30 Sangivani Capsules Boxes, Mobile calling receipts from them on Wednesday.
The accused were identified as as1. G. Veera Nagaiah Venkatasubbaiah Colony Mydukuru town,2. A. Murali Mittamanu Palle village of Mydukuru Mandal,3. V. Ravikumar Jamuna Street Allagadda Kurnool district,4. G. Venkataramana Vaddulavagupalle village Giddaluru Mandal,5. N. Karthik Reddy Ammavarisala street, Proddaturu town,6. S. Karthik Giddaluru town,7. Sumith Bansal Sulthanpuri area New Delhi-West.
The issue came into the light after a woman of Mydukuru town lodged a complaint with the police station over she was cheated by the culprits.
Addressing a press conference here on Wednesday District Superintendent of Police KVVN Anburajan disclosed that on 31-1-2020 one G.Umadevi of Mydukuru town got one phone call from an unidentified person who introduced himself as LIC staff making her belief that LIC office has sent bonus check to her house, in her absence the check was returned.
The accused make her belief if she wants to credit that bonus she has to give her bank credentials and ATM details with OTP. Trusting the words she has given the bank account details. Interestingly after some time instead of receiving OTP, she got the message to her mobile that Rs 10,000 was debited from her account through money transaction procedure.
Suspecting something foul game after she noticed that the number which she was received was switched off. She immediately lodged a complaint with police as they registered the case under sections IPC 420, 66(D), ITAct.
During the course of investigation based on calls made by the accused police taken V. Nagaiah resident of Mydukuru town.
During the examination, he revealed that with help of Siva(one of the accused in the case), he joined as an employee, for Rs 13,000 salary in a Delhi based Call centre run by Sumith Bansali, S.Karthik, N. Karthik Reddy in NEW Delhi.
The call centre organizer endorsed him the responsibility to dial random numbers of Andhra Pradesh State and secured the detailed person's details on the pretext of Dhanalakshmi Yantra, Ayurvedic Capsules, and newly market released mobile phones at cheaper rates. After securing the details of the persons they have given way the details of the owners.
However, after some time Veera Nagaiah came to his native place committing cybercrimes such as Insurance, OTP frauds DWACRA, Rythu Barosa, Ammavadi, supervising the officials, through the data which was provided by Delhi based call centre.
Based on the information provided by the accused a special team formed by SP conducted raids on the call centre in Delhi and arrested them later brought them to Kadapa on transit warrant for judicial custody. The SP appreciated the cops of their initiation in arresting the accused.