Tirupati: Darshan begins in TTD temples as per norms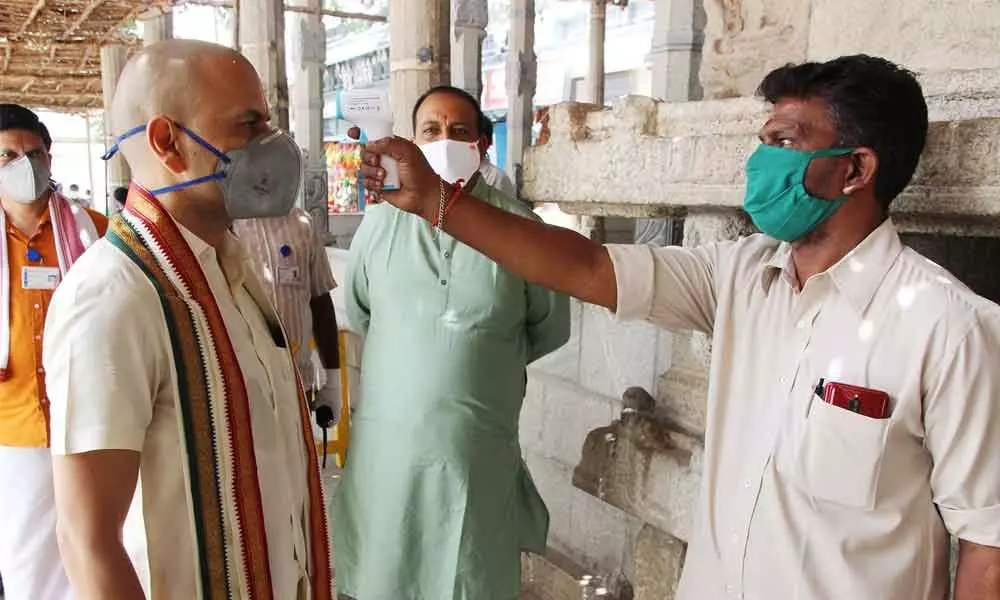 Highlights
TTD EO Anil Kumar Singhal, Tirupati JEO P Basant Kumar inspect arrangements for devotees at the local temples
As per government guidelines, 250 devotees are being allowed for darshan per hour in the local temples, the EO says
Tirupati: Much to the delight of devotees, darshan in the TTD run local temples in and around Tirupati began on Monday.
As there was no darshan in the temple for about 80 days due to lockdown, local people who have been waiting for the resumption of the darshan turned up in good number to offer prayers in the temples in the city and in surrounding areas.
TTD Executive Officer Anil Kumar Singhal along with Tirupati JEO P Basant Kumar inspected the arrangements at Sri Padmavati Ammavari Temple and Sri Govindaraja Swami temple.
Speaking to the media at Tiruchanur, the EO said that darshan in the TTD local temples began along with the Tirumala temple from today. The government had approved the commencement of Srivari darshan in Tirumala and also in the local temples from June 8.
The TTD Chairman YV Subba Reddy and senior officials after extensive deliberations framed guidelines for Srivari darshan as per government restrictions, he said.
He said in an experimental way on Monday and Tuesday, TTD employees and their families are allotted darshan following norms of with social distancing of two metres and darshan is planned for 6000 devotees in 12 hours at the rate of 500 per hour.
The TTD EO said special care is taken to organise social distancing at all TTD local temples. EO said, Tickets could be procured either online, through SMS or the counters set up at the temple premises.
As per government guidelines, 250 devotees are being allowed for darshan per hour in the local temples.
He also checked the sanitisers placed at different points in Sri Govinda Raja Swamy temple. TTD Additional CVSO Siva Kumar Reddy and Special Grade Dy EO Varalakshmi were also present.