Vijayawada: 3 arrested, 1,062 cockfight knives seized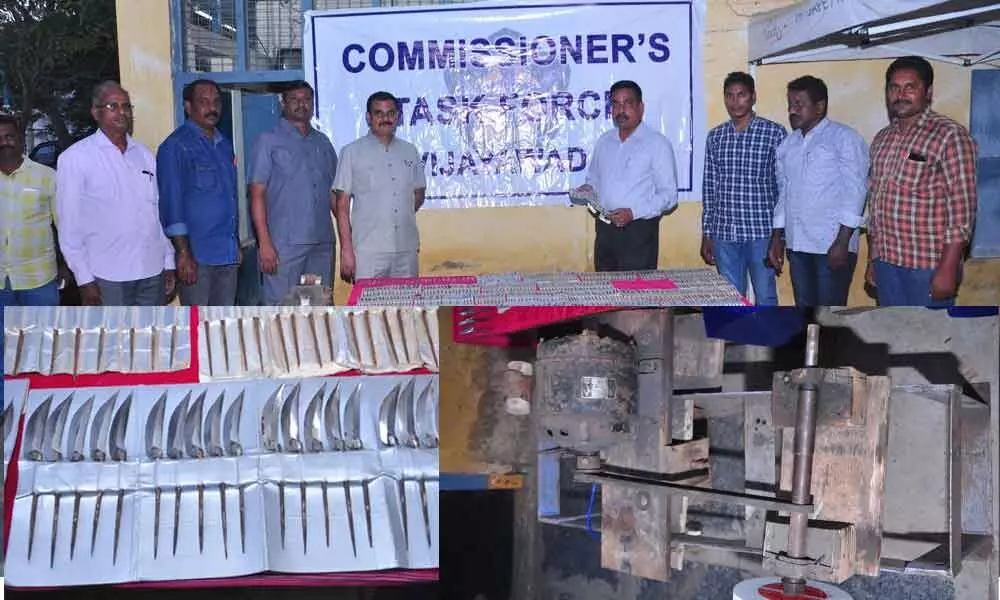 Highlights
Police foil arrangements for cockfights in Reddygudem and A Konduru
Vijayawada: Unfazed by the warning being given by the police, the organisers are continuing their preparations for the cockfights during the Sankranti festival.
The Krishna district police and Vijayawada Task Force police are keeping vigil on the suspected organisers and punters and seizing the sharp knives. So far, more than 2000 knives were seized. A total of 700 were seized in Vijayawada Commissionerate limits and the remaining by the district police.
Vijayawada Task Force team arrested one person Kalidasu Jamalaiah, a resident near Railgate, Atkuru village of Unguturu mandal and seized more than 700 cockfight knives and some instruments used for making of knives and sharpening. Under the supervision of the Commissioner of Police B Srinivasulu and the guidance of Task Force ADCP K V Srinivasa Rao a team raided the residence of the accused on Monday and seized the sharp deadly knives.
The cockfight organisers use these knives in the cockfights. The Commissioner of Police issued instructions to the police officials to conduct raids on the suspected places and arrest the culprits, who organize the cockfights. Similarly, the district police too are conducting raids and seizing the knives.
Under supervision of Special Branch sub-inspector of police JV Ramana, the cops conducted a raid in Godugupeta in Machilipatnam on Monday and seized 363 sharp knives, which are tied to the legs of the rooster. The police took two persons into custody on the occasion. So far, more than 1300 knives have been seized by the district police.
Krishna district Superintendent of Police M Ravindranath Babu, Special Branch DSP Dharmendra are guiding the police teams to conduct the raids.
Reddygudem and A Konduru police have foiled the arrangements being made by cockfight organizers in Rangapuram and Gopalapuram village. As per the instructions of the Nuzvid DSP Srinivasulu, the police went to the villages and noticed the arrangements made by the cockfight organisers. They removed the stones set to prepare makeshift arenas.
Mandal and village level teams were formed to prevent cockfights as per the instructions of the Andhra Pradesh High Court.