Welfare top agenda of YSRCP government: Deputy CM Narayana Swamy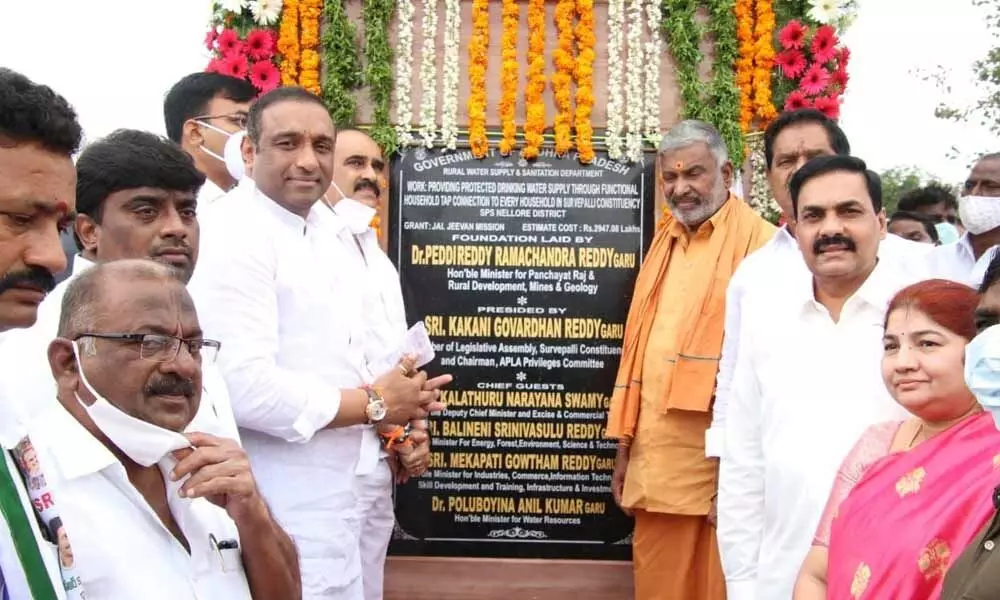 Highlights
K Narayana Swamy says focussing on welfare of farmers and started Rythu Bharosa Kendrams in all villages for distributing fertilizers, pesticides and quality seeds
In-charge Minister Balineni Srinivasa Reddy says the government had implemented 90 per cent of its poll promises within 18 months of its rule
Nellore: Deputy Chief Minister K Narayana Swamy said that the state government has been benefiting all sections of people with Rs 1.50-2 lakh per person through Navaratnalu programme. Participating in a series of development programmes in Venkatachalam mandal on Wednesday, he said the welfare of state was the primary agenda of the government.
The Deputy Chief Minister also said they were focussing on welfare of farmers and hence they started Rythu Bharosa Kendram in all villages for distributing fertilizers, pesticides, and quality seeds.
In-charge Minister Balineni Srinivasa Reddy said the government had implemented 90 per cent of its poll promises within 18 months of its rule. Welfare programmes are being implemented for wellbeing of the people through the Sachivalayam staff members and volunteers, he added.
Panchayat Raj Minister P Ramachandra Reddy said several welfare programmes were being implemented successfully despite the deficit budget. He said the party treats election manifesto as a guiding force for fulfilling all dreams of poor.
Minister for water resources Dr P Anil Kumar said they had initiated Rs 350 crore worth development activities in Venkatachalam constituency and there has been no break for welfare activities even due to the Covid situation in the state. IT and Industries Minister M Goutham Reddy said the state had fetched with Rs 50,000 crore worth of investments from various industrial units. He also said they were starting 30 skill development colleges across the state.
Venkatachalam MLA Kakani Govardhan Reddy said that the Ministers have formally laid foundations on Wednesday for Rs 100 crore worth works and Rs 30 crore worth drinking water schemes under Jala Jeevan Mission. He also said Rs 100 crore worth road works have been completed last year and now, they were taking up similar works with Rs 150 crore.
Further, the Panchayat Raj Minister P Ramachandra Reddy, Deputy Chief Minister K Narayana Swamy and others formally inaugurated the new Sachivalayam building at Pudiparthi on Wednesday. 542 services are now available to the people from Sachivalayam offices and they would complete construction of all Sachivalayam buildings by coming March. MLA K Govardhan Reddy said works of 89 Sachivalayam were started and till now 70 per cent of works were nearing completion. Senior officials were also present.