Executive Capital status a big boost for Vizag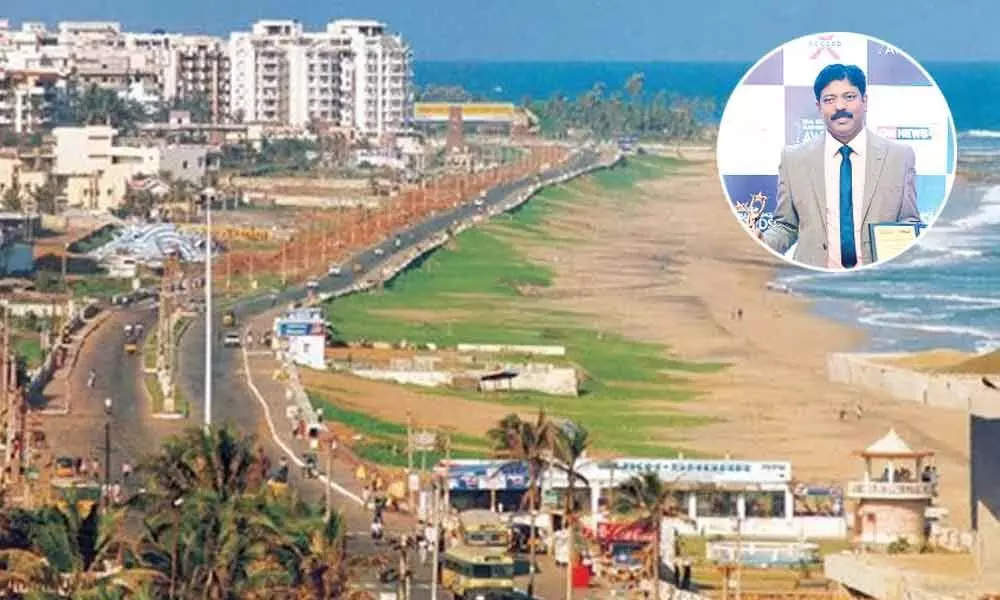 Highlights
Honeyy Group is present in Hyderabad, Bengaluru, Visakhapatnam and other places.
Honeyy Group is present in Hyderabad, Bengaluru, Visakhapatnam and other places. How is the real estate market in the cities where you are present?
Our Honeyy Group is a leading real estate marketing and consultancy company in Visakhapatnam. We are also present in Hyderabad and Bengaluru.
Real estate market is doing well in all these places. We also have presence in several district headquarters in Andhra Pradesh. Our company is doing well in Vizianagaram as well.
In Hyderabad, affordable housing projects are doing well. Sales are happening at faster pace in such projects. Projects in hotspots like Jubilee Hills, Banjara Hills, Srinagar Colony, Kukatpally, etc., are generating sales.
In Visakhapatnam, Beach Road, Seethammadara and MVP Colony are hotspots. Average price in Visakhapatnam is Rs 6,000 per square foot for apartments.
This price is higher than most of the locations in Hyderabad because land is scarce in Visakhapatnam due to seacoast. In some locations, the price is around Rs 8,000 per sft.
As part of its three-capitals policy, the YS Jagan Government has declared Visakhapatnam as the Executive Capital where Secretariat and CM office would be located. What kind of positive impact this move will have on the real estate sector in Visakhapatnam?
Executive Capital coming to Visakhapatnam is a great thing. It will give a big boost to Visakhapatnam and its real estate sector. The city will grow, people will be happy, businesses will expand, more investments will come in and more jobs will be generated.
The positive signs of this laudable move by the AP Government are already visible in real estate sector.
Our sales in Visakhapatnam doubled in January when compared to what we did in December 2019. In total, we sold 1.72 lakh sft of residential space in January this year from 1.1 lakh sft in December 2019.
About1.72 lakh sft roughly equals to 172 units. Of the total sales, Hyderabad accounted for 60,000 sft. In Visakhapatnam, our Honeyy Group sold 1.1 lakh sft in January, double from 55,000 sft in December 2019.
Our group is targeting sales of 1.5-2 lakh sft per month in Visakhapatnam in next few months. My aim is to sell one million sft per month from May 2021.
But strangely, not many people from Visakhapatnam seem to be asking for Executive Capital. What's the reason?
The problem with Visakhapatnam is that there are not many local politicians. Non-local politicians are more in the city. People of Visakhapatnam have a unique character.
They accept whoever comes there. There is no influence of caste, religion or region. It's a cosmopolitan city. That's reason why there is no strong voice in support of the Government's decision.
How many real estate projects you are marketing now?
We have tied up with over 450 builders across Andhra Pradesh, Telangana and Karnataka. Our group is marketing over 700 projects from these builders. We have 16 marketing branches now. We plan to open eight more branches including one in Bhubaneswar in three to four months.
When we started our company in January 2016, we had just one branch, nine employees, one builder and one project. Now, more than 500 people are working for us and we are offering salaries to all of them though commission-based salary structure is the norm in the sector.
We mostly market apartments though we also sell open plots in small numbers. So far, we have provided services to over 3,000 customers. Our company is aiming at a turnover of Rs 100 crore in two years.
Do you have any of your own projects?
In Visakhapatnam, we are developing 14 own projects. We are in the process of launching five to six new projects of our own in Vizag. Most of these projects are being developed jointly with landowners.
Hyderabad market is very competitive. How your company is doing in this market?
We have seven branches in Hyderabad. We plan to open another branch in Lingampally soon. Currently, we are marketing over 70 real estate projects of different builders in Hyderabad.
Recently, we launched our first own project in Hyderabad. Located in Alwal area, it's a joint development. We will launch 8 to 10 own projects within a few months. Most of them are small projects.
Interested in blogging for thehansindia.com? We will be happy to have you on board as a blogger.