Options band signals uptick for key indices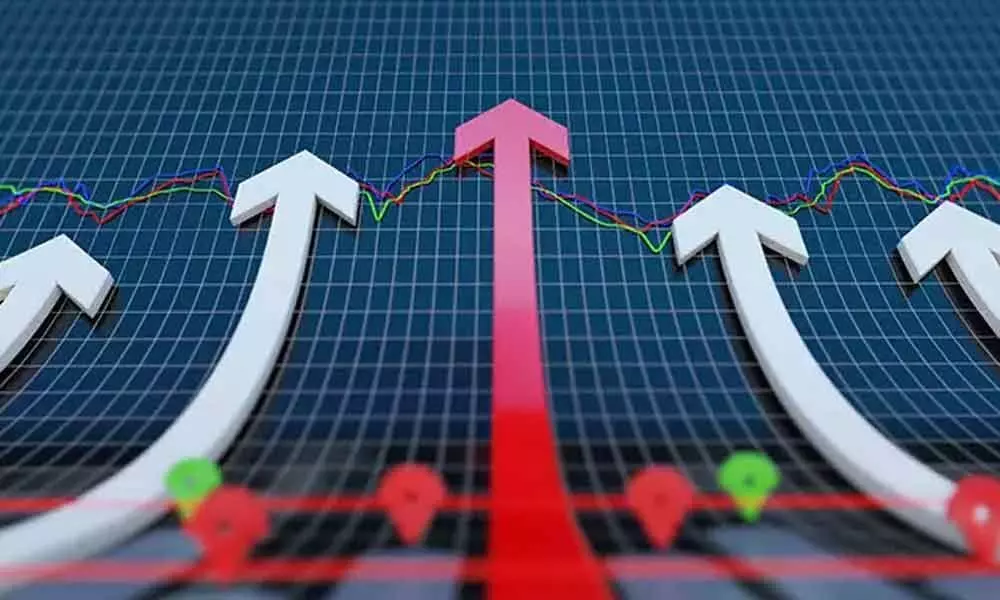 Highlights
Highest addition of Call OI at 12,000 and 11,900 strikes is indicating more room for Nifty to move upward.
Highest addition of Call OI at 12,000 and 11,900 strikes is indicating more room for Nifty to move upward. Highest addition of Put OI at 11,800 and 11,900 strikes further supports the positive view but in a narrow range.
Markets may witness long buildup and short covering on every dip in the week ahead, forecast derivatives analysts.
The 12,000 strike has highest Call OI of 21.15 lakh contracts followed by 11,900 strike with 18.42 lakh contracts and 12,100 strike with 11.31 lakh contracts.
Coming to Put side, 11,800 strike has highest OI of 20.87 lakh contracts followed by 11,700 strike with 16.55 lakh contracts and 11,900 strike with 14.57 lakh contracts.
Dhirender Singh Bisht, senior research analyst (derivatives) at SMC Global Securities Ltd, said: "Derivative data indicates bullish scenario to continue.
In the November option contracts, we are seeing maximum options Open Interest building up in 11,800 Put strike and 12,000 Call strike. In options data, we have seen shifting of range towards upper band. Market undertone is likely to remain bullish."
With October futures and options (F&O) series ending on a positive note, the bourses witnessed a strong rollover to November derivatives series, Nifty rollover was 84 per cent and Bank Nifty at 63 per cent.
However, the Open Interest (OI) base was a bit low when compared with September series expiry. Weekly expiry points to a consolidation band of 11,650-12,000 points range for Nifty.
"Markets witnessed a strong up-move throughout the week with both Nifty and Bank Nifty indices closing at weekly high levels. Across the board, long positions were added in both the indices with the underlying price adding long positions.
Overall derivative data indicates long rollover and most of the Nifty November futures positions have been rolled over in the range of 11,800 to 11,900," observed Bisht.
Key indices continued upswing for the sixth session on Friday (November 1, 2019). BSE Sensex closed at 40,165.03 points, a rise of 1,106.97 points or 2.83 per cent from the previous close of 39,058.06 points.
Registering a net gain of 306.7 points or 2.64 per cent, NSE Nifty closed the week at 11,890.60 points as against previous close of 11,583.90 points. Bisht forecasts: "On the technical front, 11,750-11,800 spot levels is support zone and current trend is likely to continue towards 12,000-12,100 levels. Nifty has multiple supports at lower levels.
Various supports are 11,700, 11,800 spot levels. We will see long buildup and short covering on every dips."
Nifty retreated after touching record-high of 12,088.55 on June 3, 2019, and expected to test all-time high of 12,103 mark, if the index closes above 11,950 points.
However, this is again subject to the correction. A rally before correction may not sustain and after correction may give strong upswing gains for investors, observed the analyst.
India VIX fell 3.36 per cent to 15.62 mark. The Implied Volatility (IV) was marginally up. According to data at ICICI Direct.com, the volatility remained near at 16.5 per cent when compared to the previous week.
Despite upward movement of key indices, the volatility has not eased much. This shows little skepticism among market participants and it may result in some consolidation in the near term.
"The Implied Volatility of Calls was up and closed at 14.92 per cent, while that for Put options closed at 14.80 per cent. The Nifty VIX for the week closed at 16.28 per cent and is expected to remain volatile. Put-Call ratio OI for the week closed at 1.18, which indicates OTM Put writing," further added Bisht.
Bank Nifty
The ICICI Direct.com data reveals lower OI base for the Bank Nifty in the first session of the November F&O series. Analysts feel that the ongoing trend is likely to continue as OI additions pick up.
The positions on the Call side have shifted to 30,500 and 31,000 strike Calls in November. This can be a potential target on upsides in coming days.
The current price ratio of the Bank Nifty-Nifty moved towards 2.55 levels on buying interest in the banking stocks.
Analysts forecast that the current leg of the rally in banking stocks will continue unless it remains above 29,500. Bank Nifty closed the week at 30,330.55 points.
Subscribed Failed...
Subscribed Successfully...