Sensex and Nifty log modest losses due to fag end selling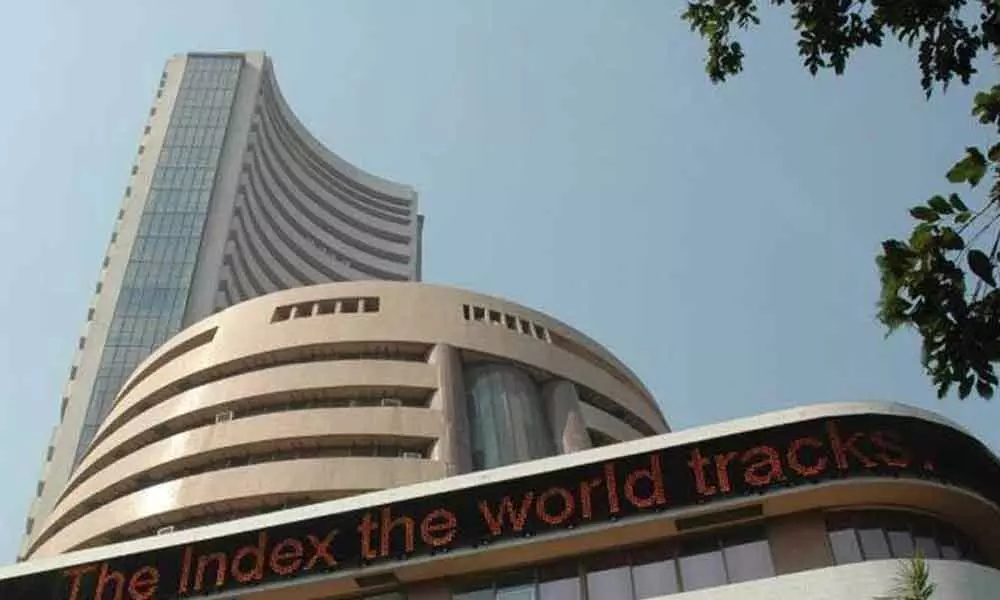 Highlights
The main equity indices closed mildly lower on Thursday, January 7, 2021, even as the global cues were positive. The S&P BSE Sensex fell 80.74 points or 0.17 per cent at 48,093.32.
The main equity indices closed mildly lower on Thursday, January 7, 2021, even as the global cues were positive. The S&P BSE Sensex fell 80.74 points or 0.17 per cent at 48,093.32. The Nifty 50 index fell 8.90 points or 0.06 per cent at 14,137.35. However, Nifty Bank gained 158.10 points or 0.5 per cent to close higher at 31,956.
In the broader market at BSE, Mid-cap and Small-cap indices outperformed the Sensex. The BSE Mid-Cap index rose 1.05 per cent while the BSE Small-Cap index appreciated 0.85 per cent.
Buyers outpaced sellers. On the BSE, 1974 shares rose and 1101 shares fell. In the Nifty 50 index, 27 stocks advanced while 23 stocks declined. The top five gainers on Nifty 50 were Tata Steel (up 5.28 per cent), Hindalco (up 4.81 per cent), Bharti Airtel (up 3.59 per cent), Adani Ports (up 3.35 per cent) and IndusInd Bank (up 3.26 per cent). The top five losers on the index were Nestle India (down 2.04 per cent), HDFC Life (down 1.88 per cent), Hindustan Unilever (down 1.83 per cent), Titan (down 1.82 per cent) and Divi's Laboratories (down 1.80 per cent)
COVID-19 update
Total COVID-19 confirmed cases worldwide stood at 8,71,97,387 with 18,83,914 deaths. India reported 2,28,083 active cases of COVID-19 infection and 1,50,336 deaths while 1,00,16,859 patients have been discharged.
In Europe, the Covid-19 pandemic remains a key concern. The UK reported more than 60,000 new daily cases on Wednesday and a further 1,000 deaths of people with the virus. Bank of England Governor Andrew Bailey risked reigniting the politically charged debate over Brexit by predicting that the trade deal struck with the European Union could end up costing the UK economy the equivalent of more than 80 billion pounds ($109 billion).
Currency in Circulation Contracted by 0.3 per cent and Reserve Money Expands by 9.7 per cent
The Reserve Bank of India (RBI) reported that currency in circulation contracted by 0.3 per cent on the week to stand at Rs 27.70 lakh crore as on January 1, 2021. The central bank said further that the overall reserve money rose by 0.2 per cent on the week to Rs 33.22 lakh crore. Currency in circulation rose around 22.1 per cent on a year-ago basis compared to 11.8 per cent growth at the same time last year.
In the current fiscal, the currency in circulation has expanded by 13.2 per cent so far while the reserve money has increased by 9.7 per cent.
Democrats likely to win Senate & dramatic scenes in the US
The United States Congress has certified Joe Biden's victory in the presidential election. The decision came hours after Trump supporters stormed the US Capitol building in Washington DC. The incident left four people dead. A state of emergency has been declared for 15 days in the US Capital.
Joe Biden's victory was confirmed in the early hours of Thursday by a joint session presided over by Vice-President Mike Pence. He termed the violence as a ''dark day in the history of the United States Capitol''. The objections by some Republican lawmakers to overturn the result in Arizona and Pennsylvania was rejected as well. The exercise cleared the decks for Joe Biden to be sworn in on January 20, 2021.
In response, Trump pledged an "orderly transition" of power. However, it has been a transition of power marked by violence in which four people died after supporters of Trump stormed the U.S. Capitol on Wednesday to stop Congress from certifying President-elect Joe Biden's election victory. The clashes followed a two month-long war of words between Democrats and Republicans on the election results.