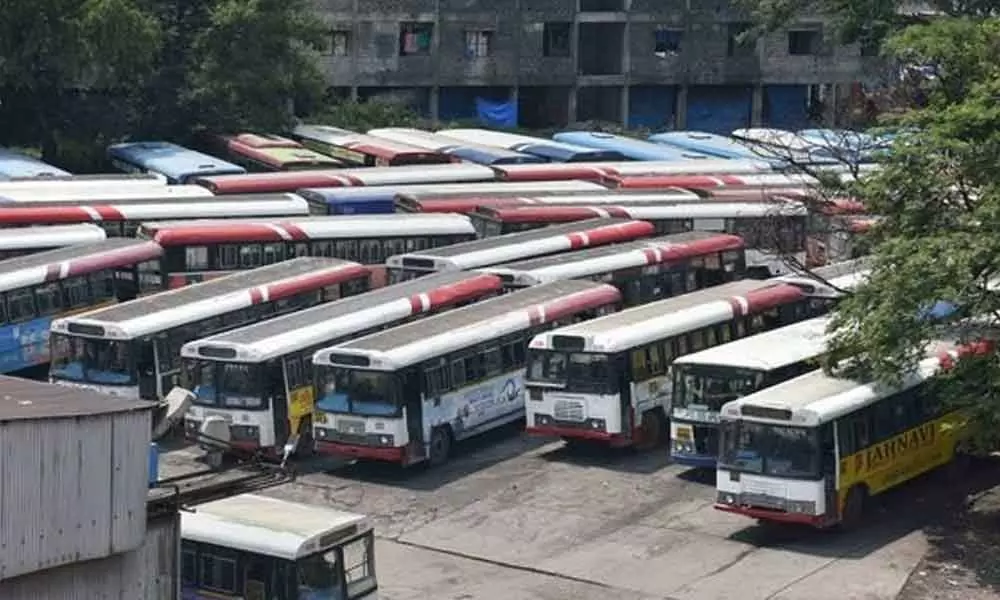 Highlights
Govt, employees, unions and management equally responsible for sorry state of affairs in the corporation
Strike by over 48,000 employees of Telangana State Road Transport Corporation (TSRTC) entered 36th day on Saturday. And there seems to be no end in sight as trade unions and the KCR government refuse to budge from their respective positions despite several interventions by the Telangana High Court.
Two deadlines set by Chief Minister KCR failed to bring employees back to work. It is for the first in the history of APSRTC and its offshoot TSRTC that a strike has lasted for such long time. And lakhs of people who use RTC services regularly are at the receiving end now.
Trade unions have put several demands before the TSRTC management and the government, but their main demand is the merger of the corporation with the government.
Going for a such long strike on such a demand doesn't look prudent even for seasoned trade union leaders in the corporation, who are not active now.
As a trade union leader who also worked as APSRTC Director in the past, pointed out, the corporation is already owned by the Telangana government.
So, making lakhs of passengers and thousands of employees suffer for the merger demand doesn't look sensible. Furthermore, the long strike has proved that transport system in Telangana will not cripple, and life goes on even if RTC buses go off the road. That was not the case in the past.
But the strike is causing lot of inconvenience to common people. There is no second opinion about it. Such people will heave a sigh of relief if the Telangana HC takes the issue into its hands and directs striking employees to join duty forthwith.
In the same breath, it should appoint a committee of experts to look into demands of employees and monitor their resolution process.
The committee can act as a mediator between the employees and the government and take the issue to a logical conclusion under the watchful eyes of the HC.
Everyone needs to remember that it's the poor who are suffering the most because of this prolonged strike. Rich people have luxury cars. Middle class has cars and bikes for their mobility. If they don't have personal vehicles, they can afford cabs and autoriskhaws. But the poor don't have that luxury.
RTC buses are still the cheapest mode of mobility in the country and it's no different in Telangana. Further, TSRTC provides connectivity to every nook and corner of Telangana. That's an undeniable truth and fact.
So, killing TSRTC all together is a bad move. That leaves the poor at the mercy of the private operators and no amount of monitoring by the government will help their cause.
In his eagerness to please TSRTC employees, KCR hiked their salaries by offering a fitment benefit of a whopping 42 per cent in 2015.
This has increased salary burden on the corporation. Hike in diesel prices also put its resources under strain. As TSRTC has no freedom to increase fares and needs a nod for the government to do so, it has to absorb any increase in input costs. As consequence, it frequently incurs losses.
But that's not the case with most of other corporations owned by the Telangana government. For instance, Singareni Collieries Company Limited (SCCL), which pays fat bonus to its workers year after year, operates on cost plus profit basis.
That way, it has the liberty to increase coal price when input costs go up. The RTC has no such luxury.
To make Hyderabad Metro project commercially viable, the central government offered a viability gap fund of Rs 1,418 crore while the State government allocated a free land of 269 acres.
Of this land, L&T Hyderabad Metro has been allowed to use 18.5 million sft for commercial development. That way, profits from commercial development make up for the losses that it incurs on metro rail operations.
Unfortunately, there is no such arrangement for TSRTC. The corporation is left to mend for itself even when it comes to operating on loss-making routes.
To make the corporation's operations viable, the State government should evolve a mechanism where it will compensate for revenue deficit on loss-making routes and provides viable gap fund annually. A 50 per cent cut in value added tax (VAT) on diesel it collects from TSRTC will provide a big relief to the corporation.
Alternatively, TSRTC should follow in Hyderabad Metro's footsteps and develop commercial space in and around its bus stations across the State.
It should lease out the space at competitive rates so that retail majors can set up their outlets. For this to happen, it needs to improve hygienic conditions and ambience at bus stations most of which are in pathetic state and lack basic amenities.
That way, it will have additional income to absorb losses in its core operations. It is no exaggeration to say that government, employees, trade unions and management should take equal responsibility for the sorry state of affairs in TSRTC now.
However, the survival of TSRTC is essential for the poor and downtrodden. Efforts should be made in that direction even if some profitable routes are privatised for generating additional resources.
There is no point in indulging in blame game. Telangana needs a reliable and safer transport system, and a financially-sound RTC.
Subscribed Failed...
Subscribed Successfully...