Donga, a family entertianer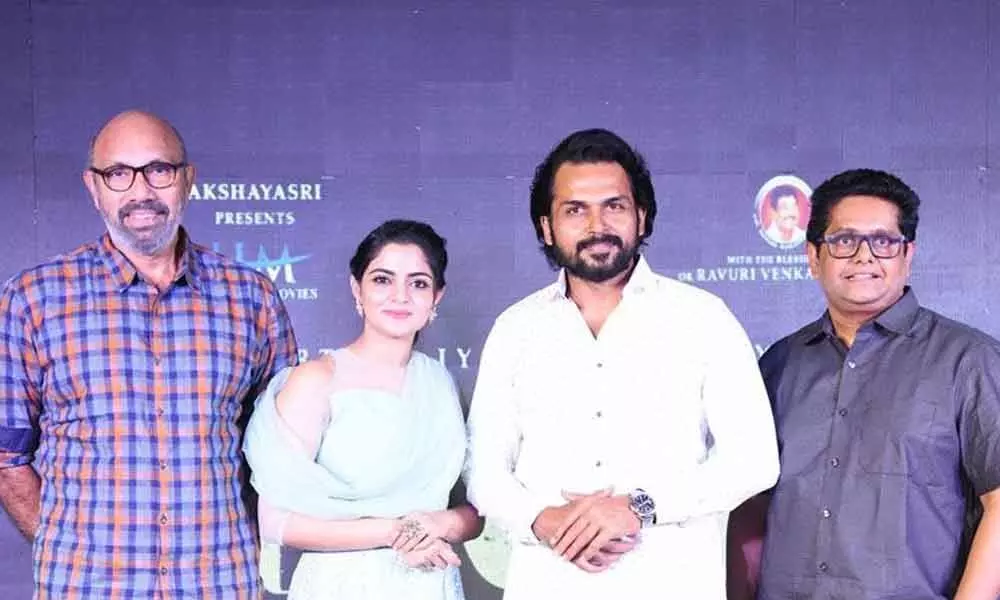 Highlights
After scoring a blockbuster with 'Khaidi' and winning the hearts of the Telugu audience, actor Karthi is now coming up 'Donga.'
After scoring a blockbuster with 'Khaidi' and winning the hearts of the Telugu audience, actor Karthi is now coming up 'Donga.' Touted to be an emotional action thriller, 'Donga' is being produced by Viacom 18 Studios and Parallel Minds in 'Drusyam' fame Jeethu Joseph's direction.
Producer Ravuri V Srinivas is presenting this film in Telugu under the Harshitha Movies banner. The film is ready to be released worldwide on December 20.
The team held a pre-release event in Hyderabad. On this occasion, director Jeethu Joseph said, " In 2014 'Drusyam' Telugu remake became a big success.
I wished to do a film in Telugu. I am happy to become a part of the Telugu Film Industry with 'Donga.' This film is very close to my heart,"
Producer Ravuri V Srinivas's close associates Chakravarthy, Venkat said, " "Karthi garu is on a roll attaining stardom with 'Khaidi' after 'Oopiri'.
It's very tough to impress the audience of two languages. Only few heroes have managed it. Karthi garu and Suriya garu stand among them. Our brother Srinivas is very passionate about education and cinema."
Karthi said, " Everyone is asking how come 'Donga' after 'Khaidi,' it should be vice-versa. But, it happened on its own. Both of them were the titles of Chiranjeevi garu's hit movies.
How we have selected the title 'Khaidi' as per the script, similarly we opted for 'Donga' title based on the script. I was thrilled while listening to this story.
Especially the relation between sister and brother which is very interesting and emotional."
entertainerentertainer