The Second Single 'Rushivanamlona' From Samantha's Shaakuntalam Will Be Out On This Date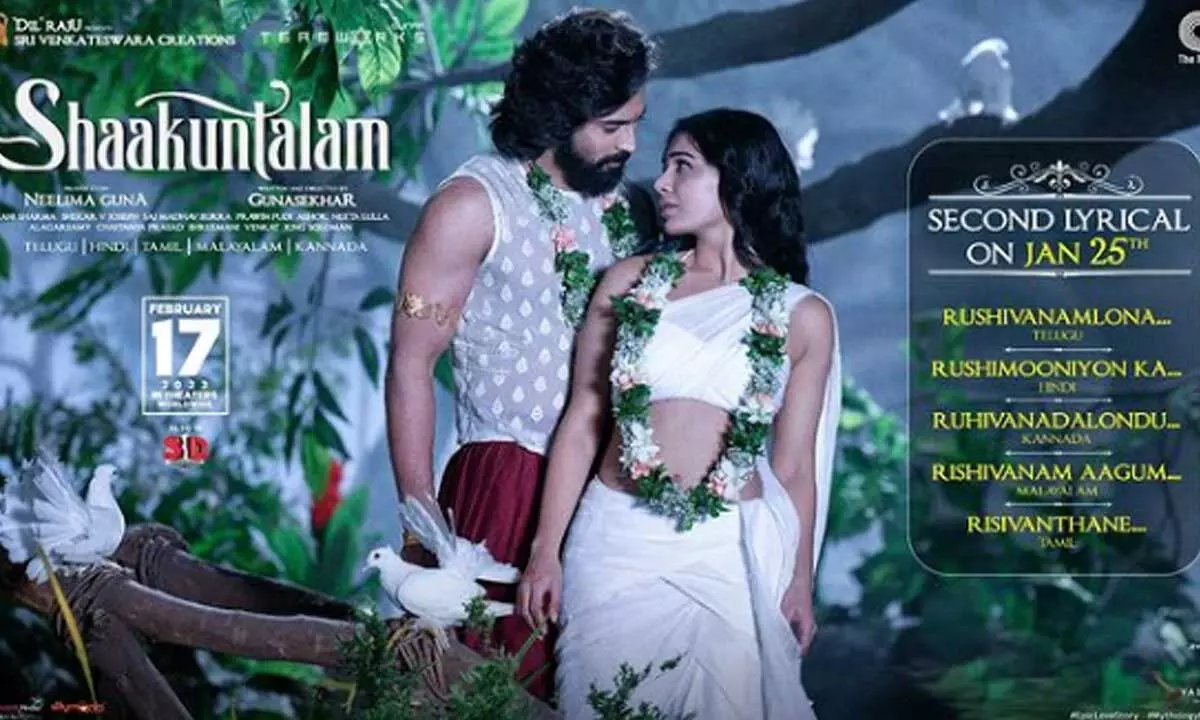 Highlights
The lyrical video of the second single "Rushivanamlona…" from Samantha's Shaakuntalam will be launched on 25th January!
The movie will be released on 17th February, 2023 worldwide!
Tollywood's ace actress Samantha's Shaakuntalam movie is one of the most-awaited ones of February. It holds the periodic love tale of King Dushyant and Shakuntala and that too being directed by ace filmmaker Gunasekhar. Already the trailer took the expectations bar a notch higher and now the makers are busy treating the netizens with melodious singles. The first lyrical video of the "Mallika…" song was just awesome and now, the second single "Rushivanamlona…" will be launched on 25th January, 2023.

The makers shared a new poster of the song and unveiled the lyrical video launch date… Take a look!
Along with sharing the poster, they also wrote, "A melody you'd fall in love with! #Rushivanamlona/#RushimooniyonKa/#Ruhivanadalondu/#RishivanamAagum/#Risivanthane from Jan 25th."
Shakuntala and King Dushyant are seen in a romantic pose in the poster and owned a classy look with a picturesque forest backdrop.
Going with the earlier released trailer, Shakuntala is introduced as the daughter of Menaka and Vishwamitra and will be raised at Tapovan. The mighty king Dushyant reaches tapovan and accidentally meets her. They immediately fall for each other and then exchange their vows. But due to the curse of Durvasa Maharshi Dushyant forgets his past and leaves Shakuntala in the ashram itself. But as Shakuntala turns pregnant, she reaches King Dushyant's kingdom but he refuses to recognise her and also asks her not to blame him. So, she gives birth to their son Bharata at the ashram itself. Even the glimpses of King Dushyant's war with demons also made the trailer worth watching.
This Gunasekhar directorial is bankrolled under his home banner 'Guna Team Works' in collaboration with Dil Raju's daughter Hanshita Reddy's Dil Raju Productions banner.
Shaakuntalam movie will hit the theatres on 17th February, 2023!