Vijay, Karthi to clash at ticket windows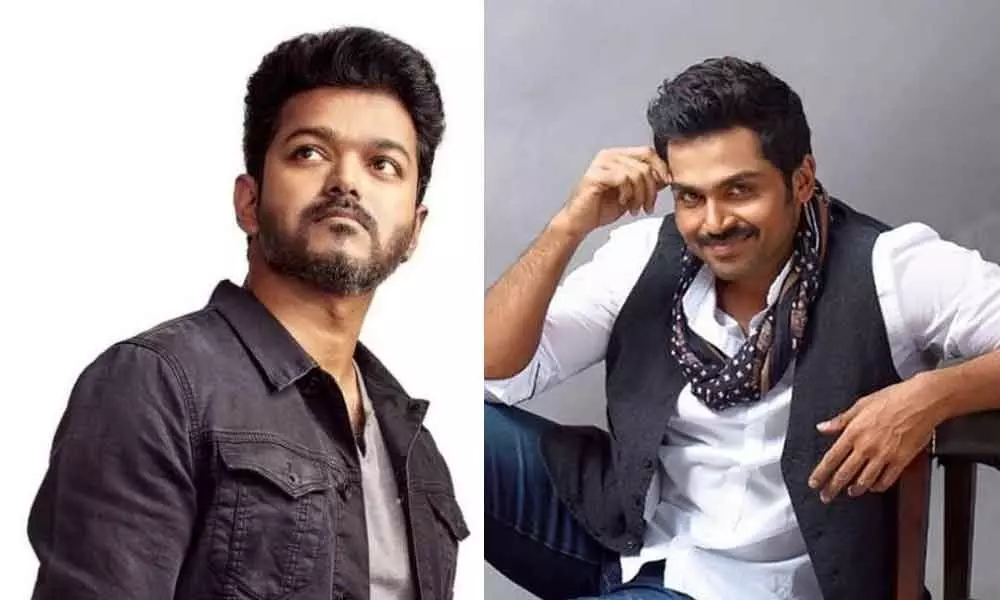 Highlights
A battle royale is on the cards as far as the Diwali race to the box office is concerned in Telugu film territories.
A battle royale is on the cards as far as the Diwali race to the box office is concerned in Telugu film territories. Even though there are no big-ticket films from the local A-listers, two top guns of Tamil cinema – Vijay and Karthi - are out to showcase their latest offerings during the festival weekend.
While the former's 'Whistle' has already garnered enough eyeballs on social media with a very gripping trailer, the latter, who has had a decent support among the local audience is daring the Thalapathy with his film 'Khaidi'.
It has been a notable climb in box-office fortunes for Vijay in the past two years in both the Telugu states. He hit the high note with 'Adhirindi' which was released during 2017 Diwali, followed by another successful film 'Sarkar' in 2018 which was much appreciated.
This happened at a time, when his contemporaries had all had mixed luck at the BO in Telugu market, including his seniors Kamal Haasan and Rajinikanth.
Vijay's Tamil dubbed films too, like that of his rival Ajith Kumar, somehow had not impressed the film patrons in this part of the country over the years.
Simultaneously, Karthi, the younger brother of Suriya, who himself had a niche market locally, was noted for whipping up a series of successful films in the last decade, which began with 'Awara' and followed by a few more till 'Khaki' in 2017.
His adaptability, the boy-next-door kind of a charm and dubbing his dialogues in Telugu in his own voice made him much more acceptable to the film viewers here.
Yet, he suffered a jolt of sorts with his last two releases – Chinna Babu and Dev – failing to appeal to his fans. The same time, when his senior colleague Vijay climbed up the ladder of fame.
'Whistle' has a head start as of present with the film directed by the director with the Midas touch – Attlee- and set to score by A R Rahman, a definite plus.
Nayantara is seen along Vijay as his lady love which is also bound to pull in the audiences.
'Khaidi' however has to depend solely on the pulling power of Karthi, as no other recognizable name is seen in his film's star cast which can independently add weight.
With his elder brother's ambitious film ' Bandobast' biting the dust in its dubbed version, it would be interesting to watch whether the younger sibling scores or the late bloomer Vijay has another glorious run in the local market for the third time in a row.