A tale of human resilience!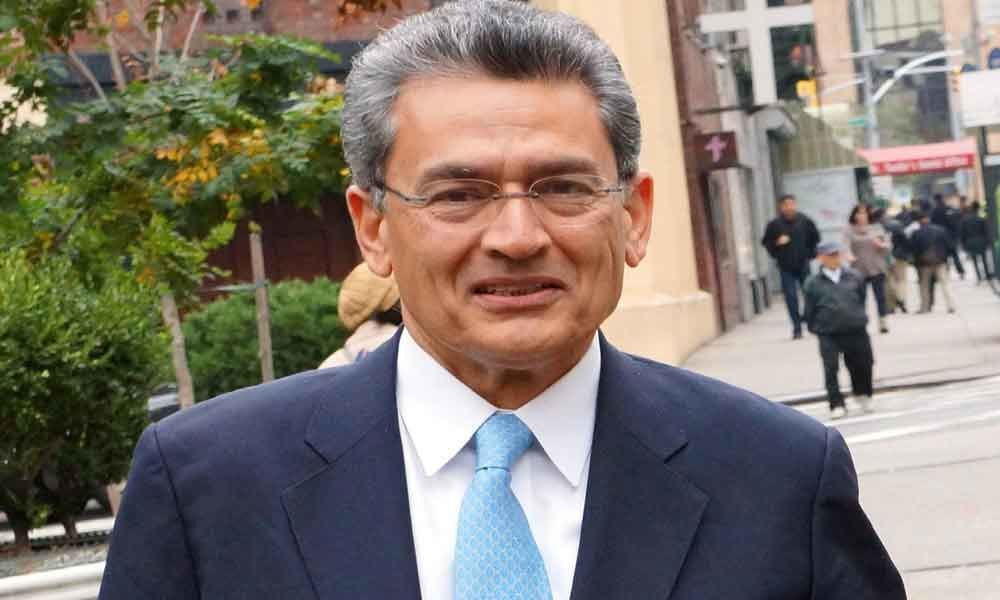 Highlights
From a head honcho to a convicted felon life, global business icon Rajat Gupta's life has taken several interesting turns. He is now out with a memoir 'Mind Without Fear' on the whole fiasco. The author recently visited Hyderabad to release his book at International School of Business…
For nine years, Rajat Gupta led McKinsey & Company – the first foreign-born person to head the world's most influential management consultancy. He was also the driving force behind major initiatives such as the Indian School of Business (ISB) and the Public Health Foundation of India.

In 2011, Gupta was arrested and charged with insider trading. Throughout his trial and imprisonment, he has fought the charges and maintains his claim of innocence to this day. Gupta spent 19 months in a US jail. In his memoir 'Mind Without Fear,' Gupta recalls his unlikely rise from orphan to immigrant to an international icon as well as his dramatic fall from grace. And for the first time, he tells his side of the story in the scandal that destroyed his career and reputation. Candid, compelling, and poignant, Gupta's memoir is much more than a courtroom drama; it is an extraordinary tale of human resilience and personal growth.
Rajat Kumar Gupta was the leader of McKinsey & Company, Inc., from 1994 to 2003. He was also a board member of major corporations including Goldman Sachs, Procter & Gamble, and American Airlines, and advisor to the United Nations, the Rockefeller Foundation, and the World Economic Forum. He served as chairman of the Bill & Melinda Gates Foundation advisory board, the Global Fund to Fight AIDS, Tuberculosis and Malaria, and the International Chamber of Commerce, and was the founding chairman of the Indian School of Business, the American India Foundation, and the Public Health Foundation of India.
Gupta lives in Connecticut with his wife, Anita, and is the proud father of four daughters and grandfather to four granddaughters.
Excerpts from an interview:
You are one of the founding members of ISB, so how is it to release your memoir here?
When the publisher told me that we can include ISB in the book tour, I have told them to speak that I would love to release the book in ISB as it is very close to my heart. So, I called the dean and he agreed and here we are. It is quite an extraordinary feeling. At that time like-minded people from the field have worked together to build this school from scratch. I remember seeing the design on the paper when school was being built, and now the school has turned out better in every aspect.
Why did you write this memoir?
I feel like I have an interesting life with lots of ups and downs, so I wanted to write an interesting story. I also wanted to put my point of view in terms of what happened in my words. I hope that people who read it would be able to relate to it in some ways in their own lives and learn some lessons, but it is not to prove that I am not guilty, and I did not retry my case. And it took me two years to pen this book.
Why did you choose this title for the book?
In a book writing process… it is the publisher's choice for the title, and I was much sure about my title. In the due process I won them over and we have retained the name 'Mind Without Fear'. The poem 'Mind Without Fear' by Tagore is an inspiration… In my trial, I did not testify because I did not want to give in to the fear. Another reason for this title is that I have been very fond of Tagore and in fact, my elder daughter is named after his anthology of poems 'Geetanjali'.
Tell us about the time in solitary confinement?
I was sent to solitary confinement without any reason… Power corrupts people. In a prison where there are people, who monitor your behaviour, they have absolute power. I was sent to the solitary confinement for wrapping a towel around my waist as I had immense pain. The jailor said that I have withheld the Federal property without permission. In fact, I had bought that towel from the store in jail. Nevertheless, he sent me to SHU (Special Housing Unit), as we call it there because he was powerful.
After a lot of deliberations, I got permission to take two books with me – 'Light on Pranayama' by BKS Iyengar and the other was 'Bhagavad Gita'. In SHU I have read the Gita several times and it gave me the opportunity to go in depth. And I have also used the quotes from the 'Gita' in 'Mind Without Fear'.
I have seen the underbelly of the US justice system. I have thought to do something to reform the justice system. The USA has the highest number of prisoners in the world and about 100 million people are impacted by the justice system. There is a lot of cruelty and a lot of resources and human capital wasted on it. I have become committed to make a difference in whatever way I can to bring reforms in US justice and US prison system.
How did your friends and associates react when the scandal broke out?
When the first article came out, I was at P&G board meeting and they said that you are innocent until proven guilty and said 'we do not believe in these kinds of articles'. The CEO of Boeing said that now you will know who your real friends are. And some 'so-called' friends moved away from me; I think they were not my friends from the beginning (laughs). In the end, you need a few real friends and I am lucky to have them in my life.
Former United States Attorney for the Southern District of New York Preet Bharara has also come up with a book, what are your comments about it?
I haven't read it. I think he is talking about his experiences as a public prosecutor. I haven't read the book yet as it just came out. It is just coincidental that some books come at the same time.