Exploring unique and lost forms of Indian culture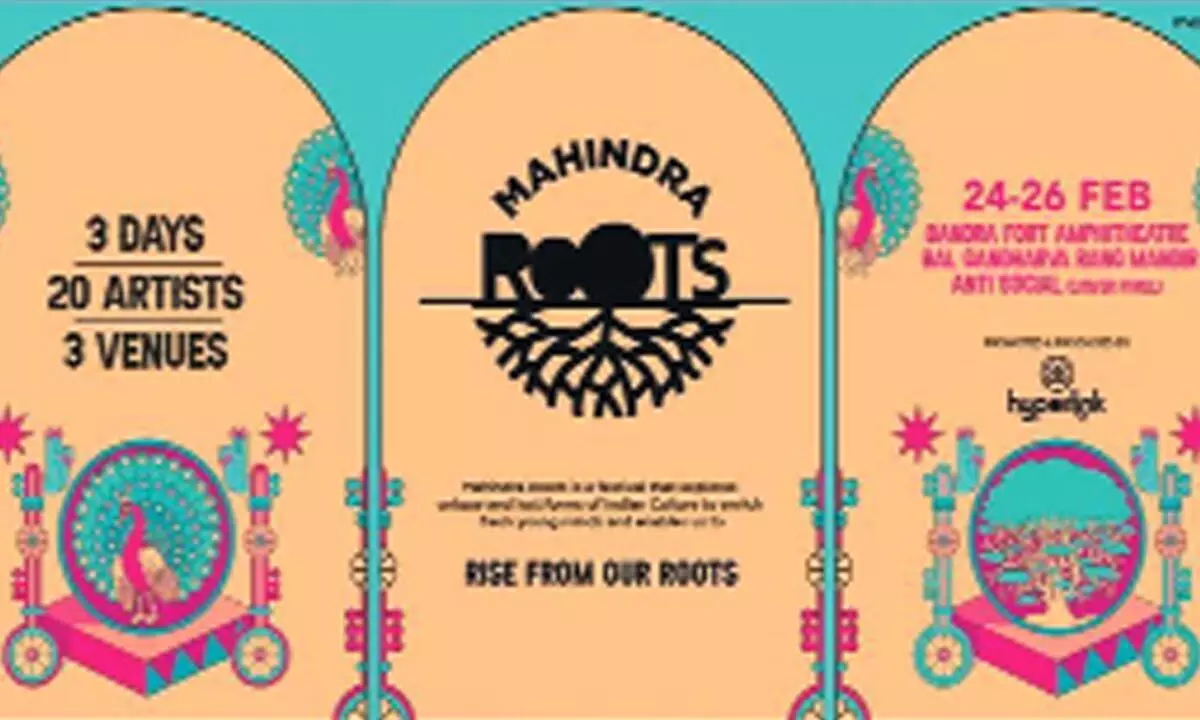 Highlights
Mumbai will host the Mahindra Roots festival, which aims to reintroduce and celebrate the magnificent fusion of India's vast and diverse cultural past via a contemporary lens.
Mumbai will host the Mahindra Roots festival, which aims to reintroduce and celebrate the magnificent fusion of India's vast and diverse cultural past via a contemporary lens.
India is a country with a rich history of diverse cultures and customs, as well as a mingling of many languages and dialects. Indian culture is vibrant and ever-evolving, altering every 50 to 100 kilometres, where people both make and are made by culture. The Mahindra Group has launched the Mahindra Roots Festival, which Hyperlink Brand Solutions conceptualised, developed, and produced in order to honour this time in Indian culture and encourage the next generation of Indians to appreciate, protect, and nurture their cultural roots.
The three-day festival aims to bring to life a world where Indian artists' history and culture are celebrated in cutting-edge, contemporary ways. It aims to compile and present a mesmerising combination of folk music, performing arts, and other art forms from various pockets of India, modernised to appeal to millennials and Gen Z as a modern, interesting, and immersive experience.
Astonishing decorations, displays that are larger than life, and artwork will reacquaint audiences with their rich cultural history. Mahindra Roots will honour Indian arts and culture while also creating a long-lasting community thanks to the wide range of artists from diverse subcultures who will be present at the festival.
Additionally, performers from a variety of genres, tongues, and cultures will wow audiences with performances that will be a visual and audible feast. The festival will bring audiences closer to cultures from all over the nation through theatre productions, immersive storytelling, folk music, classical music, and poetry in Hindi, Punjabi, English, and Kannada, among other languages, as well as tribal music forms, contemporary Sufi, Abhangas, Bengal's Baul music tradition, and more.
Jay Shah, Vice President - Cultural Outreach at Mahindra Group, said, "Mahindra Group has always strived to make an impact on people's lives in a way that stretches beyond corporate boundaries, enabling audiences to explore art, music and culture. India's culture is a melting pot of diversity, steeped in rich history and heritage and infused with numerous art forms, dialects and languages. And with Mahindra Roots, we seek to celebrate the essence of this legacy and put it into the limelight. At the same time, we also wish to inspire the millennials and Gen Z, the future change-makers, dreamers and shapers of our societies, to rise to our roots through this festival."
VG Jairam, Founder of Hyperlink Brand Solutions, added, "Hyperlink has always been at the core of movements that connect cultures and powerful stories with people. And Mahindra Roots pushes the envelope to expand on this philosophy by bringing the roots of our diverse Indian culture on one platform while imbibing it in contemporary thought and style to connect with new-age audiences. The festival is our attempt to give cultural art forms pushed to the peripherals of stage wings a mainstream centre stage, and we are looking forward to many more editions in the future."
The festival's opening night will be held on 24th February at Bal Gandharva Mandir while the subsequent performances will be hosted at Bandra Fort Amphitheatre on 25th & 26th February, and antiSOCIAL on 25th February 2023. Mahindra Roots will, indeed, weave a rich tapestry reflecting India's multifaceted culture with threads of classic and folk art injected with contemporary storytelling.