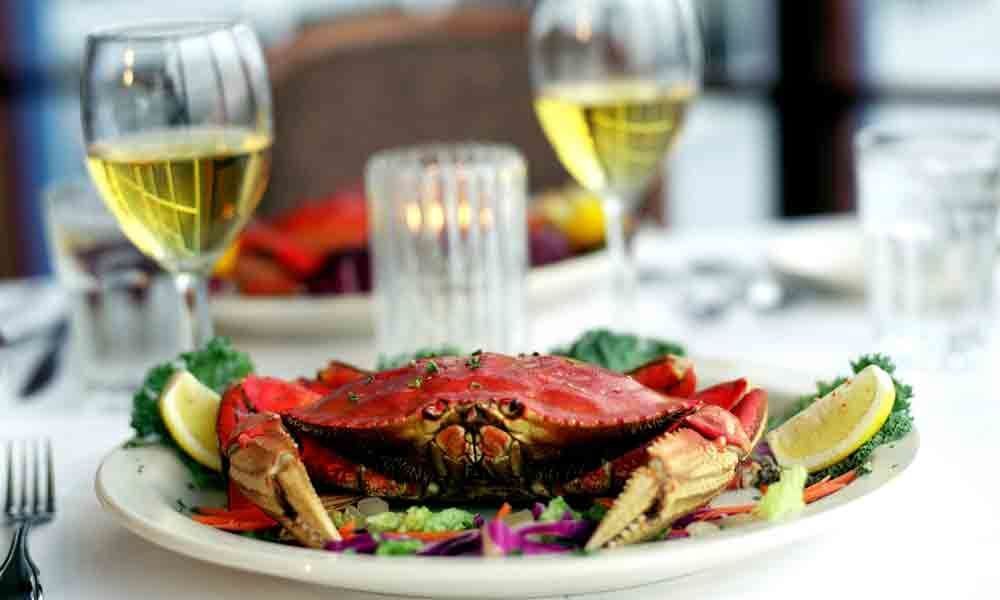 Highlights
How to eat around the world in San Francisco…
How to eat around the world in San Francisco…
San Francisco is known for its incredible diversity, and that extends to food. That's why it should be no surprise that it's one of the few cities in the world where you can taste the cuisine from dozens of countries without stepping foot outside of its 49 square miles. So, if you're looking for a unique global experience rather than just another meal, look at how you can enjoy the food of several countries without leaving San Francisco.
Mexican - Tacolicious: There are plenty of spots in the Mission to put on this list, and if you've got a Mission Burrito at one you might feel like you've been to all of them. But if you want to try something you can't find just anywhere, such as shot-and-a-beer braised chicken or corn, summer squash and sweet peppers tacos, it's time to visit Tacolicious.
Spanish - Alegrias: After eating your way through San Francisco, you might be in search of something on the smaller side. Might we suggest tapas - or Spanish snacks - at Alegrias. The most popular dishes on the menu are empanadillas de carne, machego flambeado, patatas alioli and the much talked about flan. You'll feel like you've been instantly transported across the Atlantic Ocean to Spain.
Moroccan - Mourad: If you've never tried Moroccan food, your trip to San Francisco wouldn't be complete without a trip to Mourad, a recent Michelin Star awarded restaurant. Popular Moroccan dishes include tagine, couscous and b'stilla. If you don't want to splurge, check out Mourad between lunch and dinner service at the bar for a great, and more affordable, dining experience.
French - La Folie: La Folie is a critically acclaimed yet intimate, family-run restaurant located in Russian Hill in San Francisco. Chef Roland Passot and his wife Jamie opened La Folie in 1988 and, for decades, have thrived in their original location Polk street. La Folie's dining room offer exquisitely prepared meals in an elegant ambience with warm lighting, sophisticated wood and mirrored panels, and top-notch service.
German - Schroeder's: When you get a sudden craving for bratwurst, strudel or any sort of schnitzel, you'll be happy you're in San Francisco, where you can find Schroeder's billing itself as the West Coast's oldest German restaurant since 1893. The restaurant, which has been in the same spot since shortly after the 1906 earthquake, was remodelled a few years ago, ushering in a new era for the German eatery.
Italian - Locanda Osteria & Bar: North Beach, the West Coast's Italian mecca, is a great destination for delicious Italian food like lasagna, spaghetti, ravioli and, of course, pizza. However, San Francisco is home to dozens and dozens of Italian restaurants and one of the top-rated Italian restaurants is in the Mission District called Locanda, which has a menu that includes rigatoni, prosciutto, roasted eggplant and the Jewish-style artichoke. Pair that with one of their signature cocktails and you have yourself an amazing night.
Greek – Souvla: If baklava, lamb, Greek fries or gyros sound good to you, it's time to find a Greek restaurant. Fortunately, there's Souvla, a fast-casual, affordable option in Hayes Valley that is quickly becoming famous for their photogenic food and inexpensive prices.
Russian - Red Tavern: Considering the extreme diversity of food in San Francisco, it should come as no surprise that you can get some incredible Russian food here without travelling to St. Petersburg and back. When you want beef stroganoff, pelmeni or kotlety, the Red Tavern has just what you need.
Indian - Amber India: Indian cuisine is known for combining practically every spice in the pantry to result in a flavourful, unique dish that's unforgettable. So, if you're craving curry, tandoori chicken or some soft naan or any other North Indian specialities, Amber India Restaurant in SOMA has you covered.
Subscribed Failed...
Subscribed Successfully...