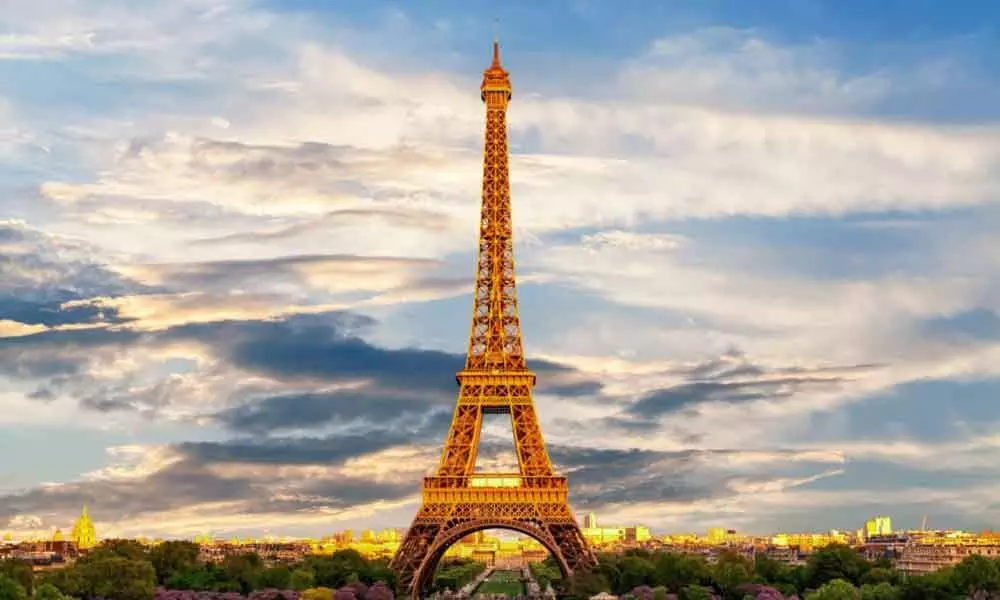 Highlights
The Astro Poets reveal where to travel to based on your zodiac sign…
Looking for travel inspiration? It's all in the stars. We've teamed up with Twitter-favorite The Astro Poets to match you with a destination according to your zodiac sign – poetically inspiring your wanderlust and guiding you to the right place (literally and metaphorically) before 2019 ends…
Aries—Brooklyn, NY
When you walk in, there will be endless green. And in your dreams you will see the green bathe a wash of emerald over every sad encounter. Simplicity has a way of making your nerves let go. You wouldn't have thought to do it, but that is why it was made for you all the more.
Aries love the glitz and pace of The City and find it a natural home for all of their ambitions (romantic and otherwise). But after they are done with their adventures, the thing they most need is a place to be a Queen.
Taurus—Paris, France
You are always in a golden hour, travelling through the childhood of your mind. There will be wind and there will be alcoves. There will be drinks and many people. You will surprise yourself again.
There's no other city that will fit the grandeur of a Taurus like Paris. It's classic, romantic, and full of history. It also allows a Taurus to do their favorite thing which is indulge—whether that's in food, wine, or truly the best art in the world, right there, in one city.
Gemini—Bergen, Norway
You've dreamt always of this wide expanse of sky. Seeing clouds upon clouds light the seascape. Did you leave and come here for some reason? Or were you always here, waiting to feel something, something both true and permanent.
Geminis have so much going on in their heads – so any sense of quiet solitude is welcome. From the moment they get there, they will just feel the peace emanating from this space in Bergen, Norway.
Cancer—Luján de Cuyo, Argentina
If the sky is there, then so are you. If the trees surround you, you surround them too. Air, air, air—and birds. Suddenly. Then all at once.
Cancers absolutely love small towns. They love to get lost and fully immersed in them, as they do with people. Luján de Cuyo is in western Argentina, near the Andes Mountains, and let's just say there is a lot of Malbec there (which Cancers also love).
Leo—Milan, Italy
Was it the violet that loved you? Or did you need it all these years, endlessly waiting for the right tone. You told a joke, or four, and no one laughed. It's not the day that gets you—it's the promise of the night.
Whatever is the most glamorous will attract the most Leo energy, and this place is no exception. Leos will adore the deep history of Milan and its vivacious nightlife and will relish in entertaining new friends in this charming room nearby the Brera district.
Virgo—Scotland, United Kingdom
Away from the Earth and the sea and the rain. Away from the impossible hour when you begin to wonder—yes, it was probably you who meant to paint everything in light. Yes, it was you. You probably did.
Virgos truly run the world. They take care of everything and everyone and often forget about themselves. So of course, they have a fantasy of leaving it all behind and being in a perfect, secluded space (at least for a few days).
Libra—Harbor Island, Bahamas
What is it about the lips that enamor you so ferociously? Could it be the presence of speech and the cascade of words speech promises? Pink is so immense, but does it call for you? Oh, of course it does, it drapes your heart away, and you will find it there in the folds of the everlasting pearl pink waters.
Libras have a lot going on usually, and right now is no exception.
Scorpio—New Orleans
You are the blue in the fire, the red in the water. You are a thousand rivers all nearing midnight, with one moon beginning to rise. Of course, you rise with it. Of course, you look up. There is only eternity now.
Scorpios are arguably the most sensual sign in the zodiac. They're also mysterious, full of competing auras and energies, and that's exactly why New Orleans is the perfect place for them. Naturally, they'll want to go there with a lover. And if they go alone, they surely won't be alone for very long. As internal as Scorpios are, they need deep connection. And New Orleans is the kind of city with a lot of soul and a lot of depth.
Sagittarius—Palo Alto, California
You can't deny it—you love the earth. There is so much it offers you and you are so thankful. When the hours are late, you will think about what burns. Are you thinking of someone you used to love—they probably are still thinking of you.
All Sagittarians love their freedom. And there is something about this private space in Palo Alto, California that will make them feel free. They will love how complete it is, with plenty of places to take a nap and dream, and how quickly they can get to the surrounding activities in the town (like the glorious farmers' markets and their jewel-toned vegetables) and to San Francisco, if they wish to go there. During the day, they will run and walk along the tree-lined streets, taking in everything around them. At night they will either invite an old friend from the area to sip the local healthy wine or will spend the long hours alone by the fire, writing a book.
Capricorn—Shanghai, China
A horizon is where we can find you. A real measure of order in the day. You repeat the same stories over and over, but anyone who knows you can see—you're looking for something new. For something to stay.
Capricorns are the hardest workers around. They definitely need a vacation. But don't be surprised if they take their work with them. They're not exactly a "relax by the beach" kind of creature. An industrious city like Shanghai is perfect for them. They will do a lot of walking (or "research" as they sometimes call it) and find the most ideal place from which to people watch (which they secretly love). Another thing they secretly love is going on trips alone.
Aquarius—Minato-ku, Japan
How many years ago did you play the gentle music? Was it a memory, both old and new, that captured you? No one knows but you what lemons you search for. You will find a friend quickly, and they will be strong and there for you.
Aquarians have an old-fashioned love of ethereal beauty and will be drawn in immediately to this charming space in Minato-ku, the Roppongi Shed House.
Pisces—Pinherios, Brazil
The days fall into each other and you are always trying to reach them. You dip your hand in silver and look for sun. You take some flowers with you back to bed and do not sleep.
They might be the most emotional of your friends, but they're also the wisest and the ones most up for daydreaming or taking a spontaneous trip. Pisces are absolutely 'people's people. They will find their tribe anywhere and they relish exploring. - Courtesy: Airbnb
Subscribed Failed...
Subscribed Successfully...