Prominent authors, film personalities, scribes share views on diverse themes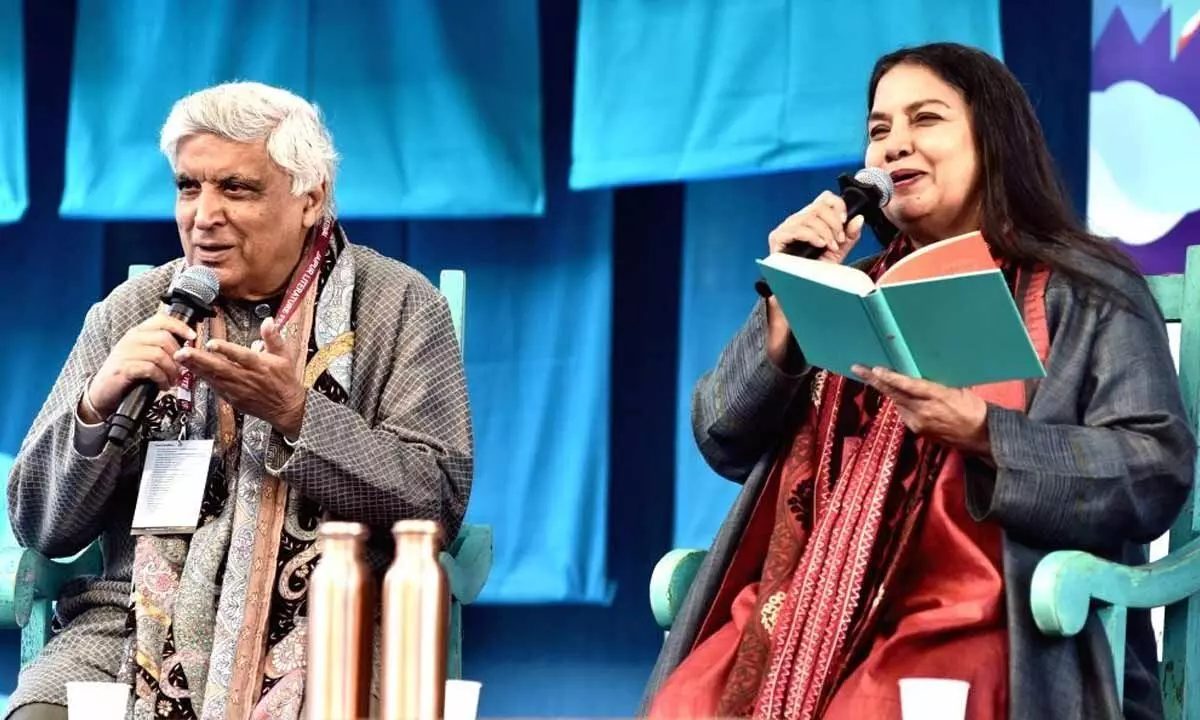 Highlights
The second day of the 16th Jaipur Literature Festival (JLF) opened at the Hotel Clarks Amer here with a powerful Carnatic music performance by Aditya Prakash, accompanied by violin and mridangam
The second day of the 16th Jaipur Literature Festival (JLF) opened at the Hotel Clarks Amer here with a powerful Carnatic music performance by Aditya Prakash, accompanied by violin and mridangam.
On Friday, author Tripurdaman Singh and author-politician Shashi Tharoor discussed the crisis of democracy. Addressing the role of public demonstration in a democracy, Tharoor said, "The streets are only effective on an issue like that... for demonstrating how vehemently or strongly large sections of society feel... policies still need to be made by people made in offices."
Philanthropist and writer Sudha Murty in conversation with journalist Mandira Nayar discussed Murty's first publishing experience when she was 29.
Murty emphasised the importance of her mother tongue, Kannada, and the culture of the land. While talking about the importance of being real and holding to one's perspective and ideas, Murty said, "I connect to the people because I tell the truth. I don't act."
Hindi, spoken in several countries in the world today, has acquired diverse repertoires deriving from cultural and linguistic interactions with the ambient environment.
Sanskrit scholar and Director of the Instituto Cervantes in New Delhi, Oscar Pujol, and the Ambassador of Poland to India, Adam Burakowski, brought glimpses of the popularity of Hindi in Europe, as they were seen in conversation with author and diplomat Abhay K. at a session titled -Global Hindi'.
Burakowski shared his experience of the last 25 years in India and how 'Bharat' captivated him and drove him to learn Hindi and specialise in India as a political scientist.
While talking about the importance of Hindi, Pujol said, "I think Hindi is going to become a global language."
Acclaimed poet, lyricist and screenwriter Javed Akhtar and his wife and renowned actor Shabana Azmi discussed the differences and similarities between their respective fathers - poets Jan Nisar Akhtar and Kaifi Azmi - and their perspectives on love and romance.
Akhtar spoke about the progressive writer's movement and its origin in the All India Congress Conference which was presided over by Munshi Premchand.
Noted journalist Ravish Kumar spoke with the editorial director of Rajkamal Prakashan, Satyanand Nirupam, and publisher and co-founder of Speaking Tiger Books, Ravi Singh, about-fear' and its role in politics today.
Kumar also spoke at length about how the rich and the judiciary are all afraid of the state.
IRS officer Nirupama Kotru was in conversation with award-winning author and playwright Kishwar Desai at a session titled 'The Longest Kiss: The Life and Times of Devika Rani'.
The session explored Desai's novel of the same name and discussed legendary actor Devika Rani's intensely private, controversial and enigmatic life and death.
Biologist and author Merlin Sheldrake in conversation with writer Janice Pariat talked about his book 'Entangled Life' and shed light on the enchanting world of fungi and how they are intrinsic to our existence.
Sheldrake also talked about how deeply linked arts and sciences are and that the passion for both emerges from a place of wonderment and curiosity.
Nobel Prize-winning author Abdulrazak Gurnah shared his life's experiences which have shaped his literary work.
In conversation with publisher Alexandra Pringle, Gurnah took the audience through his childhood, when he led a life of naivete and simplicity.
In the context of the relationship between memory and writing, Gurnah said, "It is important to me that those events are not forgotten because what often happens, particularly with authoritarian states, is a new narrative is made, forced on you - the people, the citizens - in order to just make everything work the way in which the government or authority wishes. So it is important in my conception of writing not to submit to that, to keep the memory of what happened alive, to try and hang on to the things we know."