Creating everlasting memories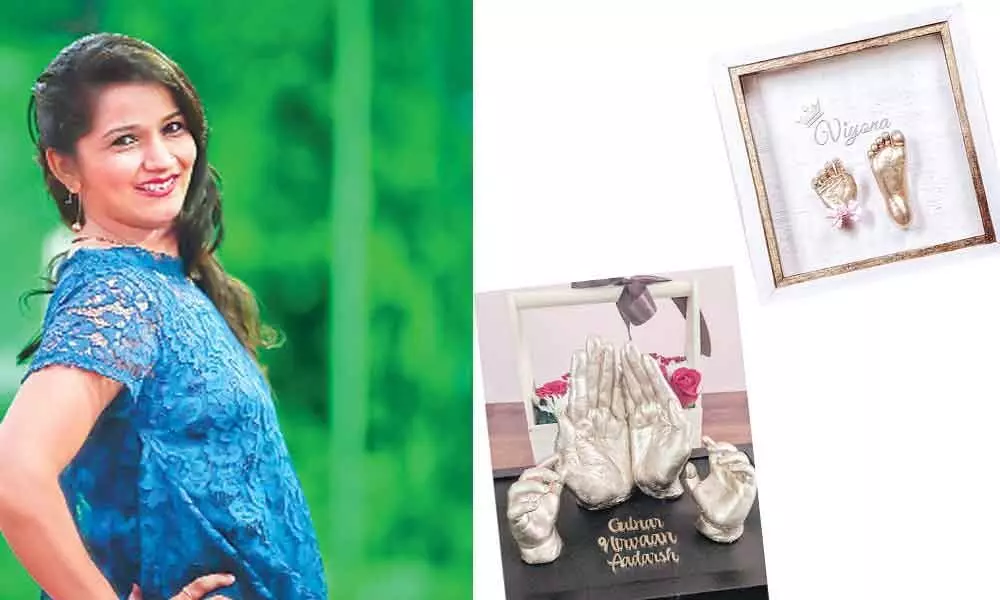 Highlights
Creative entrepreneur Harsha Jain, founder of 'Lasting Impressions' says in a world where photographs are just a click away, cast symbolises a sense...
The passion to start something creative and different led Hyderabad-based Harsha Jain venture in 'Lasting Impression', where she casts impressions of hands and feet to permanently freeze your memories. Apart from this she also has an immense passion for baking and this she started 'Cuppy Cakes'. A mother of two sons says, "I once read a quote by Oprah Winfrey 'Anything you can imagine you can create'. And this line made me believe that I can achieve my dreams.
Excerpts from an interview:
When did you get the idea of doing impressions?
While we were expecting our second child, we were looking for something unique, which could be preserved as a memorabilia of our child.
After a lot of research and development, we were able to cast a perfect hand impression of our first child from then, there was no looking back.
What kind of materials you use for impressions?
We curate impression with materials, which are 100 per cent non- toxic and child safe along with a palette of colours like champagne gold, rose gold, 24-carat gold, copper, silver and many more.
Which was a memorable impression that you have framed?
The very first impression that I made is still afresh in my mind and is very close to my heart. Although I have improved my skills over a period of time, I can never forget the impression that I have done for the first time which was my son's hand impression.
Who are your target customers?
My target customers include 'to be mom's' for belly cast, parents of newborns, a couple who got engaged, newlyweds, pets, etc.
What challenges did you face?
Nesting my venture from scratch with no professional expertise neither any mentor to teach the process was quite challenging, and then the artist in me popped up to explore my inclination towards creativity.
In a world where photographs are just a click away, cast symbolises a sense of togetherness that creates a strong bond amongst loved ones. With mixed emotions of love, care and creating treasured memories.
Initially creating a mark in such competitive environment was certainly a difficult task alongside attracting people to invest in a cast (a little expensive) although my 'Lasting Impressions' was limited among family and friends, it is when 'Magic Pop Up' at Taj Krishna happened it boosted our confidence and helped us to take a leap forward.
What was the trial and error in the process?
Firstly, to kick start a new venture it takes a lot of courage, moral support and self-motivation, along with a lot of trial and error on how to cast a perfect impression, be it the right choice of materials, the right mix, colours, tools, etc.
How do you manage personal and professional work?
A) When you love what you do, everything becomes easy. To balance both personal and professional life I have limited working hours and have strictly adhered to a "No work on Sunday" policy. I make sure to complete my entire work task before my kids are backing home from school.
Apart from the artworks what else do you do professionally?
Considering myself a "Jill of all trades" (laughs). My love for baking turned out to be a reality when I started baking from home and titled it "Cuppy cakes by Harsha Jain".
In a fast-paced schedule, one must take time to indulge children in various art forms where they are grounded to creativity and take time off-screen. Keeping this in mind I design kid's centric art classes for decoupage, scrapbook making, coffee painting, gift wrapping and more during summers. I strongly believe "No journey is long when dreams are big and the sky is the limit."
What do you plan to do ahead?
I am planning to start 'Ashirwad Impressions' where I would do impressions of elderly people. This is a creative part of receiving blessings through impressions.
Subscribed Failed...
Subscribed Successfully...