Himabindu, a danseuse par excellence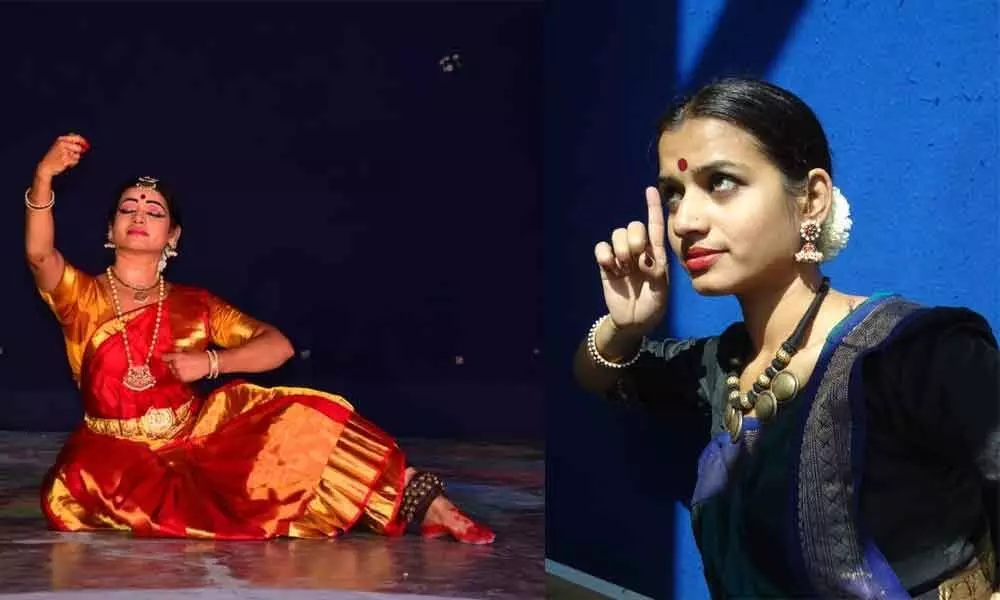 Highlights
She discovered classical dance only after her graduation. Bharatanatyam dancer, a Kalakshetra alumni, Dr U Himabindu, now the faculty at SPMVV says it helps to pursue her passion with better focus, as it is also her profession
Neither age nor a person's background matters when they strive for achieving the impossible. The story of an assistant professor at Sri Padmavati Mahila Viswavidyalayam, Tirupati, Dr U Himabindu too centres on such firm convictions.
It was after her graduation in commerce, she chose to venture into uncharted territory of dancing. Unchartered as she does not hail from a family of dancers or has any formal introduction into the arts.
A friend's advice to go to the famous Kalakshethra in Chennai in 2001 turned her life to become what she is today. As a faculty member in the Department of Music and Fine Arts, she was fortunate to find a profession that best suits her passion as she could teach and mould many more dancers.
Born and brought up at Yemmiganur in Kurnool district, Himabindu had to struggle a lot during the 1st year of her course at Kalakshethra as she did not have any basic knowledge in dancing.
"In one way it helped me too as I got a strong foundation there itself, which turned my career towards dance. Soon after getting diploma, I moved to University of Hyderabad to join MA in Performing Arts in Dance – Bharatanatyam, where I got a different exposure and experiences under the teachings of Sangeet Natak Academy awardee P Ramalinga Sastry and others," she recollects.
Her passion made her pursue the art further by joining in MPhil programme in Folk Arts at Potti Sreeramulu Telugu University. She completed it in 2010. For PhD in dance, she again went back to University of Hyderabad.
She established 'Mudra' Academy of Fine Arts in Hyderabad and started training many others to become good dancers. She worked as guest artist in Annapurna Indian Dance Company at Halifax, UK and was part of various projects and workshops, which helped her immensely in her research work. She performed many dance ballets too.
All her efforts have been rewarded with several distinctions. She got Elizabeth scholarship during her fourth year at Kalakshetra. In addition to Ugadi Puraskar from Government of AP, she received number of awards and titles from various organisations.
As a freelancer before joining SPMVV, she conducted several workshops in India and United Kingdom. She has many stage performances to her credit in Dubai, UK and India.
Recently, Himabindu gave two live Bharatanatyam performances in Tirupati at SV College of Music and Dance and at Ramachandra Pushkarini and received huge applause from the dance lovers.
On academic front, as Cultural Coordinator of the University, she was instrumental in getting many awards in different competitions across the country for the institution.
"Apart from my Gurus, my University also gave me number of opportunities that helped me build my dancing career. Now, the task before me is to excel in South Zone Championship to be held in Alagappa University in December 2019.
I am fortunate enough that both my profession and passion are on the same platform, which provide me every opportunity to showcase my talent on every occasion,", expresses a confident Himabindu, geared up for her next step to move up in the world of classical dance.