Modi juggernaut rolls on world stage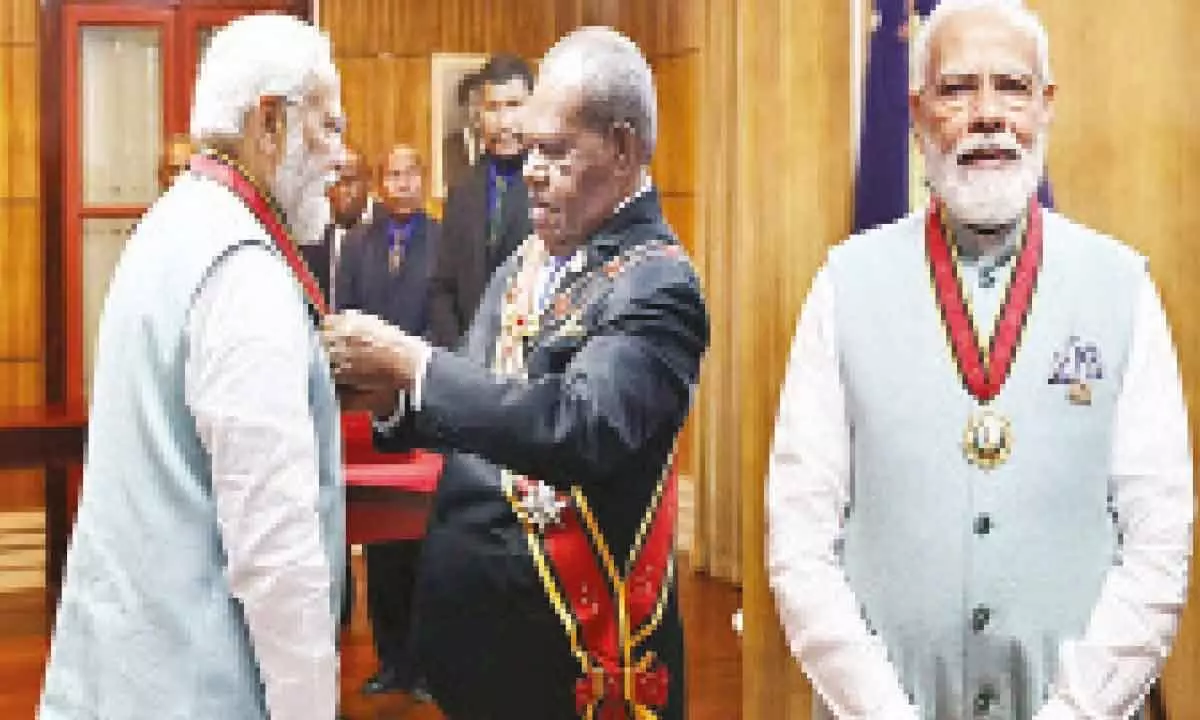 Highlights
The central message of these visits is that India has arrived at the global stage. Modi has done well by connecting the dots in all three countries – Japan, Papua New Guinea and Australia – on issues of bilateral and international concern, ensuring that India's voice resonates globally
There is merit in viewing the world order today as being in a state of flux. Amidst the global uncertainty caused by Russias invasion of Ukraine, India remains a powerful voice of reason and sanity. This geo-political backdrop offers an overview of the rationale for Prime Minister Narendra Modis three-nation tour to Japan, Papua New Guinea and Australia.

The central message of these visits is that India has arrived at the global stage. Modi has done well by connecting the dots in all three countries on issues of bilateral and international concern, ensuring that India's voice resonates globally.
The G7 Summit held in Hiroshima, was attended by Modi, his third such appearance as an invitee. The clarion call for dialogue and diplomacy on Ukraine, though not directly mentioned, indicated India's continuing concern over the conflict and its global fallout on energy, food and national economies.
The sanctity of respecting the territorial integrity of nations was emphasized in the context of recent incursions by China across the Line of Actual Control and Russia's invasion of Ukraine. Significantly, this is also the consistent line that India has taken since February 2022, when Russia invaded Ukraine. Ukraine took centre stage at the G7 Summit, what with President Volodymyr Zelensky meeting most world leaders on the sidelines of the event, including Prime Minister Modi.
In fact, the Prime Minister went a step further to say: "Today we heard from President Zelenskk. I also met him yesterday. I do not consider the current situation as an issue of politics or economy. I believe it is an issue of humanity, an issue of human values." This remark needs to be contextualized as Modi had told Russian President Vladimir Putin in Samarkand last year that this is "not the era for war." Pertinently, while other nations look at Ukraine as a zero-sum game, India has taken the lead in propagating a truly global perspective.
The scene then shifted to Papua New Guinea where Modi became the first Indian Prime Minister to visit. Notably, India's presence at the Forum for India-Pacific Islands Cooperation meeting at Port Moresby signaled New Delhi's renewed interest in the Pacific region, traditionally known for the presence of people of Indian origin.
Chinese political ingress and influence in the Pacific island countries in the last several years has created a challenge not only for neighbouring Australia, whose national security is most impacted, but also for other countries in South-East Asia and the Quad. Modi's oblique reference to China, while speaking at the Forum that even though those considered trustworthy were "not standing by our sides in times of need" will now have to be matched by India and ensure that it becomes a reliable development partner.
India has a lot to offer, both in terms of technology and manpower. Lest we forget India can also ensure affordability. The only thing required is connectivity with the Pacific Islands region. It is here that Australia and the Quad come in. The former is undoubtedly perturbed by Chinese influence in the Pacific Islands. However, the collective efforts of India, Australia and Quad partners could provide a very effective platform to intervene in the region. Diaspora in this region is one prime mover, of course this is restricted mainly to Fiji, but the broader canvas can be handled by considering the requirements of each of the island nations.
Issues pertaining to development, climate change, coastal security and many other aspects of small island living can be discussed and debated. The starting point for this endeavour comes from Modi's historic visit.
James Marape, the Prime Minister of Papua New Guinea, speaking at the Third Forum for India-Pacific Islands Cooperation (FIPIC) Summit, hailed Modi as the leader of the Global South and said all island nations will rally behind India at all international forums. He sought Modi's good offices to bring their narrative to the attention of platforms like G7 and G20. There is thus an opening for India, both bilaterally and multilaterally to engage with the Pacific Islands.
Modi's latest diplomatic outreach has two interesting anecdotes which highlight his personal charisma and popularity. The first was US President Joe Biden hugging him at the G7 summit and reportedly asking the latter the reasons for his popularity. Modi is scheduled to visit the US in July and apparently requests for attending his public meetings are already overflowing.
The other anecdote is from Papua New Guinea, where the Marape touched Modi's feet when he arrived at Port Moresby. Marape is younger than Modi and may have been told that in India it is a tradition to touch an elder's feet to seek blessings. But the spontaneity of the act suggests something beyond mere formality.
As the Modi juggernaut rolls on abroad, several things become clear. India has arrived on the world stage. It always was; today it is present with a bigger stake and seeks recognition.
At the end of the day, the Prime Minister's visits also strongly signal that engagement is not merely for the sake of it, but requires a genuine recognition of each other's security concerns. This is the key takeaway from the latest tour of Japan, and Papua New Guinea. (IANS)