PV Narasimha Rao: A great leader who did thankless job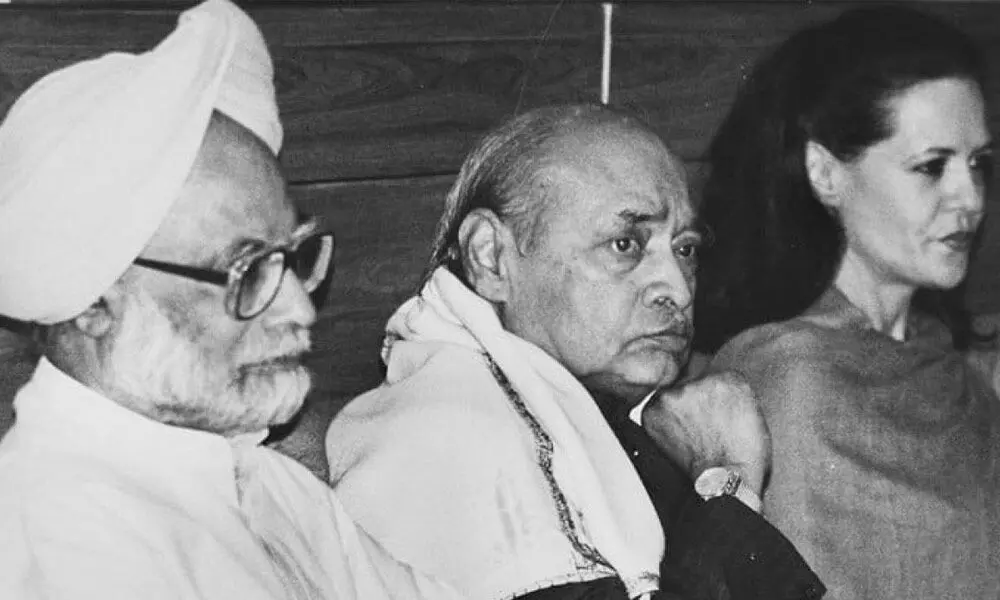 Highlights
It was customary for the bodies of past Congress presidents to be taken inside the party headquarters so that ordinary workers could pay their respects
"It was customary for the bodies of past Congress presidents to be taken inside the party headquarters so that ordinary workers could pay their respects. The family was somewhat dazed when this did not happen. A friend of Rao's asked a senior Congress woman to let the body in.
'The gate does not open,' she replied. 'This was untrue,' the friend remembers. 'When Madhavrao Scindia died (some years earlier) the gate was opened for him.' Manmohan Singh now lives in a guarded bungalow a few minutes from Akbar Road. When asked why Rao's body was not allowed into the Congress headquarters, he replies that he was present, but has no knowledge of this. Another Congressman is more forthcoming. 'We were expecting the gate to be opened . . . but no order came. Only one person could give that order.' He adds, 'She did not give it.' After thirty awkward minutes, the cortège moved on to the airport…"
Earlier Senior Congress leaders convinced the family members to take PV's body to Hyderabad for a 'grand funeral' as promised by the then Chief Minister Y S Rajasekhar Reddy.
Author Vinay Sitapati, in his book "Half Lion: How PV Narasmiha Rao Transformed India" released in 2016 began his biographical account with the insult of waiting for half an hour in front of the locked down gates of AICC headquarters as above.
It was an insult to a top-level leader of modern India, not coming from Nehru family, an ordinary man from a remote village in South India. It was an insult to Telugu pride. Why the family rulers of Congress party insulted P V Narasimha Rao? The Indian National Congress party, if it is not really owned by a family, and if it is really a people's party, it has to tender unconditional apology to the nation, every Congress worker and every voter who considered them for ruling India for decades and of course, to the family of P V Narasimha Rao.
Entire Telugu speaking people feel that the Congress has denied him a respectful place in New Delhi, as all other former Prime Ministers got. He was unceremoniously sent out to his native State. It was clear that party has disowned him when its president did not mention his services while recalling the contribution of all the Congress Prime Ministers from Indira Gandhi to Rajiv Gandhi. The party totally ignored him and his services to the party throughout his life. Even the party circles felt that the 'funeral' indicated the mind of 'high command' to disown him, for whatever reason.
Some biographical accounts mentioned that Sonia Gandhi praised contributions of all Congress Prime Ministers except P V Narasimha Rao in her speech ... Making no mention of Rao in her 15-minute speech, she said Rajiv Gandhi scripted the course of economic policies that were followed by the government (headed by Rao) for the following five years."…
Though the party chose Manmohan Singh as its Prime Minister twice, it exhibited extreme reluctance to acknowledge the role PV Narasimha Rao played in appointing Manmohan Singh as his Finance Minister and giving him the freedom to unveil the economic reforms package to bail the Indian economy out of an unprecedented crisis. The party should have chosen at least the hundredth birthday of Rao to acknowledge Narasimha Rao's role in ushering in economic reforms.
In fact, Rao was thinking of Vanaprasth (fourth of four Ashrams the traditional Hindu is expected to follow, which means an ascetic life). Though Rao chose not to contest elections in 1991, and had partly shifted residence to Hyderabad, unexpected historic events made him to occupy the dual offices – Presidentship of Indian National Congress and the Prime Ministership. With decades of experience as Union Minister and loyal association with Nehru-Gandhi family, PV's path to the top position was smooth in the vacuum created by sudden departure of Rajiv Gandhi in a gruesome assassination in the midst of general elections to Lok Sabha in 1991.
PV holds a record of completing five-year term in office of the Prime Minister, without being a member of Nehru-Gandhi family. He is also first south Indian to have held the position firmly from the Congress party. When he died of heart-attack in 2004, his body was not allowed to enter the party's headquarters in 24, Akbar Road, New Delhi. His family feels it was a deliberate insult heaped on him by the present president of the party Sonia Gandhi, while seniors in the party chose to be silent.
Along with the ruling Telangana Rashtra Samithi (TRS), the Opposition Congress party in the State also joined in celebrating the centenary. Congress leader from Vijayawada Jandhyala Shankar, strongly felt that high command of the Congress party should mend its ways and offer due respect and regard to its former president and Prime Minister.
The Telangana government is rightly demanding Bharat Ratna for Rao, a statesman, and pioneer of LPG (Liberalisation, Privatisation and Globalisation) spelling an end to permit raj corruption that assumed monstrous proposition. Chief Minister K Chandrashekar Rao launched a yearlong celebration allocating Rs 10 crore for the activities. He demanded the top title to Rao in 2014, reiterated several times and now vowed to make all efforts in Delhi to secure it. Rao is quite popular among politicians across the party line, who supported him for Bharat Ratna. BJP leader Subramanian Swamy supported the demand. As per Sanjay Baru, Manmohan Singh also wanted to give Bharat Ratna when he was the PM.
Shekhar Gupta, senior journalist who had close access with Rao as Prime Minister wrote in 2017: "Rao was punished by the middle class for keeping the BJP out of power for a full five years. Why else would it hate someone who gave them so much, through economic reform? Similarly, he was punished by the Congress party for keeping the Gandhi family out of power. For daring to believe that he could lead the party, and keep it in power, whatever the cost, in the absence of an active Nehru or Gandhi. It is for this sin that the very party that should have been so grateful to him now wants the law to take its own course and would have celebrated his conviction, and later didn't allow his body to be brought into its headquarters". Given his politically successful and administratively historical stint as Prime Minister, Pamulaparti Venkata Narasimha Rao deserves a thankful recognition from his political alma matter – the Indian National Congress. Having served the party and the Gandhi family ever since he won Manthani (in Karimnagar of Telangana State) in 1957, and kept the party flag flying at the top for five years after gloomy vacuum following Rajiv Gandhi assassination, Rao should have been shown some amount of gratitude by the top 'family' of the party.
The 100th year of his birth gives the more than century-old-party a chance to regret and recognise his contributions as Union Minister for decades and silent but vibrant Prime Minister for half-a-decade. It is time for the 'high command' to apologise for its ingratitude and insult by shutting down the doors to prevent dead body of the former party president from entering. Rao's final journey had to wait for half an hour before flying from airport to Hyderabad for his 'funeral'.
(The writer is former Central Information Commissioner and Professor at Bennett University)