Waste-to-resource industry: Best CSR option to create wealth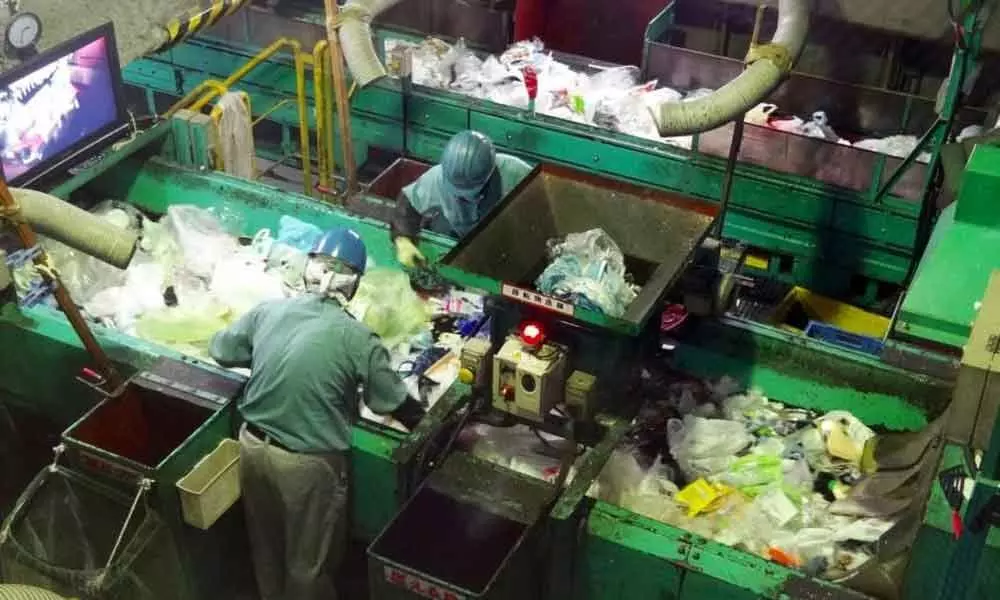 Highlights
Waste management has been a triggering issue in India. Prime Minister Narendra Modi initiated the Swachh Bharat Abhiyan which is the largest cleanliness drive for 2014 - 2019.
Waste management has been a triggering issue in India. Prime Minister Narendra Modi initiated the Swachh Bharat Abhiyan which is the largest cleanliness drive for 2014 - 2019.
This mission has been worthwhile in a country which produces e-waste in largest quantities. About 18.5 lakh tonnes of electronic waste is dumped in the landfills which releases toxins in the environment.
A whopping six crore tonnes of waste is generated every year and we have a thriving and profitable industry building on the 85 % recyclable waste.
India's waste management industry will be at US $ 13.62 billion by 2025 according to market research company, NOVONOUS. India's Swachh Bharat campaign provides an added advantage to the country by providing partnerships with start-ups and non-government organisations.
Taking advantage of the rapid rise in the industry's effectiveness, many waste-to-resource start-ups have emerged to be progressive.
Rural India lost employment to 3.8 % in the previous financial year. The water supply and irrigation facilities for rural people remain meagre. Farmers' difficulties are no secret.
Environmental pollution, climatic change, global warming, droughts, floods, and other hazards are persistent threats. Prevailing climatic conditions cause borewells to dry leaving sewage water to be the 'lender of last resort' to grow vegetables.
A best-out-of-waste industry has proved to be a boon for rural India. Rural India is primarily engaged in agriculture and the sector has gained momentum with a microscopic shift to manufacturing sector. How?
A farmer, Muniraju, discovered the use of untreated sewage water for cultivation of mulberry. The mulberries are sold and its leaves are fed to silkworms to make Kanjeevaram or silk sarees.
And now, there are more farmers of the 'agricultural sector' moving towards 'retail sector' through the manufacture and sale of silk sarees raising hope in farmers.
Another bail for rural India is the biofuel production. It is an industry that researchers are currently looking out for. It substantiates the substitution of crude oil.
India imports 9.7 % of crude oil standing third after China and US as of 2018. A whole or part of substitution of the oil could raise Rural India's hope.
Majority of the urban population in India works in the service sector. India has been an attractive destination for Information Technology (IT) companies.
With the coming of IT sector and its contemporaries, the e-waste management has been a hard brick to break. The country appeals for ban on plastic due to pollution.
What's better when companies take the initiative to process it? It only counts up benefits and Corporate Social Responsibilities of a company.
Rosabeth Moss Kanter of Harvard Business Review agreeably said, "Companies that are breaking the mold are moving beyond corporate social responsibility to social innovation."
The plastic from large companies such as Bisleri and Pepsi, pharmaceutical companies such as Sun Pharma and Cipla, and MNCs such as Google form the client list of GEM enviro management which processes plastic and converts the same into T-shirts, bags, and other accessories.
What isn't transparent and known is the fulfillment of Corporate Social Responsibility (CSR). Plastic is a non-biodegradable effluent and recycling it could be a long-term initiative to protect the environment by micro, small and medium companies.
The processing of waste and proper waste management strategies adopted by small-scale companies can help them build a CSR. For instance, e-commerce has definitely sent a lot of plastic to Indian homes. With every order, the product is wrapped in two layers of plastic to protect the 'product' from damage.
But, the e-commerce labels omit to protect the 'environment'. To prioritise this, the e-commerce companies can send executives concurrently to pick the excess plastic, polythene, and other material on-demand by the customer.
A customer will demand if made aware of the need to recycle. ExtraCarbon caters to 1.25 lakh people in eight cities. The company bridges the gap between plastic or waste disposal and the environment.
Perhaps, it is a bridge between customer and e-commerce companies. ExtraCarbon visits homes on-demand to collect recyclable waste. CSR is not affordable.
Even though a small company would wish to contribute to society, financial constraints are a block. Hence, small companies can always look for partnerships such as these to build on CSR activities.
Migration of rural people to urban areas, leading to emergence of slums in every corner of the country, and also causing urbanisation poses a threat to the environment too.
Corporate Social Responsibility (CSR) is a contribution made by India's companies or the industries to the society at large. The waste management industry helps to strike a bid of CSR between urban and rural India.
Many companies find CSR beneficial, the same thought is shared by Proctor and Gamble Europe's president of business development Mike Clasper "People are going to want, and be able to find out about the citizenship of a brand, whether it is doing the right things socially, economically and environmentally."
While a few others believe CSR to be a cost to the company. In favor of this statement there are nuances from history of General Electric, where Jack Welch has been remembered for downsizing the organisation causing a lot of people to lose their livelihood.
He is also known for environmental pollution and other prosecutions. He aimed only at making profits. Nevertheless, the company has changed paths and moved to CSR over the years. But, why didn't they do it earlier?
The wastes generated from commercial and non-commercial uses can be put to great use. As mentioned, plastic recycling options are available.
But, a waste-to-resource technology is gaining momentum. The end-to-end management system for wastes in businesses helps to minimise waste at source. Therefore, companies can have a contribution towards society by reducing waste at their offices itself.
Tech 30 is a start-up which has recycled over 4000 tonnes of waste from businesses and communities and converted the same into biogas and compost.
The businesses not only add a CSR activity by reducing waste but also lend a helping hand to rural farmers. Namo E-waste, as their name suggests, specialises in processing e-waste by partnering with electronic companies. Hence, the companies remain leveraged.
Former CEO of Unileaver describes CSR as hard-edged business decision. But, not anymore.
(The writer is author, social science researcher and columnist)