School block of 4 classrooms to be inaugurated today in Hyderabad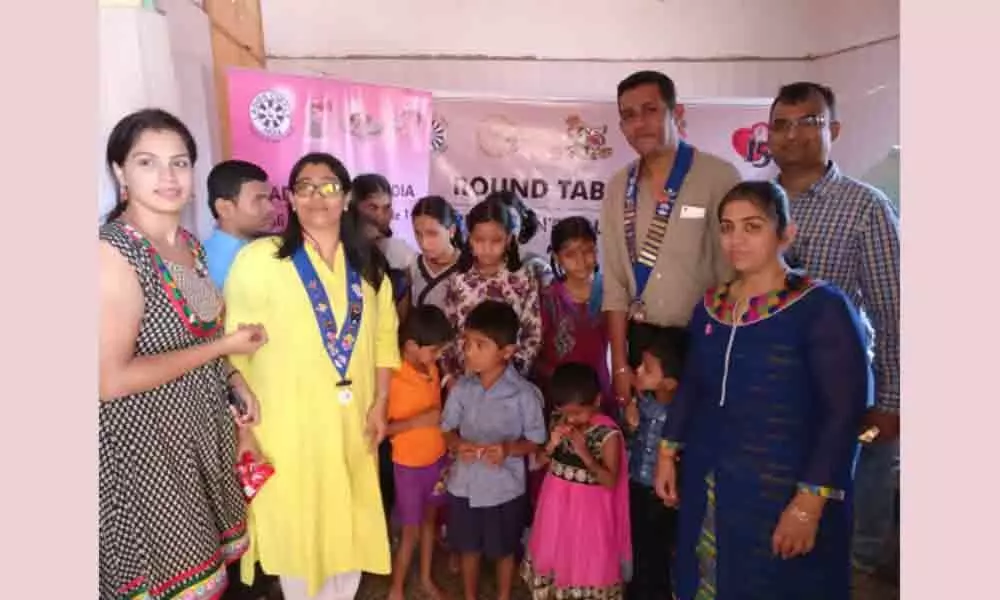 Highlights
RTI so far has built 6600 classrooms with an outlay of Rs 282 cr., impacting lives of 72 lakh underprivileged children.

In last 10 years, RTI has built on an average, one classroom a day every day.
Hyderabad: A school block comprising four class rooms at Mandal Parishad Upper Primary School, a government school, constructed at a cost of Rs 37 lakhs by Round Table India will be inaugurated today at Nanakramguda informed Tablers Nirmal, Chairman HTRT 303 Table and Abhishek Modi, Chairman SMART 118 Table in a press note issued in the city on Tuesday.
It is a project undertaken by Round Table India's local Tables (local clubs) Hyderabad Titans Round Table 303 & Secunderabad Metro Area Round Table 118 in partnership with Cyberabad Convention Center Pvt. Ltd, Novotel, TSIIC. The School Block will be formally Inauguration by EV Narsimha Reddy, VC & MD TSIIC Ltd
Arekapudi Gandhi, MLA, Serlingampally; Ashish Kabra, Director EMAR Properties, PJSC, Dubai; S. Madhusudhana Rao, CFO, EMAAR Properties, Hyderabad; Komarishetty Saibaba, Corporator, Gachibowli and Manish Dayya, GN GHICC & Novotel will also be present.
Hyderabad Titans Round Table No 303 and Secunderabad Metro Area Round Table No. 118 have jointly executed 'Freedom through Education' block consisting of 4 class rooms at Nanakramguda with the financial aid of Cyberabad Convention Centre (P) Ltd, which owns the HICC-Novotel and joint venture of Emmar Properties and TSIIC Ltd., as their corporate social responsibility and long with a support of Srikara Projects (P) Limited. This school block benefits 200 kids to study in classroom, who were erstwhile studying under the shades of the tree. The Principal of Nanakaramguda expressed this happiness that this new block will increase the admission. Round Table is a global organisation of a group of young men and entrepreneurs between the age of 18 to 40 from various walks of life. A non-political and non-sectarian organization, it has 2275 Tables(Clubs) and 30000 members worldwide. It has presence in 58 countries. Round Table India(RTI) is strong network of more than 350 tables(Clubs) and 4500 members across the country. Round Table India's long term national project is "Freedom Through Education (FTE)", wherein the members are involved in building Class Rooms, Toilets and providing other amenities like Drinking water facility, Library, Science lab etc. at schools across the country that cater to children from underprivileged sections of the society. In past 22 years, RTI has built over 6600 classrooms with an outlay of more than 282 Cr., impacting the lives of more than 7.28 million underprivileged children. In last 10 years, RTI has built on an average one classroom a day every day.
Interested in blogging for thehansindia.com? We will be happy to have you on board as a blogger.