Death of six spot-billed pelicans at Kokrebellur worries officials, bird lovers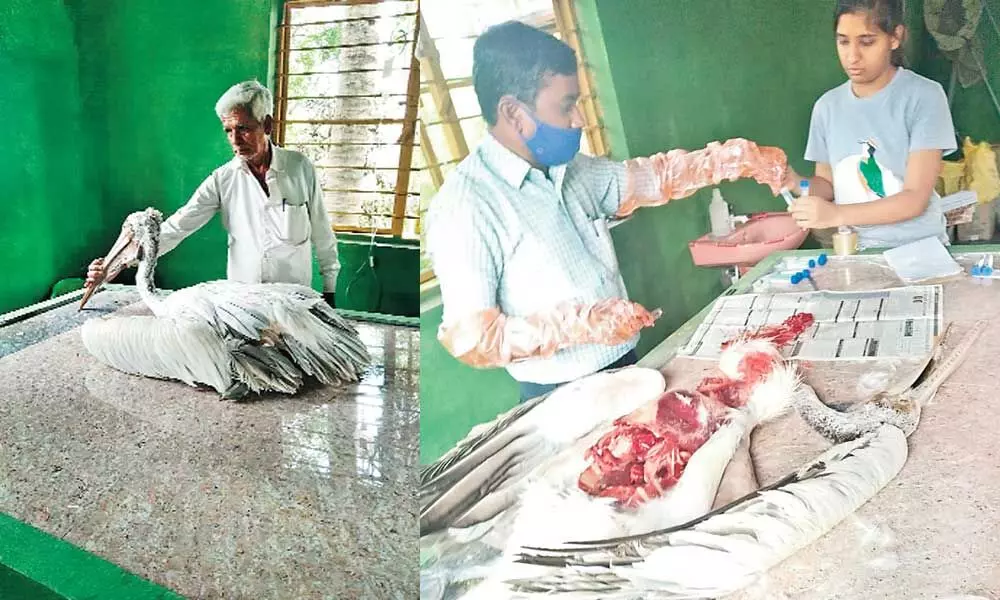 Highlights
The death of six spot-billed pelicans in Kokkare Bellur ( village of storks) Community Reserve in Maddur taluk of Mandya district in the last one month has forest officials and bird lovers worrying
Mandya: The death of six spot-billed pelicans in Kokkare Bellur ( village of storks) Community Reserve in Maddur taluk of Mandya district in the last one month has forest officials and bird lovers worrying. However, allaying the fears, a team of experts including toxicologists who visited the bird sanctuary recently concluded that the deaths were due to roundworms and not bird flu.
Locals who had found the pelican lying ill on the ground at Kokkare Bellur alerted bird lovers. They claim that the deaths were less compared to previous years, but express the fear that the number could go up in the next few days.
Speaking to The Hans India, Ningegowda, president of Hejjarle Balaga, (relatives of pelican) an NGO, and also involved in the rescue of birds over the past 24 years, says, "All these years the death of pelicans has been attributed to many reasons like gastroenteritis, water-borne diseases and roundworms. This year, too, roundworm was suspected to be the cause of the death of pelicans. We were told that roundworm infection is likely the secondary cause of the deaths, while the primary cause is still not known. I guess there is something else that is affecting their immune system and rendering them weak, and as a result, the roundworms are multiplying. Infected birds are unable to eat and drink anything and fall like leaves and die from trees. We are worried about the fate of Painted Storks that will start arriving by the end of January."
After many years spot-billed pelicans began arriving in Kokkarebellur at the end of October last year. These birds typically start to breed from December and stay in the region till June-July with their offspring. However, the period from December to February-March is vulnerable for these birds as many deaths are reported in these months. According to the forest department, as many as 59 died in the 2017-2018 season, 17 in the 2018-2019 and 12 in the 2019-2020 season.
The avian experts say that locals recently staged a protest to draw the attention of the authorities concerned towards the death of birds with whom they share a strong bond.
"There are also possibilities that these pelicans gulp some amount of water while catching fish. As contaminated water enters their stomachs, they could get worm infections. These pelicans leave Kokkarebellur after July and return only in October, leading to the theory that they may be contracting the infection elsewhere and succumbing to illness here," explains a senior forester official. The number of spot-billed pelicans visiting Kokkarebellur has come down drastically. A local said that earlier about 500-600 pairs of birds used to arrive to nest, but in the last couple of years only about 250 pairs have been spotted. About 1,000 pairs of painted storks come here for nesting every year and their number has remained the same.