Kumaraswamy says JD(S) will bounce back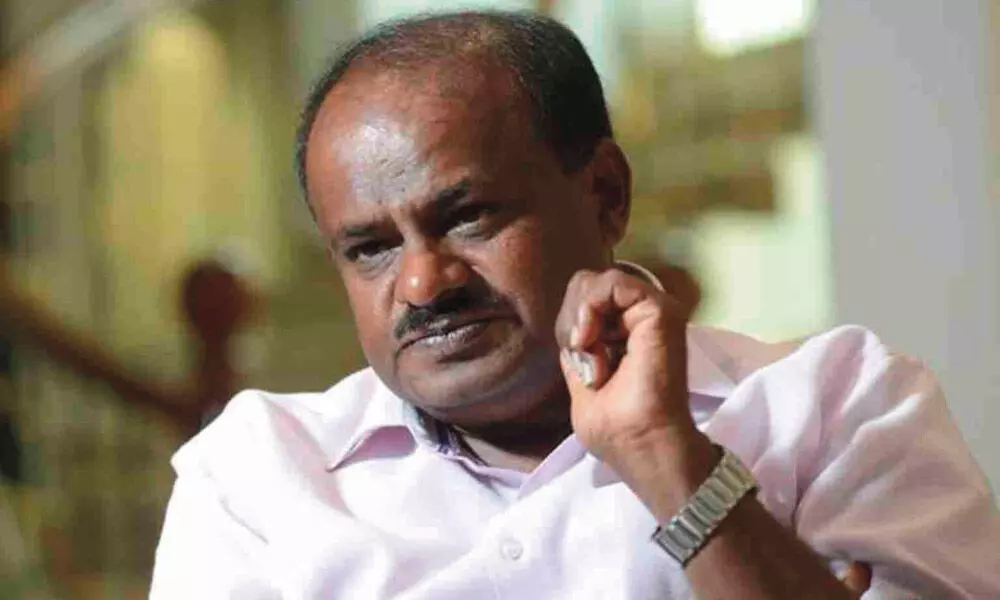 Highlights
Former chief minister and JD (S) leader H D Kumaraswamy said that he was confident that all regional parties in the country would unite and emerge as alternative to the BJP government
Mysuru: Former chief minister and JD (S) leader H D Kumarswamy said that he was confident that all regional parties in the country would unite and emerge as alternative to the BJP government. He said that he had received a call from Telangana Chief Minister K Chandrasekhar Rao to attend a meeting of all regional parties in this regard. "The Congress is to blame itself for its downfall in the country," he observed.
Speaking to media persons here on Saturday, Mr Kumarswamy added that there is no clarity on Prime Ministerial candidate if all regional parties join hands.
He said that he would strengthen JD(S) in the State after Sankranthi in January. "Though gram panchayat elections are not fought on party symbols, our workers will contest. We are giving them necessary support and directions," he explained.
On Mr Siddaramaiah's comment that he was with BJP, the JD(S) leader said if I were with them, I would have been CM now. "Earlier also Mr Siddaramaiah said that JD (S) was B team of BJP. But I don't meet any one like he meets secretly, I meet them openly. I met CM Mr Yediyurappa openly at his home office. But Mr Siddaramaiah met him secretly. The Congress will soon realize that their success or failure depends on JD(S)," Mr Kumarswamy said.
He said his party became weak after joining hands with the Congress to form government after Assembly elections. "Siddaramaiah and his men spoiled the good name I earned during my tenure as Chief Minister. It is only a temporary damage, I will undo it after January. Whomever our family nourishes, they turn against us at some point," he lamented.
He said that BJP should not be carried away by its victory in by-elections. One should remember that Congress which won Gundlupet and Nanjangud byelections when their government was in power, lost in those constituencies in Assembly elections later. He accused Chief Minister B S Yediyurappa of failing to keep his promise to people of Belagavi who suffered huge losses due to floods last year.
He faulted the government for making appointments to to boards and corporations at a time when the State was facing severe financial crisis due to the Covid pandemic. "I don't think that reservations will strengthen a community or the boards and corporations will uplift the people of different communities. We will take up a movement against all these at right time," he said.